A Virginia church has offered to shelter and protect a woman from Guatemala who is facing deportation. 
Maria Chavalan Sut, a 44-year-old indigenous woman, moved into Charlottesville's Wesley Memorial United Methodist Church on Sept. 30, the date her lawyer says Immigration and Customs Enforcement ordered her to be removed from the U.S., according to The Daily Progress. 
Rev. Isaac Collins, the church's lead pastor, told HuffPost his congregation is prepared to host Chavalan Sut for as long as she needs.
ICE officials generally avoid entering certain sensitive locations such as places of worship, hospitals and schools. 
"We aren't trying to make some bold political statement," Collins told HuffPost in an email. "We are trying to do what Jesus tells us to do. Maria is our sister in Christ, and being [deported] back to Guatemala is a death sentence for her."
Chavalan Sut, who is from Guatemala's indigenous Kaqchikel community, came to the U.S. seeking asylum in 2015, The Daily Progress reports. She says that people trying to steal her land in Guatemala set her home on fire, destroying her family's possessions. Fortunately, her four children survived. Guatemala has a long history of state-sponsored violence against indigenous people, though it's not clear whether the people who burned down her home were affiliated with the state.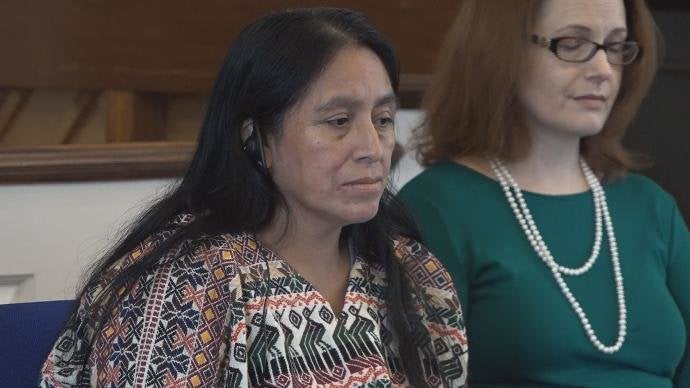 Chavalan Sut has been working multiple jobs in the Richmond area to send money back to Guatemala to rebuild her house and help her children, according to a Facebook page set up by her supporters.
She has a strong case for asylum, but hasn't been able to present it, Chavalan Sut's lawyer Alina Kilpatrick told reporters Monday. ICE reportedly neglected to put a date and time on Chavalan Sut's notice to appear in court, Kilpatrick said, which meant she missed her court date. Because of her absence, ICE ordered that she be removed from the country.
Chavalan Sut has a motion pending at the Arlington Immigration Court to reopen her immigration case, according to her attorney.
In the meantime, Wesley Memorial had to move quickly to offer refuge to Chavalan Sut. Collins said he received a call about her need for sanctuary on the evening of Sept. 29. The next day, after meeting with local activist groups, the church council voted unanimously to open its doors to Chavalan Sut. 
Maria is our sister in Christ, and being [deported] back to Guatemala is a death sentence for her.

Rev. Isaac Collins
Collins, who is just three months into his new job as pastor of Wesley Memorial, said while the broader UMC denomination is supportive of the sanctuary movement, his congregation didn't have any formal policies in place about what to do if such a situation arose.  
"We went from zero discussions about sanctuary to hosting Maria in 24 hours," Collins said. 
Wesley Memorial has converted a Sunday school classroom into a private apartment for Chavalan Sut. The church also has shower facilities and a kitchen. Volunteers buy her groceries and doctors visit her on campus to care for any medical needs, Collins said. The local Latinx activist community is providing interpretation for Chavalan Sut's day-to-day activities and during worship services. 
Collins said that the notorious Unite the Right rally in Charlottesville in August 2017 helped forge bonds between local community activists and religious organizations. Wesley Memorial couldn't have agreed to host Chavalan Sut without the help of local activists, Collins said.
"We all come from different faiths, political points of view, etc., but we have left those differences at the door so that we can put Maria first," Collins said. 
His biggest hope for her is that she will someday be free to leave.
"We believe that Maria deserves to be free!" Collins said. "We hope that she'll be able to leave sanctuary in good time, and that the U.S. [government] will offer her asylum in our country."
Calling all HuffPost superfans!
Sign up for membership to become a founding member and help shape HuffPost's next chapter
BEFORE YOU GO
PHOTO GALLERY
The World's 50 Most Unusual Churches