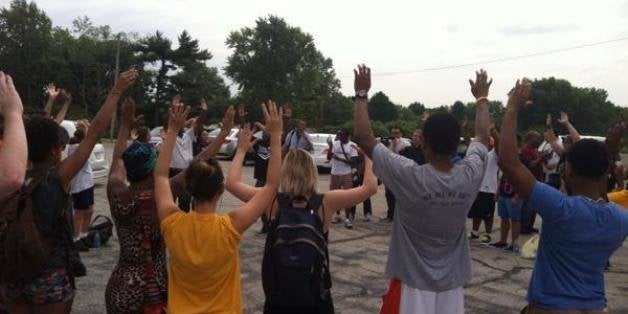 This has been updated with a statement from the St. Louis County Police Department.
Greater St. Mark Family Church in St. Louis, Missouri was a safe haven for wounded protestors from nearby Ferguson demanding justice in the Michael Brown shooting.
Reports from about 12:45pm on Twitter and Instagram stated that it had been raided by St. Louis County Police.
Storman Academy, a school on church property, was being used as a first-aid shelter for protestors injured by tear gas as well as a place for organizers to plan strategy, but its charitable efforts apparently caused it to face unwanted attention from the police.
In a video taken by Elon James White, a church organizer said,"County police came out today to this humanitarian shelter, and they've effectively shut it down on a false charge that there were people sleeping in the building, and they're citing occupancy permits, but their information was incorrect. It's been used solely as a humanitarian shelter."
At Greater St Mark Church. Witnesses say police came to the building which was being used as aid station for protestors. Police are gone, pastor of the church said they'd surrounded the building re charge that ppl were sleeping inside.

Pastor Tommie Pierson confirmed police entered church building. Unconfirmed reports that police removed materials. Church was used as center to treat people exposed to tear gas or needing med treatment. Police alleged it was used as shelter. Church says it was a safe space for organizers.

Police say they violated housing policy by having ppl stay overnight. Church leadership adamant that no one was sleeping here overnight. Church was allowing ppl to have strategy meetings here.

Tommie Pierson, pastor of the church, is also a state rep. Saw police on the premises. Amnesty International observers are at the scene now. Organizers saying this is the 3rd time police have come here. Last night they had assault weapons.

According to organizers the church held supplies for first aid, no weapons. Organizers are carrying more water, supplies into the church building. To be clear, this is all happening at the school building adjacent to the sanctuary itself. Came here with @emarvelous and @AdamSerwer. We were the first people to arrive here and police had already left.

The school is connected to the church, which is why the pastor responded to the call that police were in the building. Church, organizers now say nothing was removed from the building.
From the scene, Twitter user @tayloredpoet, told The Huffington Post via email at 2:03pm, "I am trying to get close enough to actually see what happened, but from reports the police surrounded the church and took supplies, food and water."
In the aftermath of the police raid, people came together in solidarity.
Philip Agnew, executive director of Dream Defenders, said in a video, "But in no uncertain terms, this was a place where this community deemed, a place where we could come and feel- what? Safe. And what they did today was tell us what? There is no safety here." He added, "And they came in here when none of us were here, and took some of the supplies that people need to alleviate the symptoms of tear gas in their eyes and on their face. They took those, and they left the water and the medical supplies."
This isn't the first instance of a religious figure falling victim to the current tensions. On August 13, Pastor Renita Lamkin was shot in the stomach with a rubber bullet as she tried to mediate between police and protestors. Nonetheless, religious leaders continue to stand up for justice on the streets of Ferguson.
UPDATE: 9:15p.m. EDT on Aug. 20 -- The St. Louis County Police Department released the following statement:
On Wednesday, August 20, 2014, at approximately 11:45 am, St. Louis County Police Officers responded to an abandoned school building near St. Mark's Church after learning that individuals were occupying the structure. Officers contacted a representative of the church, who advised he was aware that several people were occupying the structure. The representative was not aware that the building wasn't zoned for occupancy and if it was it would need an occupancy permit. The representative escorted the officers to the location and voluntarily opened the building with a key. It appeared that five to seven people were sleeping in the facility but no one was present. Officers on the scene advised there was no animosity between the police or the representative of the church. The representative stated that he would advise the individuals to leave.
Related
Before You Go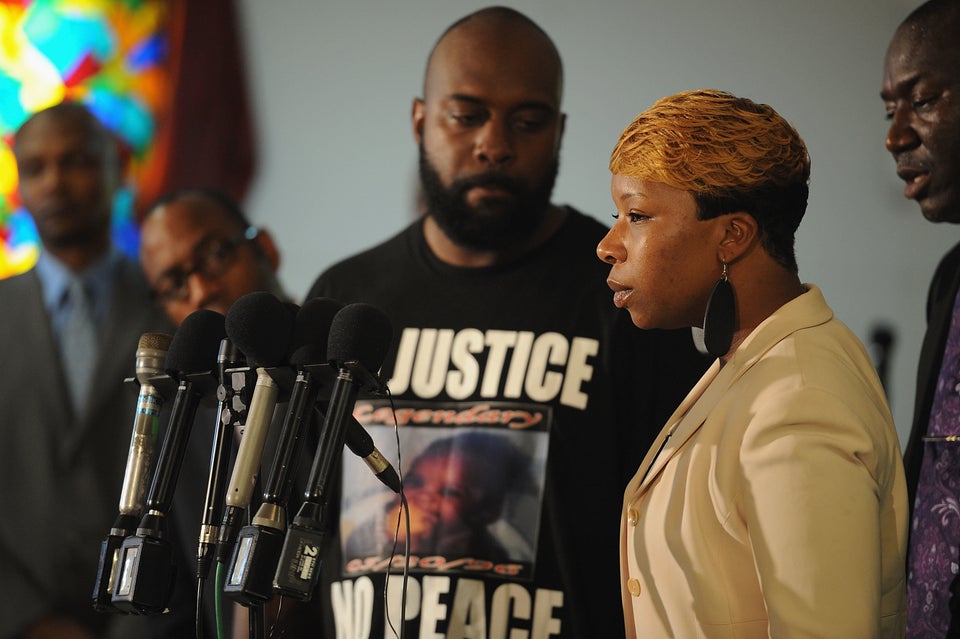 Michael Brown Protests In Missouri
Popular in the Community