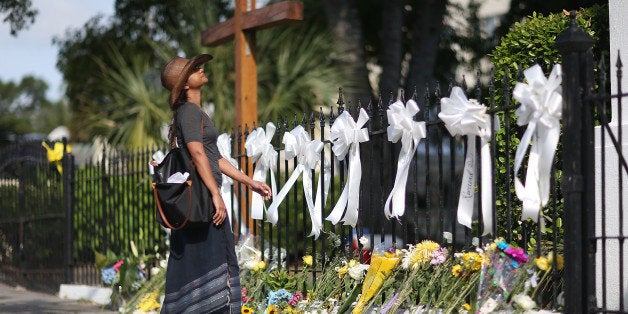 Fall 2014
Suspect Dylann Roof talks of a possible attack, according to a friend, Dalton Taylor. Taylor told ABC News that Roof had been planning "something" for at least six months. "He said he wanted to start a civil war," Taylor said. "He said he was going to do something like that and then kill himself."
April 2015
At a gun store in Charleston, South Carolina, Roof reportedly buys the .45-caliber handgun allegedly used in the attack.
Wednesday, June 17, around 8 p.m.*
Roof shows up at a Bible study group at the predominantly black Emanuel African Methodist Episcopal Church in Charleston.
Wednesday, 9 p.m.
The suspect stands up and begins firing. He kills nine in the room, including Rev. Clementa Pinckney, the church's pastor and a South Carolina State senator.
Thursday, June 18, 6:45 a.m.
Law enforcement officials post images of the suspect and his car taken from surveillance video. He is soon identified as Dylann Roof, 21.
Thursday, 10:30 a.m.
Police in Shelby, North Carolina, learn of a possible sighting of Roof in the town.
Thursday, 10:45 a.m.
Police nab Roof at a traffic stop in Shelby and soon take him into custody.
Thursday, 12:30 p.m.
President Barack Obama takes to the airwaves to express despair and anger over the massacre.
Thursday, 3 p.m.
In addition to Pinckney, other victims are identified: Cynthia Hurd, 54; Tywanza Sanders, 26; Sharonda Singleton; Myra Thompson, 59; Ethel Lance, 70; Susie Jackson, 87; the Rev. Daniel Simmons Sr.; and DePayne Doctor.
Thursday, 3:45 p.m.
Roof is publicly identified as the suspect.
Thursday, 6:20 p.m.
Roof is extradited to Charleston.
Thursday, 7:30 p.m.
Roof is booked and his mug shot is released.
Friday, 7:30 a.m.
Reports emerge that Roof confessed to the crime, telling authorities that he wanted to start a race war.
Friday afternoon
Roof makes his first court appearance, via remote camera, hearing the charges against him. They include nine counts of murder. Victims' relatives attend the bond hearing.
*All times are approximate.
REAL LIFE. REAL NEWS. REAL VOICES.
Help us tell more of the stories that matter from voices that too often remain unheard.
BEFORE YOU GO
PHOTO GALLERY
Charleston Church Shooting