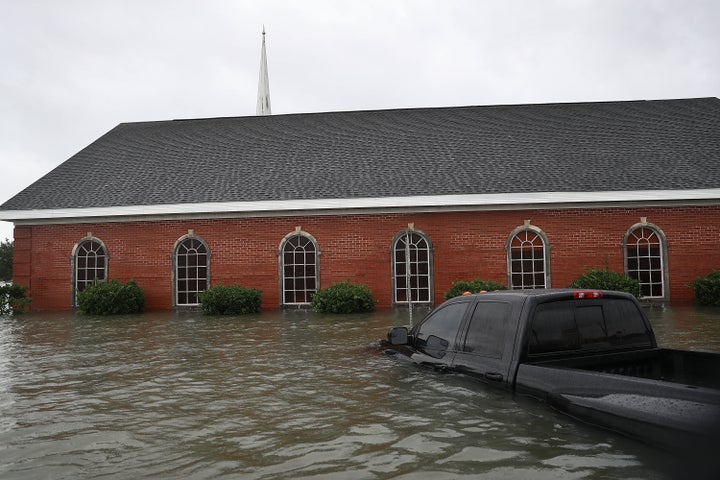 It just got a lot easier for houses of worship and other religious institutions to receive federal aid after a disaster hits.
On Tuesday, the Federal Emergency Management Agency released a new policy guide stating that eligibility for federal disaster relief will no longer rest on whether a facility is used primarily for religious purposes.
Specifically, "private nonprofit houses of worship will not be singled out for disfavored treatment within the community centers subcategory," Alex Amparo, FEMA's assistant administrator for recovery, wrote in the manual's foreword.
Prior to the policy change, churches and other houses of worship damaged in a disaster could receive FEMA grants if the funds were applied to schools, health care centers or other facilities not used primarily for religious purposes. They were also eligible to receive U.S. Small Business Administration loans to repair damaged buildings and reimbursement from local governments if they had sheltered evacuees. But religious sanctuary spaces were not eligible for federal aid.
Faith leaders and constitutional advocates have long debated whether FEMA's policy should change.
Many religious groups and others, including President Donald Trump, argue that denying disaster aid to houses of worship constitutes religious discrimination under the free exercise clause of the First Amendment.
Courts haven't drawn a clear line on church-state separation either.
The FEMA guide cites the U.S. Supreme Court's June 2017 decision in Trinity Lutheran Church of Columbia v. Comer, centered on a Missouri church denied state funds to improve its day care playground. The court ruled in favor of the church, which had sued the state's natural resources department for religious discrimination.
But when three Texas churches affected by Hurricane Harvey sued FEMA over its previous policy, a U.S. district court denied the plaintiffs a preliminary injunction on the grounds that the federal agency was not obligated to fund repairs to religious spaces.
FEMA's new policy will retroactively cover damage reported as early as Aug. 23, 2017, which would include those houses of worship affected by Hurricane Harvey.
REAL LIFE. REAL NEWS. REAL VOICES.
Help us tell more of the stories that matter from voices that too often remain unheard.