Recently, I returned for a few weeks to the church where I was baptized in an earnest attempt to put my Christian faith into some kind of measurable practice. It is a progressive, congregational church perfectly at home in my ocean-blue hometown. The nave was old-fashioned, with uncomfortable wooden pews and stained-glass windows, a massive organ at the front and a pit for the choir behind.
Every week, 40 or 50 people, most familiar with one another, would gather and listen to the minister talk, usually focusing on a specific book from the Old Testament and the lessons we can learn from it. We would sing, a lot -- the choir was talented and the songs were classics.
Every week, there would be a few minutes set aside for us to shake hands with people we didn't know -- "Peace be with you." "And also with you!" -- and every week the little children would be brought up front to share their insights about God. Members of the congregation would ask for specific prayers, and we would listen and pray for them.
A man once asked for prayers for his brother's husband -- this was an LGBT-accepting church. Nobody mentioned hell or punishment, nor was abortion ever a topic. On paper, it was the perfect church for me.
I haven't been back since that visit and don't intend to. I still feel bad because many of the members were noticeably excited to have me as a new, younger member, but it simply did not offer what I am looking for in a church -- and what I'm certain most people my age are also looking for.
It's no secret that organized Christianity is going through a crisis in America.
The number of self-identified Christians is at its lowest point ever, at around 71 percent. This trend is most noticeable among millennials -- my generation -- and congregations have been struggling to put us back in the pews.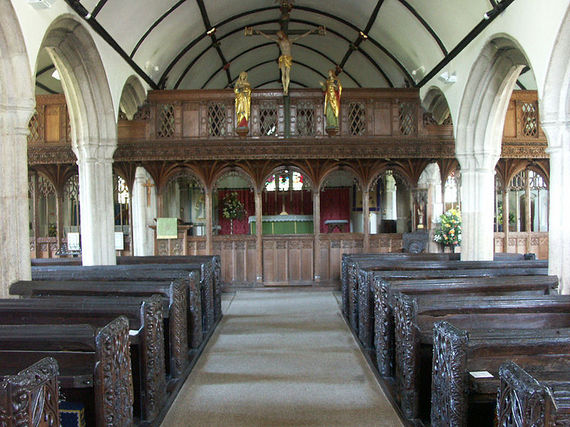 They try in many different ways, most ineffective (hosting performances by Christian Rock groups), some hilarious (#JesusLives), and a few downright sad (here's a pastor listing guidelines for churches to achieve what he calls "The Cool Factor.")
The church I briefly attended wasn't trying anything like that, and they met all the criteria that someone like me should require: welcoming, friendly, not dogmatic.
So what were they missing?
Unfortunately, most clergymen won't like the answer, which is double-pronged. First and more negative is that there is an enormous segment of the millennial population -- perhaps a majority -- that they will never, ever convert, no matter what they do. Many people my age are simply not interested in church, organized religion or religion in general, and no number of projectors, hip, youthful pastors, or Twitter hashtags are going to change that.
Churches are not failing to bring in just these people, however. I know from experience that there are huge numbers of millennials that are open to organized religion, and in fact are yearning for a church that they feel comfortable devoting their time and spiritual energy towards.
Those of us that are amenable to the idea of joining a congregation want it to mean something. We want more than just a group of people to sing songs and hold hands with. Those of us that are open to such things are the same ones who are active and engaged in the world around us, which, unfortunately for mainline denominations, includes politics.
Millennials are not interested in a celestial Jesus with a permanent smile and open arms, unconcerned with the goings-on of planet Earth. We've heard about that Jesus our entire lives, and we're not buying it.
Do you know what we would buy? Jesus the man, Jesus the prophet, the Jesus that fashioned a whip of cords and overturned the tables of the money changers for making God's house a den of robbers. The Jesus that challenged the establishment and paid the ultimate price. The Jesus that took up the cross of the poor, the weak, and the marginalized in the name of God.
I spent an hour and a half at church one week and the name "Jesus" was not mentioned a single time. That is what ultimately made me decide to give up.
I'm all for love and a personal relationship with God, but I choose to follow the man who teaches that political action is worship, that social justice is love.
What I and people my age are looking for is a church that preaches not just transcendental love, but that prophetic fire that makes Jesus so appealing.
A church that stressed this aspect of the faith would be dangerous, to be sure. It would be time-consuming and divisive. It might not even work as a long-lasting denomination. But the inconvenient truth is that if you really want millennials back in the pews, you've got to light the church on fire.
Popular in the Community