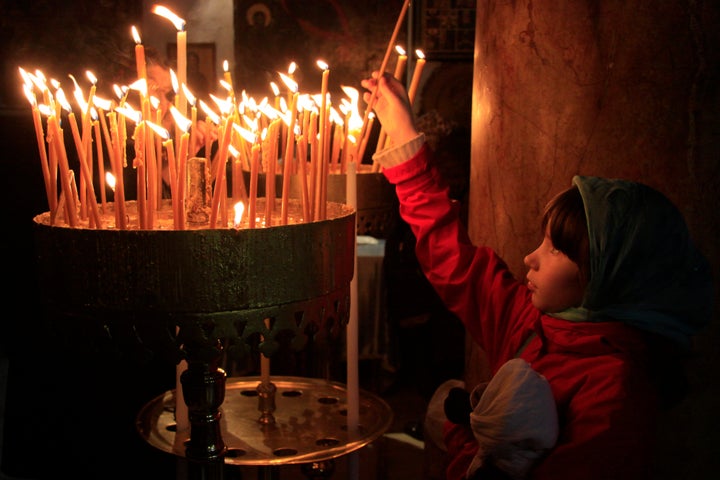 With Jesus' birth in Bethlehem, the stage was set for Christianity. The faith has reached all corners of the globe, but its origin story traces back to where is now Israel and adjacent Palestinian territories. And the region is still rich with remnants of Christianity's early history.
Author David Rapp and photographer Hanan Isachar traveled to the Holy Land to document the sites of key importance to Jesus' life and the birth of Christianity. Their new book, Churches and Monasteries in the Holy Land, features images and descriptions of 33 churches, monasteries and convents in the region. Each site commemorates a particular event or aspect of early Christian history, including the annunciation to Mary in Nazareth, Jesus' in Bethlehem and his resurrection and ascension to Heaven.
"Our work consisted of repeated visits to the sites, on holidays but also throughout the year, in order to get to know the different communities, their customs, their liturgy, and their churches," Rapp and Isachar told The Huffington Post in a statement. "We made it our mission to document -- in writing and through the camera's lens -- the people, the colors and scents, and the ritual and pageantry that together constitute the vivid Christian presence in the Holy Land."
The book emerges at a time of great "inter-religious tension" in the Middle East, said Rapp and Isachar. Through exploring these sacred sites and the people of different faiths who live around them, they said, "this book unfolds inspiring models of cohabitation, which exist both between the followers of the three monotheistic religions of Christianity, Judaism, and Islam and within the Christian community itself."
PHOTO GALLERY
Sacred Rock Formations
REAL LIFE. REAL NEWS. REAL VOICES.
Help us tell more of the stories that matter from voices that too often remain unheard.