Churchill Downs Racetrack, home of the Kentucky Derby, announced Friday that it's suspending racing at its facilities following the deaths of a dozen horses.
The Louisville track will cease operations from June 7 through the remainder of the Spring Meet, which is scheduled to end July 3, and races scheduled there will be moved to another location.
"Churchill Downs Racetrack has seen an unusual number of horse injuries over the previous month resulting in 12 equine fatalities," the company said in a statement, noting that in multiple investigations into the horses' deaths, "no single factor has been identified as a potential cause and no [discernible] pattern has been detected to link the fatalities."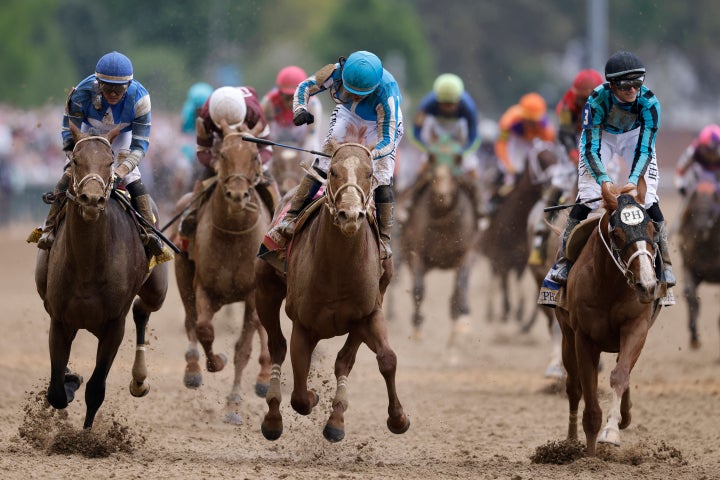 Bill Carstanjen, CEO of the racetrack, added he's hopeful that the track's closure will allow investigators to find answers.
"What has happened at our track is deeply upsetting and absolutely unacceptable," he said. "Despite our best efforts to identify a cause for the recent horse injuries, and though no issues have been linked to our racing surfaces or environment at Churchill Downs, we need to take more time to conduct a top-to-bottom review of all of the details and circumstances so that we can further strengthen our surface, safety and integrity protocols."
The deaths cast a somber mood over the Kentucky Derby in early May, when the sixth and seventh horses to die were injured during their races. Both horses were three years old and euthanized due to knee and ankle injuries.
"He just took a bad step out there," Jeff Hiles, one of the horses' trainers, told The Associated Press at the time. "They could do the same thing running in the field as they could on the track. So it's very unfortunate. That's what we deal with."
The races scheduled at Churchill Downs will now take place at Ellis Park in Henderson, Kentucky.
CORRECTION: A prior version of this article misstated the location of Ellis Park.
Popular in the Community