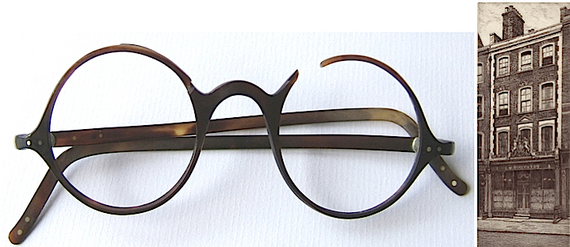 I first happened upon the aspect of Winston Churchill's eyewear while writing my book, CHURCHILL STYLE: The Art of Being Winston Churchill. Churchill's owlishly stylish, round tortoise shell frames turned up in photographs of him again and again, particularly those of Churchill orating. My curiosity was piqued.
As with all of Churchill's anything-but-commonplace, day-to-day appurtenances -- his bespoke slippers, his siren suits, his hats, his cigars -- Churchill's eyeglasses had a story behind them, I was convinced. My ensuing investigation led me to a nearly 240-year-old London eyeglass-maker named C.W. Dixey & Son and to Simon Palmer, the 40-something keeper of the C.W. Dixey flame (and frames).
Simon and I corresponded long distance for Churchill Style. We finally met face-to-face in London at 116 Pall Mall, the John Nash-designed eyeful of a clubhouse that for many years served as the United Services Club, but today houses the Institute of Directors, England's oldest social organization for business executives.
Over a Scotch (my own) and a tea (Simon's), I was regaled with the tale of Winston Churchill's optician.
"Our records show that Churchill was a customer of C.W. Dixey & Son as early as 1910," Simon began. "I've heard that he was aware of the company even earlier, when he was at Harrow, but there is nothing in our archives to back that up.
"The original business was established in 1777 at 3 New Bond Street by a man named William Fraser, who used to keep a milk cow on the premises for his customers' refreshment. Fraser had built up a reputation for his optical and mathematical instruments. He ran things very well and won royal warrants from King George III and IV. After his death, when the Fraser family could no longer continue with the business, it passed to an assistant, a Mr. Grice, who turned the place into a bit of a gambling and drinking den. Things went quickly downhill. That's when Charles W. Dixey and his uncle, George Dixey, stepped in. They were a family of opticians who had always been in the industry. The Dixeys took over Fraser's trade from Grice in 1824.
"When George Dixey died, the business became C.W. Dixey & Son in 1860, and it stayed in the Dixey family until 1929, when the business relocated to 19 Old Bond Street and the staff essentially took it over. That shop was blown up in the Blitz in 1940. The company then moved to tiny premises about 10 blocks away in the elite medical district of London. It remained in the hands of staff and their families, who continued to make eyeglasses for Winston Churchill and the royal family, among many others. Seven consecutive Kings and Queens of England had their eyewear made by C.W. Dixey. George VI was the last. Queen Elizabeth II has gone elsewhere for her spectacles. I don't know why.
"Churchill had separate eye prescriptions tailored for specific pursuits," Simon went on. "He had different glasses for card playing, for speeches, for reading and for painting. The different pairs were distinguished by a dot code devised by Dixey and by Churchill. If you look closely, you can see that his frames had tiny white metal dots at the end of the arms; the 'temple tips,' as they're known in the trade. One dot meant: reading. Two dots meant: speeches. Three dots, well, I haven't worked that out. The code is not easy to break."
I told Simon about William Murray, the son of Special Detective Edmund Murray, Winston Churchill's postwar bodyguard. Over the years, I've become pleasantly acquainted with Bill Murray, whose father's many duties included setting up and taking down Winston Churchill's painting implements. The Murray family still possesses a pair of Churchill's painting spectacles (plus case). These glasses have wire frames.
"I'd love to see a photograph!" exclaimed Simon. "For our archives."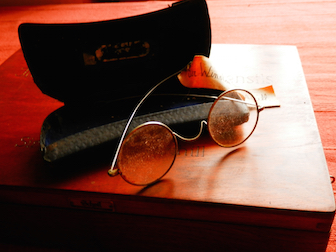 Simon turned a page in a voluminous binder he'd hauled with him to reveal a letter from Churchill dated September 30, 1939, canceling his longstanding "spectacle insurance" with C.W. Dixey just weeks after the declaration of war. Churchill, it would seem, had decided to live dangerously with his uninsured eyeglasses for the duration of hostilities.
"After the war," recalled Simon Palmer, "Churchill did send a pair of broken frames in to C.W. Dixey & Son for repair. They were obviously beyond repair, however. I have a photo of them."
C.W. Dixey & Son serviced many distinguished customers beyond Winston Churchill. Ian Fleming, Boris Karloff, John Gielgud and Peter Sellers were just a few of the notables. The Duke of Wellington was another.
"Wellington was once so incensed that his spectacles had been sent to him in the wrong colored case that he wrote a letter of complaint," laughed Simon. "He wanted red, apparently. Churchill, I think, liked the color blue; he kept asking for blue cases."
Simon paused. "As late as 1977, on the company's 200th birthday, C.W. Dixey was still at the top of its game, riding high with a great reputation; still run by descendants of the workers. Then, in 1990, a perfect storm of problems struck the company. The world recesssion hit, which was really tough, plus industry deregulation in the U.K. allowed chain stores to begin squeezing independents out. On top of that, a substantial sum of money was stolen from the company by an employee. These three things basically hammered C.W. Dixey in one year. That's when my father and my mother stepped in and rescued it with the assistance of the owner, who was my father's lifelong best friend. He and my dad had grown up together during the Second World War. Now, they were both of an age, just about to retire.
"My parents, Rosemary and Colin Palmer, both helped save the company. My father had been a management consultant and my mother had worked in marketing. It was a very good knowledge mix. They sold off a number of C.W. Dixey-owned optical boutiques and downsized the medical instrument and lens side of the business, to financially stabilise things. They retained the "C.W. Dixey & Son" name and the heritage.
"When I took over, after my father died in 2006, C.W. Dixey & Son had one optical boutique left, in an affluent area of London called Blackheath. I sold it and concentrated on taking the company back to its roots -- creating exclusive C.W. Dixey & Son eyewear in limited quantities, produced with the finest materials and sold in fine independent boutiques worldwide. In 2011, we sold our first frame in almost 30 years bearing the C.W. Dixey name: a replica of Churchill's frames. Back in the 1970s, the company had actually asked Churchill's grandson, Winston, for permission to make those frames again, and he'd said yes. When I myself wrote to Curtis Brown, the family's longtime representative, they asked me to make a charitable donation to the Churchill gravesite at Bladon, which I thought was fair and kind. Permission was then granted.
Related
Popular in the Community