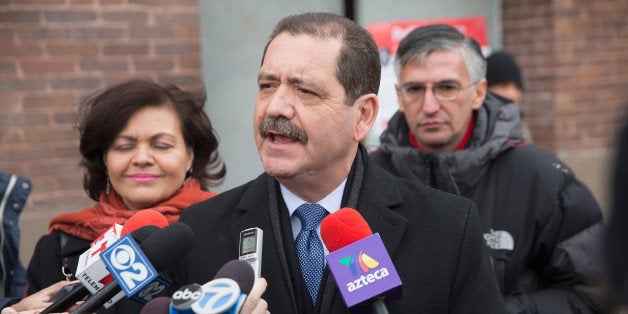 U.S. Reps. Raúl Grijalva (D-Ariz.) and Danny Davis (D-Ill.) are urging their colleagues to throw their weight behind Jesus "Chuy" Garcia, a grassroots candidate threatening to unseat Chicago Mayor Rahm Emanuel in next month's runoff election.
Grijalva and Davis told The Huffington Post they will host a fundraiser in Washington on March 24 to win backing for Garcia from national politicians, including members of the Congressional Hispanic Caucus, the Congressional Black Caucus and the Congressional Progressive Caucus.
The efforts to organize more members of Congress around Garcia's campaign come amid increasing national attention to the Chicago race, which many see as a contest between the Democratic establishment, in the person of Emanuel, and the more grassroots, populist elements of the party.
"There needs to be a national presence," Grijalva told HuffPost. "Just like when we rallied behind [former Mayor] Antonio Villaraigosa in Los Angeles -- not only porque es Latino, but because he's right on the issues... Here's an opportunity to create a coalition led by a Latino, supported by African-Americans and working folk."
With the backing of Chicago's powerful teachers' union and endorsements from key black leaders like Davis and the Rev. Jesse Jackson, Garcia has staked out a progressive agenda, calling for an end to school closings and railing against "big corporations and special interests."
"I think progressives should be supporting Chuy Garcia -- black, white, Latino, Asian," Davis told HuffPost. "Any progressive who really wants to see people-oriented government represented at the level of decision-making of the mayor of Chicago, and the kind of influence that person has not only over politics in Chicago, but quite frankly democratic politics all over the country."
Having served as an elected official at the local and state levels before, Garcia has built a reputation as a strong supporter of immigration reform. As a commissioner for Cook County, he helped pass trailblazing legislation in 2011 to keep local authorities from detaining undocumented immigrants on behalf of the federal government.
Emanuel's record on immigration is more mixed -- at times, he angered some Latino members of Congress by standing in the way of immigration reform efforts during the Clinton and Obama administrations, although he has embraced the issue as mayor.
Grijalva says he's motivated in part by a desire to defeat Emanuel, who he says should have done more to push immigration reform when Democrats held the White House and both chambers of Congress.
"Look where we are right now on immigration reform -- it's in the same quagmire," Grijalva said. "I'm not saying he's totally responsible for it, but [Emanuel] is not the one who's pushing the agenda."
Hispanics in Congress don't all agree. Rep. Luis Gutierrez (D-Ill.) currently serves as a co-chair for the Emanuel campaign, although that's a stark contrast from his position four years ago, when Emanuel first ran for office. Back then, Gutierrez chastised Emanuel publicly for having urged Democrats to support a 2005 border security bill widely viewed by Latino politicians as anti-immigrant.
"He told targeted Democrats in tough re-election fights that he wanted them to vote for this anti-immigrant bill," Gutierrez said in 2011. "That's a fact, an irrefutable fact. So it's nice that Rahm Emanuel the candidate is for the DREAM Act kids now, but actions speak louder than words."
"It's a little more complex than switching sides," Gutierrez told HuffPost, when asked about why he is aligned with Emanuel rather than Garcia. "He's been the mayor for the last four years. Rahm Emanuel asked me four years ago, when he took office, if he could take an eraser to the chalkboard and clear it, and I said, 'OK.' Since then, just about everything I've asked to do on immigration, he's done it. He's been immensely helpful -- it was on that basis that I endorsed him."
Gutierrez added that he had already joined the Emanuel campaign as a co-chair by the time Garcia joined the race in October to fill in for Karen Lewis, the president of the Chicago Teachers Union, who halted her own mayoral campaign after learning that she had brain cancer.
But Amalia Pallares, a scholar who directs the Latino studies department at the University of Illinois in Chicago, said she's disappointed by Gutierrez's decision to back Emanuel.
"I think that the support for Chuy Garcia stems from grassroots movements joining people who have worked in housing, unions, education and immigrant rights movements, neighborhood organizations, people who have worked against police brutality," said Pallares, who is one of 147 local Hispanic figures who have publicly endorsed Garcia. "I think that what gets lost sometimes among national Latino leaders are the local issues that enabled [those leaders] to surface... Those issues continue and they're not being addressed."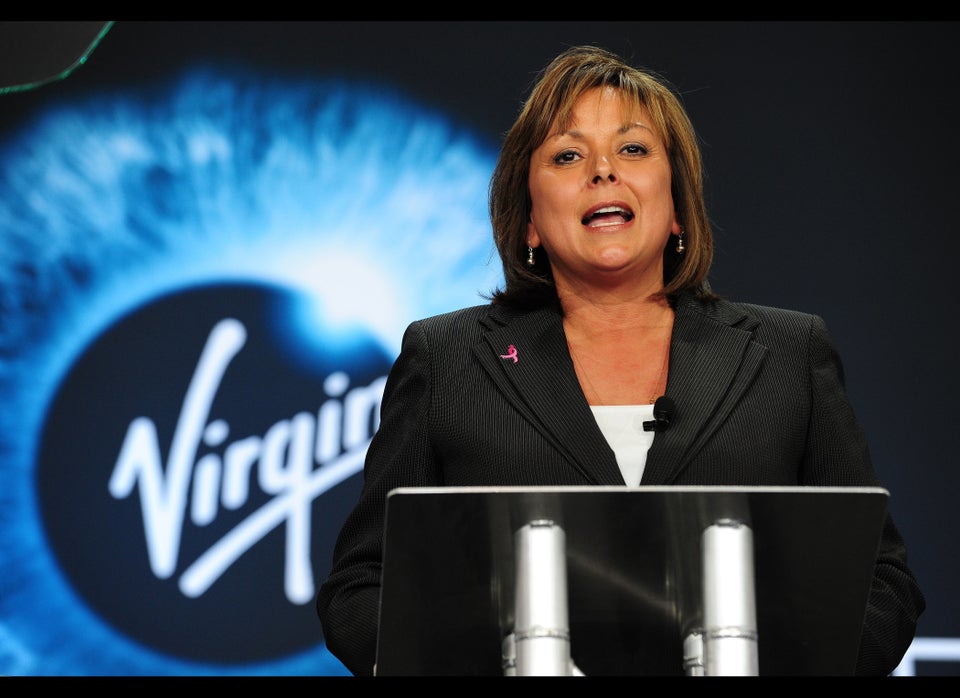 Leading Latino Politicians
Popular in the Community