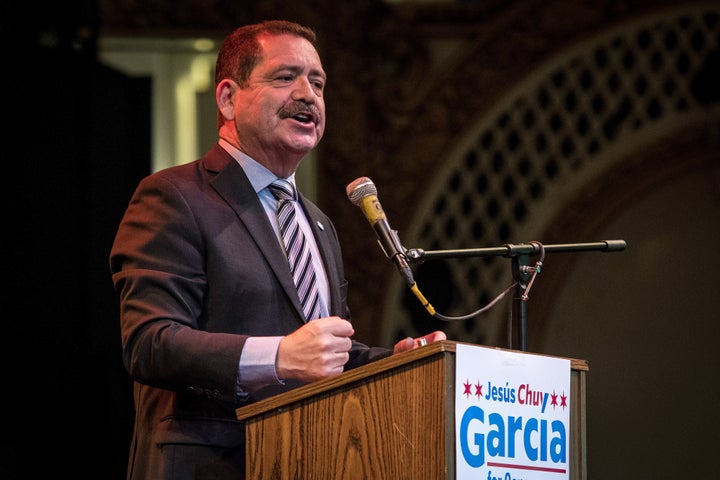 Jesús "Chuy" García won the Democratic primary for Illinois' 4th Congressional District on Tuesday, defeating two more moderate candidates and giving the party's progressive wing a boost.
García, a Cook County commissioner whose upstart bid against Mayor Rahm Emanuel in 2015 prompted the city's first ever mayoral runoff, is now virtually assured to represent the predominantly Democratic and Latino district in Congress.
"It's a huge victory for the progressive community tonight ... we're very excited about it," said Clem Balanoff, executive director of the Illinois chapter of Our Revolution, the legacy group of Sen. Bernie Sanders' (I-Vt.) presidential campaign.
He praised Garcia's "long-term, true progressive history."
García, 61, is due to succeed Rep. Luis Gutiérrez (D), who announced his retirement in December. He immediately endorsed García, who was challenged by nonprofit leader Sol Flores and police officer Richard Gonzalez.
Although Gutiérrez is one of Congress' most outspoken immigration reform advocates, he backed Emanuel's re-election bid and is viewed by activists as less independent from Democratic leaders than García.
Likewise, while Gutiérrez was a bitter critic of Sanders during the 2016 presidential campaign, García was one of the first elected officials to endorse the Vermont senator. Sanders, who backed García's mayoral bid, endorsed him again this time.
"Chuy will not only be good on immigration issues, but he will be essentially a young Bernie Sanders," said Dick Simpson, a political science professor at the University of Illinois at Chicago. "He will be articulate on many issues that are very important, and he is seasoned enough ... to be a major spokesman."
García, who immigrated with his family to Chicago from Mexico as a child, supports the breadth of progressive policy priorities, including a $15 federal minimum wage, single-payer health care and free college tuition.
Perhaps more important for García's supporters, however, he has managed to develop an independent base of political power in a city and state where few major politicians operate outside the orbit of Illinois' famed Democratic machine.
In a career that spans three decades in city, state and county government posts, García has found himself opposite the machine on more than one occasion. Prior to his long-shot challenge against Emanuel, he backed the historic 1983 candidacy of Harold Washington, Chicago's first and only black mayor.
"There has been a constant struggle in Chicago between the machine Latinos and the progressive Latinos," Simpson, a former Chicago alderman, said. Of those in the latter camp, he added, "Chuy has gotten the farthest along."
Chicago Alderman Carlos Ramirez-Rosa, 28, initially challenged García's status as the most progressive contender for the seat. Ramirez-Rosa is a dues-paying member of the Democratic Socialists of America and one of Emanuel's fiercest adversaries on the city council.
But concluding that he was unable to mount a serious bid against García, Ramirez-Rosa withdrew from the race in January and endorsed him.
Flores, a founder of La Casa Norte, a nonprofit that addresses homelessness, made national news with a video advertisement describing her experience enduring sexual abuse as a child. She picked up the endorsement of EMILY's List, which backs pro-choice women.
But Flores lacked the formidable political organization that García could mobilize, and her ties to Emanuel motivated some progressive activists to turn out against her.
Calling all HuffPost superfans!
Sign up for membership to become a founding member and help shape HuffPost's next chapter
BEFORE YOU GO
PHOTO GALLERY
2017 Scenes From Congress & Capitol Hill