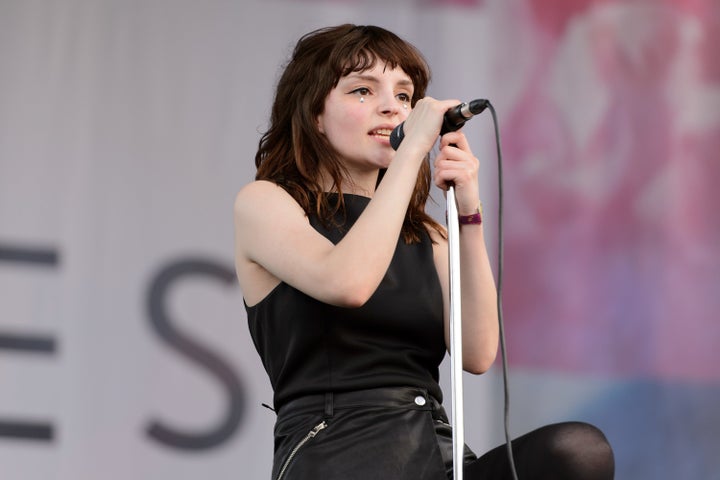 It's been a divine couple of years for Chvrches.
The Scottish synth-pop outfit -- featuring vocalist Lauren Mayberry, synth-master Martin Doherty and guitarist Iain Cook -- burst onto the scene internationally with dark-yet-danceable tracks like "Lies," "The Mother We Share" and "Recover" in late 2012. By 2013, the trio was among the top five on BBC's Sound of 2013 ranking and playing on all the major late-night talk shows before hitting the road for a non-stop itinerary of shows all around the world in support of their critically-admired debut album, "The Bones of What You Believe."
Chvrches' most recent leg of shows wrapped last November in South Korea and the band proceeded to spend a month and a half with their families before going at it again, returning to the studio to record the followup, "Every Open Eye," which is due for a Sept. 25 release amid another long run of festival appearances and preceding a just-announced string of North American tour dates.
After eight months largely out of the public eye, one had to wonder if the band could carry forward the momentum propelling their seemingly unstoppable rise to indie-pop stardom and avoid the second-album slump to which so many previous acts have fallen victim.
But the release of "Leave a Trace," Chvrches' new single off the upcoming album, last week should silence any doubts. The song was met with almost immediate and universal praise for the song's in-your-face R&B-tinged, earworm-worthy textures both online and from audiences at a trio of back-to-back festival appearances.
So what's in the secret sauce for the tight-knit trio? As Mayberry explained backstage at the Pitchfork Music Festival in Chicago's Union Park, the band made it a point to attempt to replicate the vacuum-like atmosphere in which they created the first album -- their own space in a small basement studio in Glasgow -- and ignore the temptation to bring in outside producers by continuing the do-it-yourself approach that made "Bones" a success.
"Whether we like it or not, the second album does have preconceived ideas around it," Mayberry told The Huffington Post, "so it made the most sense for us to try and eliminate as many outside influences as possible and just make it be the three of us so that whatever we come up with, whether it goes well or doesn't go well, is definitely us. We're very lucky to be able to do that."
The new songs also have a palpable sense of aggression and a Cookie Lyon-esque, I'm-getting-what's-mine vibe lying just beneath the surface, as evidenced by the lyrics on "Leave a Trace" — "I have somehow got away with everything / Anything you ever did was strictly by design but you got it wrong / And I'll go anywhere but there," for example.
Mayberry says that was no coincidence, even if it wasn't the particular aim the band had going into the album. The album, she agrees, comes from a much more "assertive" position. She views "Leave a Trace" as something of a "fight song."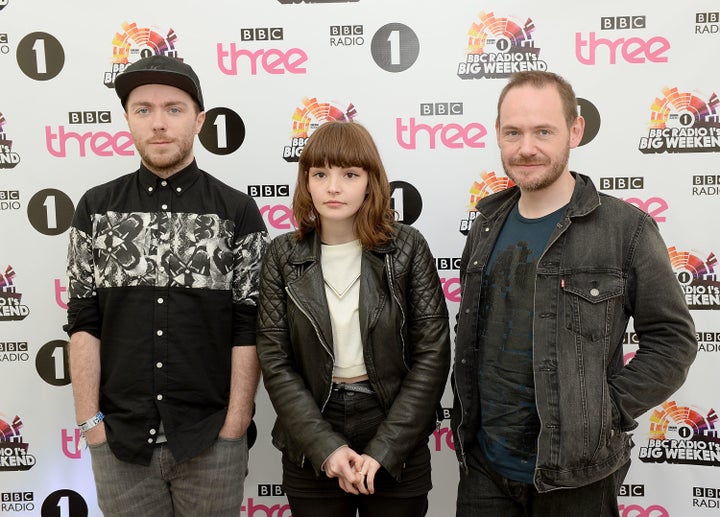 "When I look back at the first record, the songs I wrote about relationships on there were a bit more 'playing the victim' kind of. I think there was a time and a place for that because that was what I was feeling at the time," Mayberry said, "but I guess now I feel a lot more positive about my personal life and I think it's nice for me to be able to write about that as well as my bad experiences in a more assertive way." 
That assertiveness has also stretched beyond the songs themselves, as Mayberry has received media attention for calling out rape threats and misogynistic comments that have been directed at her through male commenters on the Internet. She also helps run a Glasgow-based feminist collective called TYCI, which operates a website, zine, radio show, podcast and live event series "promoting all things femme." 
It's the same confidence Mayberry says she's had to channel during previous interviews with journalists who ask sexist questions like, "What's it like to be a girl in a band?," "What are your tips for festival fashion?" or "How do you stay so slim on tour, do you have any special diets?" Actually, she noted, Cook is the only band member on any sort of diet, "but they don't ask him that question."
Mayberry, a former journalist, says she can sense when a line of questioning from a writer is heading that direction and feels like a cat preparing to pounce into battle -- tail up, ears back -- when she anticipates it. It doesn't happen as often as it used to, though.
There's one particular word, too, she's grown frustrated with reading attached to her name. 
"I guess if I read one more thing that says, 'She's so adorable,' I'll probably puke," Mayberry said. "It's this nice idea but you don't know me, we've never met and I don't know how many people I have to punch in the crotch before they stop saying I'm 'cute and adorable.' There are worse things that could be said about you so it's not too bad, but sometimes I'm like why are you saying that just because I'm a small woman?"
Still, Mayberry does accept a certain vulnerability in herself, something from which she derives great strength, a strength definitely felt on a track like "Leave a Trace" as well as 2013's "Gun." It is a juxtaposition that helps drive her and something she admires in authors like Anne Carson and Angela Carter, as well as riot-grrrl pioneer Kathleen Hanna.
"I read something [Hanna] said once where she was talking about the combination of vulnerability and strength," Mayberry said. "Some days you feel like the weakest person in the world and some days you feel like you can absolutely conquer everything.  I like the idea that even when you personally don't feel that strong you can write something that feels stronger, a 'learn to be it' sort of thing. If you write what you feel, you're more in control even when you're falling apart."
PHOTO GALLERY
HuffPost's Best Albums Of 2014
Calling all HuffPost superfans!
Sign up for membership to become a founding member and help shape HuffPost's next chapter