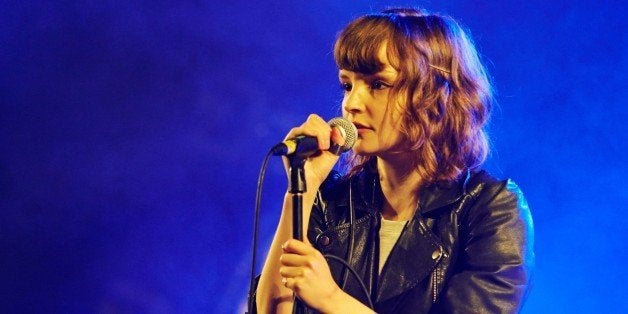 Last week, I posted a screengrab of one of the many inappropriate messages sent to the band's social networks every day. After making the post, I sat back and watched with an increasingly open mouth as more and more people commented on the statement. At the time of writing, Facebook stats tell me that the post had reached 581,376 people, over five times the number of people who subscribe to the page itself, with almost 1,000 comments underneath the image. Comments range from the disgusted and supportive to the offensively vile. My current favourites from the latter category include:

"This isn't rape culture. You'll know rape culture when I'm raping you, bitch"

"I have your address and I will come round to your house and give u anal and you will love it you twat lol"

"Act like a slut, getting treated like a sluy [sic]"

"It's just one of those things you'll need to learn to deal with. If you're easily offended, then maybe the music industry isn't for you"

But why should women "deal" with this? I am incredibly lucky to be doing the job I am doing at the moment – and painfully aware of the fact that I would not be able to make music for a living without people on the internet caring about our band. But does that mean that I need to accept that it's OK for people to make comments like this, because that's how women in my position are spoken to?
Mayberry notes that sexism can cut against men, too, but states that she is speaking from her own experience as a woman who fronts a band.
What I do not accept, however, is that it is all right for people to make comments ranging from "a bit sexist but generally harmless" to openly sexually aggressive. That it is something that "just happens". Is the casual objectification of women so commonplace that we should all just suck it up, roll over and accept defeat? I hope not. Objectification, whatever its form, is not something anyone should have to "just deal with"

...

I read them every morning when I get up. I read them after soundcheck. I read them, as we all do with our emails and notifications, on my phone on the bus or when I have a break in the day. And, after a while, despite the positive messages in the majority, the aggressive, intrusive nature of the other kind becomes overwhelming. During this past tour, I am embarrassed to admit that I have had more than one prolonged toilet cry and a "Come on, get a hold of yourself, you got this" conversation with myself in a bathroom mirror when particularly exasperated and tired out. But then, after all the sniffling had ceased, I asked myself: why should I cry about this? Why should I feel violated, uncomfortable and demeaned? Why should we all keep quiet?
Her article recalls a similar piece by indie-pop queen Grimes, who took to the web to explain why she won't tolerate fan sexism and misogyny in April. "I don't want to be molested at shows or on the street by people who perceive me as an object that exists for their personal satisfaction," the Canadian singer wrote at the time. "I'm sad that my desire to be treated as an equal and as a human being is interpreted as hatred of men, rather than a request to be included and respected."
Grimes also said she didn't "want to be infantilized because I refuse to be sexualized," hitting back at the many times writers have described her as "cute" and/or a "waif."
"It's up to us as women not to accept sexism," soul singer Janelle Monae said earlier this year. "I won't allow myself to be oppressed."
BEFORE YOU GO
PHOTO GALLERY
FALL MUSIC PREVIEW 2013