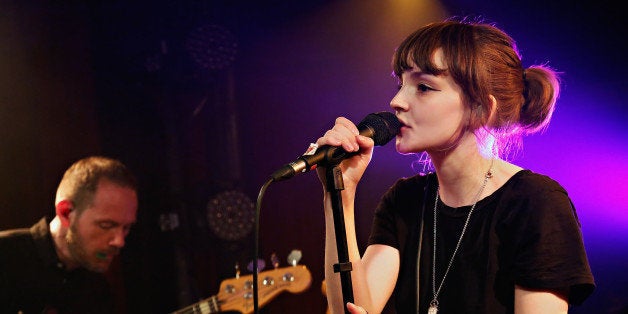 Back in 2013, Chvrches singer Lauren Mayberry wrote a column for The Guardian proclaiming, "I will not accept online misogyny," and on Wednesday, she stood by that statement and posted a rape threat, which appeared in a comment on Instagram. "These people never learn that violence against women is unacceptable," she wrote in her caption. "But they also never learn that women will not be shamed and silenced and made to disappear. I am not going anywhere. So bring it on, motherfuckers. Let's see who blinks first."
She's posted screengrabs like this before, bringing attention to the hate and sexism directed at her on a regular basis. "Is the casual objectification of women so commonplace that we should all just suck it up, roll over and accept defeat?" she wrote back in 2013. "I hope not. Objectification, whatever its form, is not something anyone should have to 'just deal with.'"
At the time, she wrote that she hoped her editorial would encourage others to speak out. "My hopes are that if anything good comes out of this, it will start a conversation, or continue the conversation which is already happening, encouraging others to reject an acceptance of the status quo," she wrote. By continuing to call out the misogyny she faces, she's certainly doing so.
REAL LIFE. REAL NEWS. REAL VOICES.
Help us tell more of the stories that matter from voices that too often remain unheard.