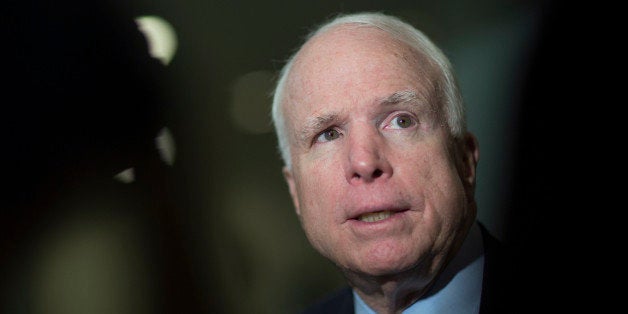 WASHINGTON -- Sen. Dianne Feinstein's (D-Calif.) bombshell charge that the CIA may have broken the law to spy on Congress is sparking calls from several senators for an independent investigation.
Feinstein, head of the Senate Intelligence Committee, said Tuesday that the CIA had secretly removed committee staff documents that were part of a long-running investigation of the CIA's post-9/11 detention and interrogation practices.
Many lawmakers on Capitol Hill reacted with outrage and said the CIA had compromised the oversight role of Congress. Some argued that the matter warrants a special investigative committee due to the complicated politics surrounding national security.
"It is very disturbing," Sen. John McCain (R-Ariz.) told reporters. "We need a thorough and complete investigation, and I'm trying to figure out who would be doing it, because there's allegations of bias on both sides. We may need some kind of independent investigation."
Sen. Lindsey Graham (R-S.C.) suggested sharp consequences if Feinstein's allegations prove true.
"This is Richard Nixon stuff. This is dangerous to a democracy," Graham said. "Heads should roll, people should go to jail if it's true. If it is, the legislative branch should declare war on the CIA."
But top Democrats, including Senate Majority Leader Harry Reid (Nev.), Judiciary Committee Chairman Pat Leahy (Vt.) and Feinstein, were either cool to the idea or rejected it outright.
When asked if an independent investigation was needed, Reid told reporters, "We're about 14 steps away from that."
"Right now there are a lot of things going on here," he continued. "I think we should all just pause for a little bit, not very long, and find out where all this stuff leads."
"I support Senator Feinstein unequivocally, and I'm disappointed that the CIA is apparently unrepentant," he added.
Leahy, who has been one of the harshest critics of the the CIA's euphemistically named "enhanced interrogation" -- including practices like waterboarding that Obama has banned and called torture -- said no new committee was needed.
"We don't need another Church Committee," said Leahy, referring to the committee created in the 1970s after revelations of CIA domestic spying. Leahy said his first vote in the Senate was for that committee, which later became the current Intelligence Committee. "We need a good, strong intelligence committee, and that's what Sen. Feinstein is doing."
Still, Sen. Ron Wyden (D-Ore.), who has been highly critical of the intelligence committee, suggested maybe something new does need to be tried in the wake of the allegations.
"It seems to me that this goes to the question of whether the Congress can do effective oversight over the modern intelligence apparatus. That's really the bottom line to me," Wyden said. "I believe that is vital that everyone inside or out of government be held accountable under the law."
Calling all HuffPost superfans!
Sign up for membership to become a founding member and help shape HuffPost's next chapter
BEFORE YOU GO
PHOTO GALLERY
U.S. Capitol Photos