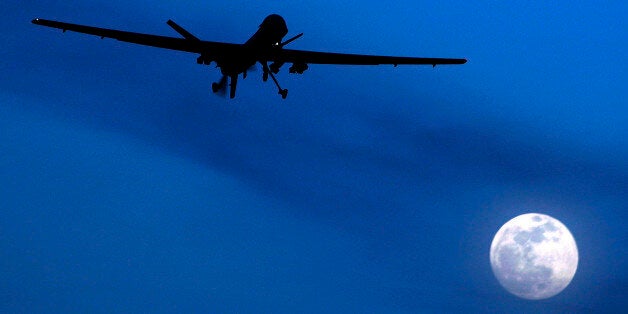 WASHINGTON -- Thursday's news of a botched CIA drone operation in January that killed two Western al-Qaeda hostages is threatening to reignite debate over the Obama administration's reliance on unmanned airstrikes and bolstering critics who say the drone program's payoff isn't worth the risk.
"It's right that the White House has come clean and admitted its tragic mistake in killing these hostages, and our hearts go out to their families," said Alka Pradhan, a U.S.-based attorney with the human rights group Reprieve, in a statement Thursday. "Greater transparency is just the start of what we need: we also need a fundamental reassessment of whether the secret drone war does more harm than good."
On Thursday, the White House's announcement that a strike in Pakistan had led to the deaths of American Warren Weinstein and Italian Giovanni Lo Porto gave new salience to the anti-drone argument.
"A lot of us think that it's time to have a more public conversation about the consequences of our reliance on drones. The reality is that we do make mistakes -- not very often, but we make mistakes," said Sen. Chris Murphy (D-Conn.), a member of the Senate Foreign Relations Committee. "And our drone program has become a weapon of recruitment for a lot of very evil organizations around the world."
"That doesn't mean that you shouldn't use drones," Murphy added. "There are some times when the only way that you can get terrorist leaders is with a drone strike. But you have the sense that we have not been as judicious in our use of drones as we should over the course of the last decade."
The Obama administration has relied heavily on the unmanned airstrikes, a program first introduced under President George W. Bush. The U.S. employs drones most notably in Yemen, Pakistan and Somalia -- and elsewhere in the Middle East and North Africa -- to target militant groups. The White House and the CIA argue that drone strikes are the least risky, most precise way to eliminate terrorists.
But controversy has plagued the program. The constant stream of reports of civilian deaths, along with evidence that botched strikes might exacerbate extremist violence, has brought criticism in Washington and abroad.
"There's no consensus on whether drones are an effective instrument because there's no consensus over how to define success," Max Abrahms, a political science professor at Northeastern University who studies terrorism, told HuffPost. "What I find is, in a sense, drones are counterproductive because they make [militants] more extreme. When the leaders of militant groups have been taken out, the violence tends to shift from targeting military targets to civilian ones."
One element of the debate in Washington is who should carry operational responsibility for pulling the drone trigger. Currently, the White House relies on both an overt Pentagon drone program and a covert CIA one. Each agency thinks it deserves the lead on the drone program overall.
But Thursday's news could tip the scales in favor of transparency advocates who argue the spies shouldn't be running a targeted-killing operation behind a covert shield. Overt operations run by the Pentagon are not subject to the strict secrecy that currently obscures the CIA's work -- which could mean greater accountability for thousands of inadvertent victims.
Still, some lawmakers told The Huffington Post on Thursday that they remain confident in the CIA's drone program, saying the Intelligence Committees' oversight of the agency's efforts is second to none.
"Our committee's main function is oversight of the intelligence community. So whatever the intelligence community does, we continually do oversight," said Sen. Richard Burr (R-N.C.), chairman of the Senate Intelligence Committee. "If for some reason there are unintended consequences of anything that might come out of intelligence operations, we routinely take a second look at it, and when it relates to this [January incident], we already have and we will continue to look at the details."
The House and Senate Intelligence committees were briefed on the tragedy prior to Thursday's announcement, and the vice chairman of the Senate panel says it has examined the tragedy in Pakistan -- closely.
"The committee has already been reviewing the specific January operation that led to these deaths, and I now intend to review that operation in greater detail," Vice Chairman Dianne Feinstein (D-Calif.) said in a statement. "We should also again review all procedures and safeguards to make sure every measure is taken to prevent the deaths of innocent civilians."
Powerful members of the Senate panel have long defended the CIA's drone strikes, saying the spies painstakingly collect intelligence and plan strike operations for months before ever pulling the trigger. The agency's precision is second to none, committee members have said, and preferable to the Defense Department's program, which the CIA's defenders contend is not nearly as careful.
The Obama administration discreetly suggested in early 2013 that it would begin dialing back its reliance on the CIA's drones and lean more heavily on the Pentagon in an effort to shed more light on the controversial program. But operational complications stalled that effort, and as of early this year, no significant shift had been made.
The White House's reliance on drone strikes in Pakistan has been decreasing over the last two years, with only five strikes launched so far this year. However, drone watchers suggest that may not be so much due to increased caution as to shorter kill lists.
"It's only the second year of what I would think of as something of a trend. It's certainly a big drop from 128 in 2010, but the strikes do continue," said Jack Serle, who helps run the Bureau of Investigative Journalism's tracker on CIA drone strikes. "When somebody on the CIA kill list appears on their radar, they will carry out their strike."