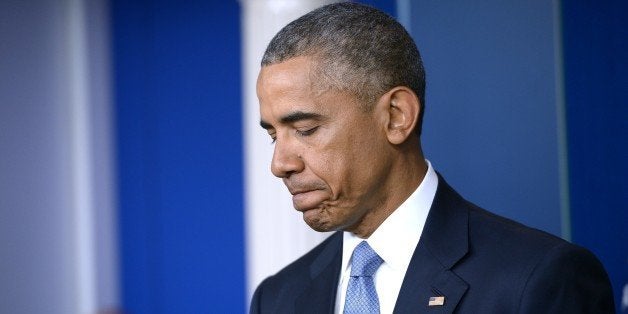 WASHINGTON -- The news that a CIA drone strike had inadvertently killed two Western al Qaeda hostages is underscoring a harsh reality of U.S. drone warfare: Those pulling the trigger often don't know whom they're killing, or even if their targets are actually militants.
The January strike in which American Warren Weinstein and Italian Giovanni Lo Porto died hit what intelligence officials thought was a building housing some unspecified al Qaeda officials. Use of such a relatively low bar for targeting decisions -- here be some bad guys, probably -- has given the Obama administration nearly carte blanche when it comes to picking off the supposed enemy.
For years, the administration has launched so-called "signature strikes" on the premise that military-age males suspected of violent views or actions are appropriate targets for deadly drone force in Pakistan's tribal areas, particularly along the border with Afghanistan, and elsewhere. But critics say that too many individuals are being killed with no firm evidence that they're actually involved in militant activities.
With such broad criteria, the Obama White House has blurred the line between "civilian" and "militant" -- while declining to admit it. Even as drone strikes reached a fever pitch in 2010, and widespread reports suggested that civilians were often on the wrong end of the missiles, the administration, led by then-White House counterterrorism adviser John Brennan, continued to insist that the drones hit their targets and civilians were spared.
For almost a whole year, Brennan said in a 2011 address at Johns Hopkins University, "there hasn't been a single collateral death because of the exceptional proficiency, precision of the capabilities we've been able to develop."
That statement was technically true, but it took some serious legal tap dancing to make it so.
The truth behind Brennan's remark would emerge about a year later in The New York Times, when it was revealed that the concept of the signature strike had allowed the White House to clean up the details of sloppy or indiscriminate killings.
Under the signature strike premise, any military-age male in a strike zone can be counted as a combatant. So by the White House's definition, true civilian casualties were rare. According to classified intelligence assessments reviewed by McClatchy Newspapers in 2013, when the CIA killed other individuals in drone strikes -- which it frequently did -- it simply labeled them as "foreign fighters" or "other militants."
The standards of a signature strike haven't come without controversy. Even within the administration, some have questioned how such a low bar could be justifiable grounds to pull the drone trigger.
"My feeling is one man's combatant is another man's -- well, a chump who went to a meeting," Cameron Munter, the former U.S. ambassador to Pakistan, told the Daily Beast not long after the New York Times story in 2012.
The White House did not respond to calls for comment, but President Barack Obama said in a Thursday address on the January strike that the White House would be re-examining drone targeting policies.
The frequency of drone strikes in Pakistan has decreased sharply in recent years. It's too soon to tell whether the downward trend will stick, critics say, and it's not unclear whether the drop is due to fewer targets or more strict targeting criteria.

Calling all HuffPost superfans!
Sign up for membership to become a founding member and help shape HuffPost's next chapter
BEFORE YOU GO
PHOTO GALLERY
New Congress Members