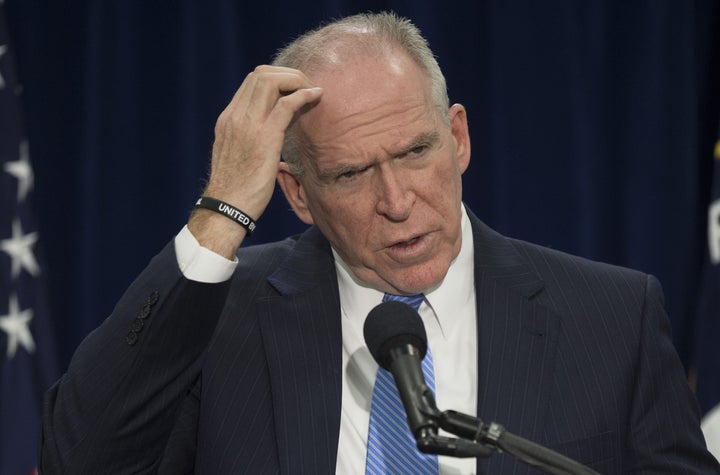 WASHINGTON -- The CIA is willing to overlook some of its shadier partners' human rights records if they can still get the goods, according to agency Director John Brennan.
In a letter sent to a trio of lawmakers and provided to The Huffington Post, Brennan expanded on the agency's controversial relationships with less-than-desirable characters, offering an unusually candid glimpse into the spies' liaison partnerships.
The letter, a response to Sens. Ron Wyden (D-Ore.) Martin Heinrich (D-N.M.) and Mazie Hirono (D-Hawaii), sought to clarify public remarks made by Brennan earlier this year. The unclassified response was dated Thursday.
"While we neither condone nor participate in activities that violate human rights standards, we do maintain cooperative liaison relationships with a variety of intelligence and security services around the world, some of whose constituent entities have engaged in human rights abuses. We strive to identify and, where possible, avoid working with individuals whom we believe to be responsible for such abuses," the letter says. "In some cases, we have decided to continue those relationships, despite unacceptable behavior, because of the critical intelligence those services provide, including information that allows us to disrupt terrorist plotting against the United States."
At a rare public appearance in March at the Council on Foreign Relations in New York City, Brennan said the U.S. would not work with liaison services that committed human rights abuses. The remarks came just days after news reports revealed that U.S.-trained Iraqi security forces were being investigated for horrendous war crimes, like torturing prisoners and executing civilians.
"It's tough sorting out good guys and bad guys in a lot of these areas, it is. And human rights abuses, whether they take place on the part of ISIL or of militias or individuals who are working as part of formal security services, needs to be exposed, needs to be stopped," Brennan said at the event. "When we see it, we do bring it to the attention of authorities. And we will not work with entities that are engaged in such activities."
Weeks later, Wyden, Hirono and Heinrich sent a joint classified letter to the director, asking him to clarify the remarks. In a cryptic public statement announcing the letter, the senators asked the spy chief "to correct the public record regarding inaccurate public statements that he made in March on a separate topic."
Additionally, lawmakers asked Brennan to admit a 2014 agency intrusion into Senate Intelligence Committee computers was improper. Brennan, unsurprisingly, ignored that part in his response. 
But, the director's letter to the Intelligence Committee group exhibits an unexpectedly productive dialogue with his congressional overseers over a controversial counterterror topic. Relations between the agency and the committee had iced following last year's controversy over the group's report on the CIA's torture program. While that wound is still raw, the director's response suggests a thaw.
REAL LIFE. REAL NEWS. REAL VOICES.
Help us tell more of the stories that matter from voices that too often remain unheard.