Brennan was asked by Nicolle Wallace on MSNBC if he thought Trump was "too unstable" to possess the nuclear codes that would allow him to launch an attack. Brennan responded that he was rattled by the president's strange focus on Baldwin the morning after Russian President Vladimir Putin boasted of his nation's nuclear capabilities to strike anywhere in the world, including the U.S. A simulated video presented by Putin appeared to depict next-generation nuclear missiles striking Florida.
Trump has yet to respond to Putin. Instead, he ranted against the actor in an error-riddled tweet early Friday morning (the tweet was later reposted with corrections).
"When I hear what Vladimir Putin was saying about the nuclear capabilities he has [and] then the president of the United States is tweeting about Alec Baldwin this morning, I mean, where is your sense of priorities?" Brennan asked. "I think a lot of Americans are looking at what's happening with a sense of: This is surreal."
There's "deep, deep worry and concern for this country's national security," he added.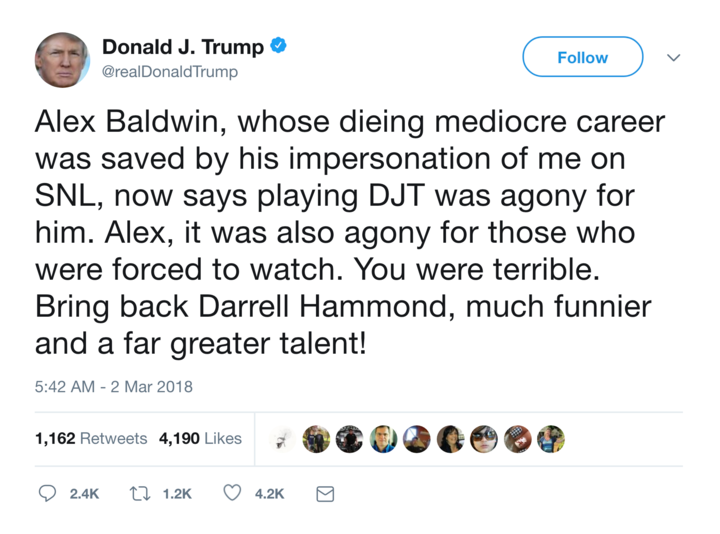 "Our country needs strong leadership now. If we have somebody in the Oval Office who is unstable, inept, inexperienced and also unethical, we really have rough waters ahead," he said.
Brennan added that he hoped that "those in Congress, as well as the 30 percent of Americans out there who still believe in what Mr. Trump is saying, will look past that and say: 'Are we really doing what we need to do as a country to protect ourselves and ensure that our children and grandchildren are going to be remain safe, secure and prosperous in the future?' And I have my serious, serious doubts. The longer this goes on, the worse it's going to get."
Check out the rest of the tape above. Brennan talks about what "keeps him up at night" and responds to the nuclear codes and Trump's instability beginning at the 6:45 mark.
But earlier in the video, Brennan discusses Trump's avoidance of reading security information and the "reckless" handling of sensitive classified information in the White House.
Calling all HuffPost superfans!
Sign up for membership to become a founding member and help shape HuffPost's next chapter
BEFORE YOU GO