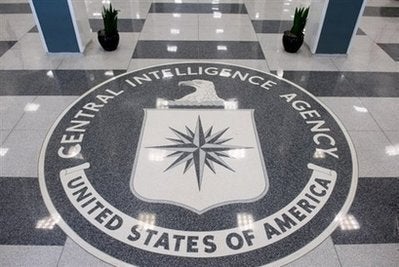 On Monday the Justice Department revealed that the CIA had now admitted destroying 92 videotapes of the interrogations of terrorist suspects. And it said the spy agency had promised to deliver a schedule for turning over the rest of the information to the plaintiffs by the close of business this Friday, Mar. 6.
That would include, according to the letter from Acting U.S. Attorney Lev Dassin to the court and the ACLU, which had filed an FOIA suit:
* A list identifying and describing each of the destroyed records;
* A list of any summaries or transcripts describing the destroyed records' content, and,
* The identification of any witnesses who may have seen or possessed the videotapes before they were destroyed
Anticipation has been building that the spy agency would somehow suddenly renounce its past ways and suddenly come clean - totally clean - on the who, what, why, where, when and how of the videotapes disappearing act.
Not likely. In his letter Dassin noted that although the CIA would indeed turn over an "unredacted" version of the CIA IG's report - it had provided the ACLU a redacted version previously -- some information "may be classified or statutorily protected from disclosure, such as the names of CIA employees who viewed the tapes."
And if past practice, ratified by federal courts in other cases, holds, the CIA is likely to argue that plenty more information about the interrogation tapes needs to be withheld, such as the dates and places of the sessions and identities of any foreign personnel present.
Anything related to "sources and methods" - how the spy agency goes about its business - is exempt, because, as the statute reads, "the Director of Central Intelligence shall be responsible for protecting intelligence sources and methods from unauthorized disclosure."
An ACLU spokeswoman said the group "cannot speculate as to what will or will not be redacted."
But FOIA suit is not the only avenue of attack on the CIA's interrogations.
And yesterday, the Senate Intelligence Committee announced it was going to conduct a broad review of how terror suspects were interrogated, whether the CIA's actions against detainees were authorized , and what techniques produced useful intelligence.
The missing tapes mystery is going to have a very long run.
Calling all HuffPost superfans!
Sign up for membership to become a founding member and help shape HuffPost's next chapter