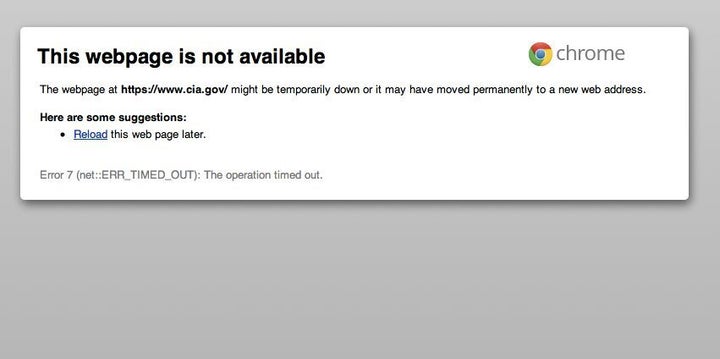 The homepage of the Central Intelligence Agency, http://cia.gov/, appeared to have been suffered an attack from a hacker group on Wednesday evening.
The CIA site would not load properly and website DownForEveryoneOrJustMe.com confirmed that the site was down. However, ReadWriteWeb's Curt Hopkins, who notes that he lives across the country from CIA headquarters, said the website appeared "normal."
"Tango down - cia.gov - for the lulz," @LulzSec tweeted around 5:48PM ET.
LulzSec recently announced that it had established a hotline at which it would be accepting requests for new sites and services to target. LulzSec has claimed responsibility for attacks on Sony, gaming company Bethesda, PBS.org, as well as gaming sites Minecraft and League of Legends. The group's motto reads, "Laughing at your security since 2011."
LulzSec has not added the CIA to its list of "releases"--documents containing information taken during its cyber attacks--on its website and it's possible that the group may have brought down the website, though not taken sensitive data from the agency.
Still, the attack is likely to be taken as a serious affront to the CIA, given its national security responsibilities.
"I think the guys at LulzSec may have just made the biggest mistake of their lives," security expert Graham Cluley told the Huffington Post in an email. "The CIA aren't going to like having their nose bloodied like this."
All Things D writes of the alleged denial of service attack, "The site is for all intents and purposes the public face of the agency, so it's not likely that any classified information is being taken or any sensitive communications disrupted, but attacking government Web sites is a federal crime under the Computer Fraud and Abuse Act, and probably some other laws I'm not thinking of."
The group said of its previous attack on Senate computers, "We don't like the US government very much. Their boats are weak, their lulz are low, and their sites aren't very secure. In an attempt to help them fix their issues, we've decided to donate additional lulz in the form of owning them some more!"
The CIA was not immediately available for comment.
UPDATE: The CIA.gov website was sporadically accessible around 6PM ET.
Support HuffPost
The Stakes Have Never Been Higher
Related
Popular in the Community