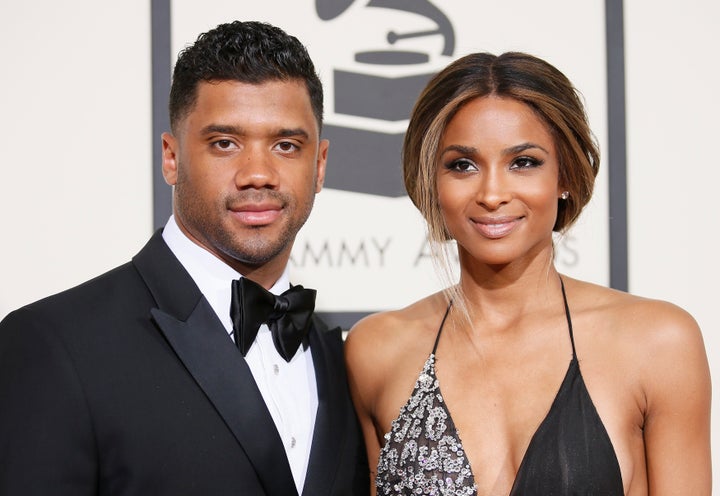 Ciara and Russell Wilson's engagement announcement Friday is the latest chapter in their whirlwind fairytale romance and is a stark contrast to her last relationship.
The R'n'B singer's nasty 2014 break up with her baby daddy and then-fiancé, rapper Future, was perfect fodder for the Internet gossip sites as reports of cheating surfaced. And ever since, the "I Bet" singer's had public spats over the custody of their 10-month-old son, Future Jr., which are a heartbreaking reminder that relationship breakdowns and co-parenting can be difficult terrain to navigate.
When the news broke last year that Ciara was dating Wilson, who is a quarterback for the Seattle Seahawks, it was a relief and joy for fans, the Twitterati and the wider public that she was back on the dating scene. Rumors of their relationship had swirled around for weeks, after Wilson posted a sweet picture of the two of them at the White House for a dinner.
It was, however, the news that the beautiful songstress and handsome football player were celibate that set the Internet ablaze. Wilson revealed during an interview with former NFL player Pastor Miles McPherson that they were going to wait until marriage to have sex. Perhaps surprisingly for many, Wilson, who has been married, was the one who suggested it.
"What would you say if we took all that extra stuff off the table? And just did it Jesus' way?" Wilson told the audience he suggested to Ciara.
"God's will is for you to be holy, so stay away from all sexual sin," according to the Biblical Book of Thessalonians 4:3.
Doing it Jesus' way. What a novel idea in a time when the hyper-sexualization of women is apparently no longer shocking. In fact, it has become the norm. It's well known that "sex sells" and has been absolutely true at least since Biblical mentions of Jezebel.
"Doing it Jesus' way. What a novel idea in a time when the hyper-sexualization of women is apparently no longer shocking."
More than 2,000 years on, the adage is still true. Just to posit the transformation in musical terms, I wonder sometimes how we went from Hot Chocolate's funky "Sexy Thing" in the 1970s, Marvin Gaye's romantic 1980s Grammy Award-winning "Sexual Healing" and Salt 'N' Pepa's educational "Let's Talk About Sex" to straight up misogynistic modern day anthems and club bangers glorifying abusive hook-ups, coercive sex and domestic violence found in the likes of Lil Wayne's "Bitches and Bottles," Robin Thicke's "Blurred Lines" and Eminem and Rihanna's "Love the Way You Lie."
This it seems are the "values" that infuse popular culture and those with public platforms back them up. Khloe Kardashian's views, recently aired on Kocktails With Khloe, that Ciara and Wilson's public acknowledgement of their celibacy seems like a stunt was insensitive, though are unfortunately likely shared by many others.
"With all due respect to Ciara, she has a baby. It's not like we don't know if she's a virgin or not," Kardashian said. 
Err, that's actually not very respectful Khloe. Thankfully, she got hold of herself and walked back her criticism of the newly-engaged couple's personal choice. Even though she says the comment was taken out of context, those words still came out of her mouth and came across as a classic "pull her down" move.  
Just as her sister Kim vented recently that the world should stop slut-shaming her for a sex video she made over a decade ago, so too should the likes of Khloe get heat for cherry-shaming Ciara, just because she is celibate though she isn't a virgin and gave birth to a child outside marriage. It's disappointing and counter-productive when people (read: women) tear each other down for simply having the audacity to try and be a better woman today than who she may have been yesterday.
Ciara and Wilson's apparently unusual decision to enter into a relationship premised on mutual affection, respect and emotional intimacy, shouldn't be shocking, and is happily having its moment in the sun right now. It was also a choice made by Hollywood actress Megan Good and her film executive husband, DeVon Franklin, and inspired the Christian couple to write their recently-released book The Wait. It's heartening to see that public figures are championing the celibate lifestyle, especially as they're a whisper in a cacophony of sexual hedonism.
Any naysayers out there are of course entitled to their critiques about the value of waiting to have sex. There is no doubt that when sex is good it's amazingly good, and who doesn't want to feel amazing? However, sex can also come with heartache and confusion for those who are looking for intimacy and mistake sex for affection, commitment, love and other warm, fuzzy feelings. It also comes with the real risk of sexually transmitted infections and unwanted pregnancy. Whether or not you believe in God, or are Christian, that's a thought worth considering.
"To be clear, making the decision to wait has nothing to do with one's sensuality or sexiness, which is why criticisms leveled at women like Ciara and Good ... miss the point."
And it's a thought that increasingly occupied my mind in 2014 as I reached my 30th birthday, precipitated by an increasing desire to redesign my life in a way that would bring me peace and joy, while strengthening my relationship with God.
Four years ago, I had a near-death experience when I was hospitalized with Typhoid, and my life was changed forever when I was (literally) saved by Jesus Christ, whom I hadn't had a relationship with previously. As my relationship with God has deepened over that time, I've prayed and looked to His Word for how Jesus would have me live my life. There are, of course, episodes in the Bible that challenge my liberal outlook on the world, some of which fuel attitudes that I don't subscribe to such as sexism and homophobia. However, on sexual intimacy this Biblical passage just made so much sense to me:
Flee from sexual immorality. All other sins a person commits are outside the body, but whoever sins sexually, sins against their own body. Do you not know that your bodies are temples of the Holy Spirit, who is in you, whom you have received from God? You are not your own; you were bought at a price (the crucifixion of Jesus Christ). Therefore honor God with your body.

1 Corinthians 6:18-20
When I was baptized in 2014, I made the commitment to God that I would honor Him by waiting until marriage to have sex again. I may not be a virgin, but I am renewed in my relationship with Christ and that's all he asks because he loves and forgives. Taking sex off the menu, is certainly a challenge when dating in New York City. It's sent a couple of great guys running for the nearest subway exit, but I figure I've saved myself a whole lot of potentially wasted time spent on Mr. Not Quite Right For Me.
To be clear, making the decision to wait has nothing to do with one's sensuality or sexiness, which is why criticisms leveled at women like Ciara and Good, who has been judged for being a scantily clad siren, miss the point. I am, as each of those women is, a sexual being who has every right to look and feel good about my physical assets and attributes.
I'm certainly an advocate of taking time to put effort into my hair and make-up, and enjoy rocking hot heels, form-fitting dresses and pretty lingerie. But, as far as I'm concerned, if God says I should only give up my goodies once Mr. Right has put a (wedding) ring on it, they stay in the jar.
Calling all HuffPost superfans!
Sign up for membership to become a founding member and help shape HuffPost's next chapter
BEFORE YOU GO