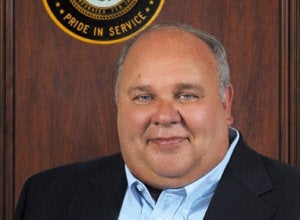 If there's a city that's more known for government corruption and nepotism than Chicago, it's nearby Cicero, Illinois. In the Prohibition Era, Al Capone moved his operations from Chicago to Cicero to evade the city police, and quickly bought and owned most of the politicians in the town. It's been a hotbed of corruption ever since, with recent president Betty Loren-Maltese spending eight years in prison for stealing $12 million from the city in an insurance scam.
Current president Larry Dominick ran for office promising reform, saying in particular that he'd put an end to nepotism in city hiring. But as his testimony in a federal civil suit on Thursday revealed, he hasn't exactly made good on that promise.
According to the Chicago Sun-Times, Dominick testified that he has placed more than 20 members of his extended family on the town payroll, including his mother, his sister, his brother-in-law, his wife, and the mother of his son's child.
He pointed out one case where the relative, his son Derek, was already working for the town before he took office in 2005. But he clarified that Derek, who Dominick said "is close to finishing" his college degree, was promoted from clerk to head of the town's Human Resources department with essentially no management experience.
The Cicero newspaper El Dia published a list of the Dominick relatives and close associates on the town payroll, who receive the full compliment of employee benefits, including family health insurance, life insurance, government automobiles and free gas.
That list includes Lillian Dominick, Larry Dominick's mother; Richard Dominick, his brother; Elizabeth Dominick, 3rd wife; Paul Dembowski, brother-in-law; Cindy Dembowski, sister; Derek Dominick, son; Brian Dominick, son; Lisa Dominick, daughter-in-law; her father; Derek Dominick's fiancee; Ryan Chlada, son-in-law; Margie Seno second wife; her daughter Lisa Seno; her son Michael Seno; Wayne Wente, Dominick's "nephew-in-law"; Ed Kozlowski, a former business partner; Jose Del Angel, former business partner; George Hunter, business partner; Jeff Pesek, his largest contributor; Craig Pesek, Jeff's brother; Michael Pesek, Jeff's relative; Elaine Pesek, Jeff's mother; Eugene Potempa, Dominick's lawyer's father-in-law; Timothy Potempa, his lawyer's brother-in-law; Ron Konosopak, his grandchild's maternal grandfather; and Carol Burkhardt Dominick, his first wife.
But it bears mention that El Dia isn't exactly neutral toward Dominick. In fact, the case that Dominick testified in centers around a grudge between the president and the paper. It was loyal to former president Loren-Maltese, the one who spent eight years in prison. When it published stories critical of Dominick, the suit alleges, he went after town handyman Merced Rojas, husband of the paper's publisher, Ana Maria Montes de Oca-Rojas.
The suit also alleges that he used a string of offensive epithets to refer to the Montes de Oca family.
Popular in the Community