Ask for cigarettes at one bodega in Bedford-Stuyvesant, Brooklyn, and the owner will open a small drawer behind the counter and pull out your pack of Marlboros, Parliaments or American Spirits.
Why not keep the cigarettes on display? Because the bodega owner -- who asked not to be identified -- didn't buy these cigarettes for the legal price in New York, where high taxes on tobacco have fueled a multimillion-dollar tobacco smuggling industry.
Story continues below the infographic.
Infographic by Alissa Scheller for the Huffington Post.
"Every store in Brooklyn," the bodega owner said, buys cigarettes from someone who travels down South to states with lower cigarette taxes. In places like Virginia, North Carolina and Delaware, they'll buy cartons containing 10 packs of cigarettes for around $48 a pop, then come back to New York, where local stores will buy them around $55.
"My guy has 100 different businesses he sells to," the bodega owner said, gesturing across the street at a Chinese restaurant, a laundromat and a barbershop. "All three of those stores buy and sell smuggled cigarettes too," he said.
He said a friend makes a weekly trip to North Carolina with $100,000, loads up on cigarettes, then returns to New York. "He makes a million dollars a year," the bodega owner said.
The financial incentive for smuggling cigarettes is clear. If the bodega owner were to go about it the legal way, buying a pack of cigarettes at the wholesale price of $12.50, then retailing that pack for $13, he only makes 50 cents profit.
Each pack of cigarettes smuggled from out of state wholesales for about $5.50. The store owner can still sell those packs for $12.50. But suddenly, he's making a $7 profit.
Other stores, in order to stay competitive, sell cigarettes for cheaper.
Down the street, walk into another bodega and ask for cigarettes, and the clerk will go into a back room to get you a pack. The price: $8.
Walk another block and a different bodega illegally doles out "loosies," single cigarettes, for 75 cents each.
The booming black market for cigarettes in New York City started in the early-2000s, the bodega owner said. In 1997, he said he was selling cigarettes for $2.10 a pack -- the same price as in many other states. Now, less than 20 years later, a combination of federal, state and local taxes have driven the average price of a pack in New York City to $12 to $14.
"The incentive to profit by evading payment of taxes rises with each tax rate hike imposed by federal, state, and local governments," a Justice Department study in 2009 found. That year, the head the tobacco-diversion division of the Bureau of Alcohol, Tobacco, Firearms and Explosives told The Wall Street Journal that states were losing an estimated $5 billion each year due to cigarette smuggling. New York state alone, according to officials in 2011, was losing $525 million a year.
A new report from the Tax Foundation found that 57 percent of cigarettes consumed in New York state in 2012 were smuggled into the state illegally. That's the highest rate of smuggled cigarettes in the country. New York has the highest state tax on cigarettes and New York City imposes an additional $1.50 levy.
Cracking down on tobacco smuggling has become a priority for New York authorities. Last month, state tax officials busted a Queens man for the "for the illegal transportation, storing and sale of untaxed contraband cigarettes."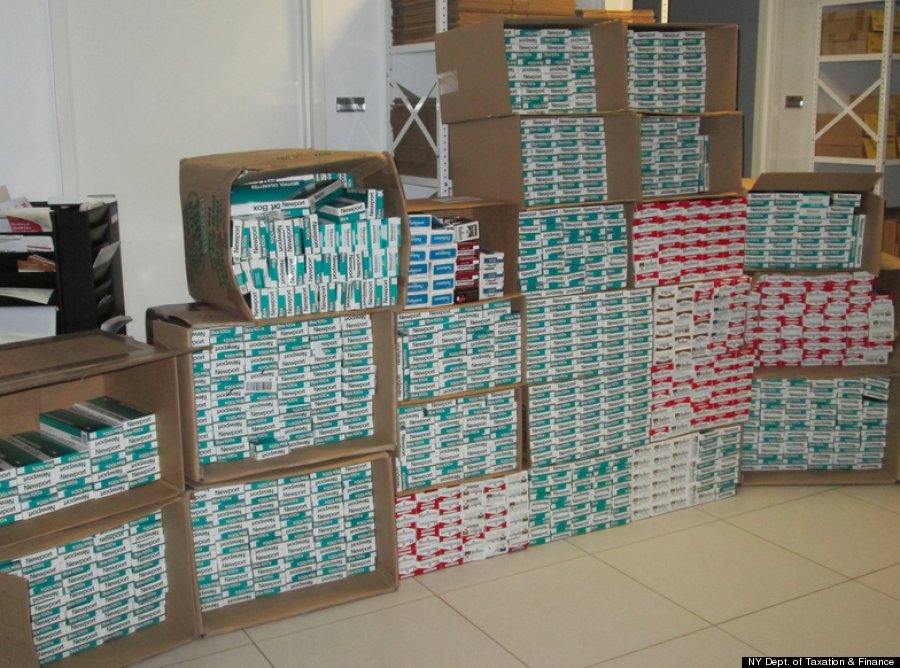 More than 900 cartons of contraband cigarettes were seized at a warehouse in the Bronx. Photo: New York Department of Taxation and Finance
State and federal lawmakers have passed a slew of legislation aimed at reining in smuggling. Congress passed the Prevent All Cigarette Trafficking Act in 2010, which made the online sale of cigarettes illegal unless the seller pays the required state taxes. It also curbed cigarette-shipping through the Postal Service. A law that year in New York ended the ability of Native American tribes to sell non-taxed cigarettes to non-tribe members. And in 2011, laws in New York and New Jersey required governments to destroy contraband or counterfeit cigarettes seized by law enforcement, rather than selling them at auction.
Last year, the city of New York and The American Lung Association called on the U.S. Food and Drug Administration to institute a national track-and-trace system for cigarettes, enabling the government to trace a pack of smokes from the manufacturer to the consumer.
Smoking is the leading preventable cause of death in New York City, according to city Health Department numbers, killing more than 7,000 New Yorkers annually. The number of daily adult smokers in New York City has dropped from 1.3 million in 2002 to 850,000 in 2012, in part due to rising taxes that have helped create the cigarette black market.
Popular in the Community