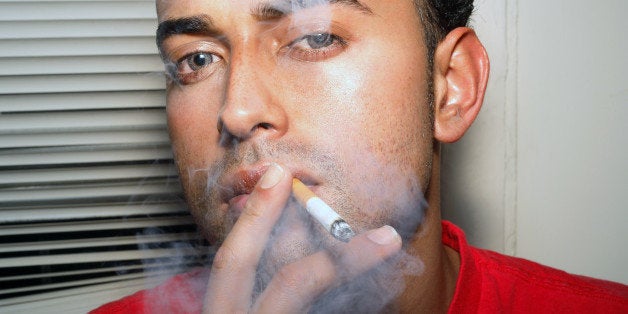 A recent study suggests that cigarettes may now be more addictive than they've ever been.
Researchers from the Massachusetts Department of Public Health and the University of Massachusetts Medical School say that smokers are now taking in significantly more nicotine every time they puff on a cigarette than in previous years.
"Cigarettes have a more efficient nicotine delivery system than ever before," said Thomas Land, director of the Office of Health Information Policy and Informatics for the Massachusetts Department of Public Health and principal investigator for the study, per a media release. "Because smokers have no way of knowing that the level of nicotine they are receiving has increased, they can become more addicted more easily without knowing why."
Looking at data provided to the state by four major cigarette manufacturers -- Lorillard (which makes Newport and Kent cigarette brands), Philip Morris (Marlboro, Parliament), R.J. Reynolds (Camel, Kool) and Brown & Williamson (merged with R.J. Reynolds in 2004) -- the researchers said that the amount of nicotine that cigarettes deliver (known as "nicotine yield") has increased dramatically over the last 15 or so years, even as the nicotine content in cigarettes has remained relatively stable.
Specifically, the researchers found that the nicotine delivered rose, on average, from 1.65 milligrams per cigarette in 1999 to a peak of 1.89 mg per cigarette in 2011 -- a whopping 15 percent increase.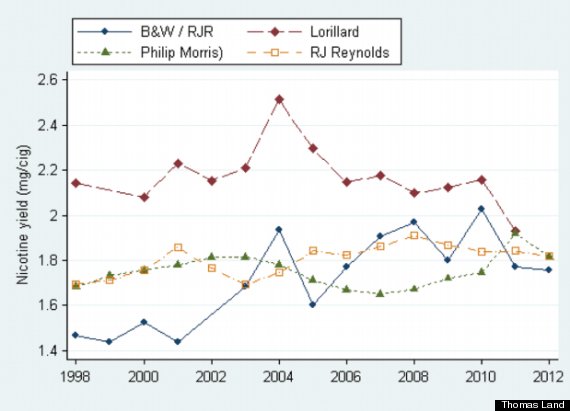 Researchers say that the increase in nicotine yield has likely made cigarettes more addictive and harder to give up.
"For young people trying cigarettes it is probably easier to become addicted," Land told The Huffington Post in an email.
"The 15 percent increase is large," said Wenjun Li, one of the study's authors, per the release. "Without knowing the higher nicotine yield, a heavy smoker trying to cut back on the number of cigarettes smoked each day may actually be getting the same amount of nicotine even though they are smoking fewer cigarettes. This makes the quit attempt much harder."
Researchers say that manufacturers have likely altered the design of cigarettes to make them more efficient in delivering nicotine to a smoker's lungs, thus making them more addictive. (Nicotine, incidentally, has been shown to be as addictive as cocaine and heroin.)
If this is the case, researchers say it contradicts the tobacco industry's previous assertions that "changes in nicotine yield were due to year-to-year agricultural fluctuations," per the study.
According to The Boston Globe, both R.J. Reynolds and Philip Morris have declined to comment on the study. However, a Philip Morris spokesperson told the newspaper that the company provides a "significant amount of information about cigarette design and manufacturing" to the U.S. Food and Drug Administration.
"The FDA is currently funding several scientific studies related to nicotine," he said, "and we will share our perspective, as appropriate, as part of the regulatory process."
For instance, though there have been incessant calls for reduced nicotine content in cigarettes in recent years, Land and his colleagues say that policy makers should also be looking at the nicotine yield and yield-to-content ratios of cigarettes.
"What concerns tobacco researchers is that any mandated reductions in the nicotine level in cigarettes could be offset by design features, rendering the reductions ineffective. The result would be cigarettes with less nicotine that are just as addictive as they were before," Land told the HuffPost.
He says he hopes the new study will not just raise awareness, but will "hold the tobacco industry accountable," per the release.
The Boston Globe reports that the FDA has yet to set limits on both nicotine content and yield in cigarettes.
Before You Go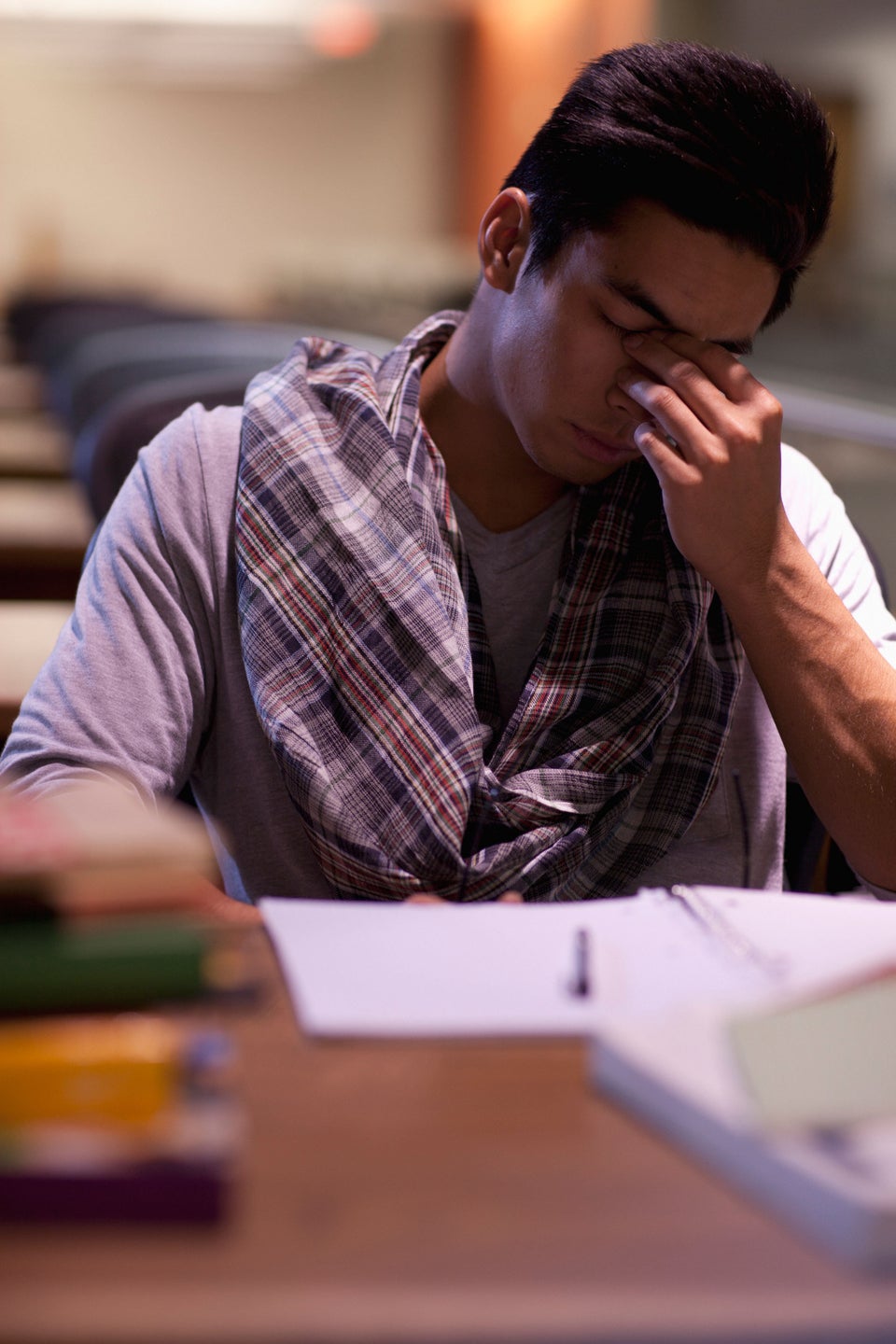 10 Side Benefits Of Quitting Smoking
Popular in the Community