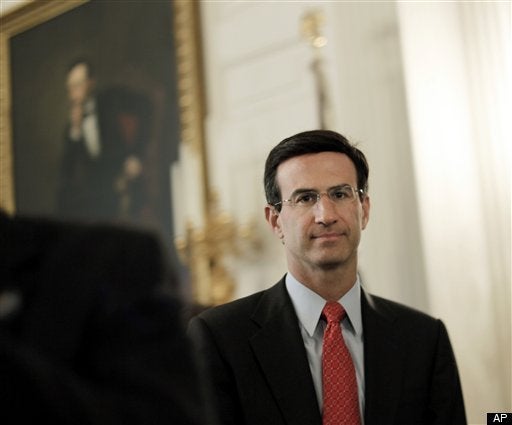 NEW YORK/CHARLOTTE, N.C., Dec 9 (By Maria Aspan and Joe Rauch) - Citigroup Inc named U.S. President Barack Obama's former budget director as a senior global banking adviser on Thursday, strengthening its ties to high-profile former officials the same week the bailed-out bank finished shrugging off U.S. government ownership.
Peter Orszag, currently a senior fellow at the Council on Foreign Relations, is Citigroup's second hire of a former senior government official this month. Last week the bank hired Carlos Gutierrez, former Commerce Secretary under President George W. Bush, as a vice chairman for its institutional clients group.
Orszag, who had worked as director of the Office of Management and Budget under President Obama, left the White House in July. He was one of the president's most prominent advisers and remains well-connected in U.S. political circles.
Now he will bring those connections to Citigroup -- although the bank said in a prepared statement that his role will not involve direct contact with federal government officials.
Citigroup said Orszag will help manage its investment banking relationships as a vice chairman of global banking and will be a member of the bank's senior strategic advisory group.
He follows in the footsteps of another prominent Democratic government official -- former Treasury secretary Robert Rubin, who became a senior counselor to Citigroup and helped shape the bank's strategy during the years leading up to the financial crisis. Rubin resigned under a cloud of criticism in early 2009, after the struggling bank accepted $45 billion in U.S. government bailout funds.
It took Citigroup until this week to shed its status as a U.S. government ward. The U.S. Treasury owned 27 percent of the bank as recently as April, but said on Monday it had finished selling its shares.
The company's shares closed up about 1.1 percent at $4.69 on Thursday.
Prior to working as the Office of Management and Budget director under Obama, Orszag oversaw the Congressional Budget Office. He holds a doctoral degree in economics from the London School of Economics.
He ruffled Democratic feathers earlier this year by proposing a possible tax-cut compromise after leaving the White House. His suggestion -- extending all rates for two years at a time when the Obama administration wanted to permanently extend rates for the middle class and let rates rise for the richest -- eventually became the centerpiece of the deal Obama struck with Republicans this month.
(Reporting by Joe Rauch in Charlotte and Maria Aspan in New York; editing by Gerald E. McCormick, Bernard Orr)
Popular in the Community