Honoring a request from Otto Warmbier's family, the coroner's office in Cincinnati, Ohio, won't perform an autopsy of the 22-year-old American student who died Monday just days after being released from a North Korean prison.
In light of the family's objection, "only an external examination was performed," the Hamilton County Coroner's Office said in a statement Tuesday. "No conclusions about the cause and manner of Mr. Warmbier's death have been drawn at this time as there are additional medical records and imaging to review and people to interview."
Warmbier died at the University of Cincinnati Medical Center after returning home with a "severe neurological injury" that left him in a state of "unresponsive wakefulness," doctors said last week. Visiting North Korea as part of a tour group, the University of Virginia student was arrested at the Pyongyang airport in January 2016 for attempting to steal a government banner. Four months later, the authoritarian regime sentenced him to 15 years of hard labor. 
North Korean authorities said Warmbier fell into a coma following his sentencing after contracting botulism and being given a sleeping pill. The doctors in Cincinnati said they found no sign of botulism and that the cause of his brain injury was unclear.
They also said they found no evidence of broken bones, but suggested cardiac arrest that cuts off the flow of blood to the brain could have destroyed the brain tissue.
Dr. Jordan Bonomo, a neurosurgery specialist at the medical center, said cardiac arrest in young people is rare and typically caused by "intoxication or traumatic injury."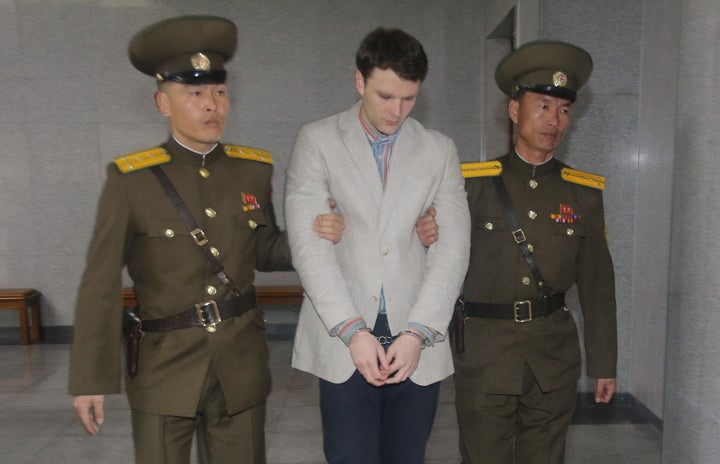 President Donald Trump called Warmbier's death a "total disgrace" on Monday and indirectly blamed former President Barack Obama for not negotiating his release during his term.
"It's a total disgrace what happened to Otto," Trump told reporters in the Oval Office. "It should never, ever be allowed to happen. And frankly, if he were brought home sooner, I think the results would have been a lot different."
Trump added that Warmbier "should have been brought home that same day," apparently referring to when he was arrested.
Warmbier's father, Fred, has praised Trump for "aggressively" pursuing Otto's release. When asked during a press conference last week whether the Obama administration should have done more to help, he replied, "I think the results speak for themselves."
This article has been updated to reflect the decision of no autopsy being performed of Warmbier.
REAL LIFE. REAL NEWS. REAL VOICES.
Help us tell more of the stories that matter from voices that too often remain unheard.
BEFORE YOU GO
PHOTO GALLERY
North Korea Military Parade