Prosecutors will not file criminal charges against the mother of the 3-year-old boy whose fall into a gorilla enclosure at the Cincinnati Zoo last week prompted authorities to shoot the endangered animal. 
"By all accounts, this mother did not act in any way where she presented her child to some harm," Hamilton County Prosecutor Joe Deters said at a press conference on Monday. "If anyone doesn't believe a 3-year-old can scamper off very quickly, they've never had kids. Because they can, and they do." 
The Cincinnati police concluded their investigation into the incident without recommending whether any charges should be filed against 32-year-old Michelle Gregg, sources told the Cincinnati Enquirer last week. 
However, the death of Harambe, a 17-year-old Western lowland silverback, has sparked intense criticism of all parties. Some people railed against the zoo for deciding to shoot the gorilla, while others have claimed the boy's mother should have provided better supervision.
Deters said Harambe's death was "tragic," but added, "It's still an animal. It does not equate human life. And [the zoo] felt this boy's life was in jeopardy."
"I've been somewhat taken aback by some people's moral equivalence of human life versus animal life," he said. "This was a beautiful little boy."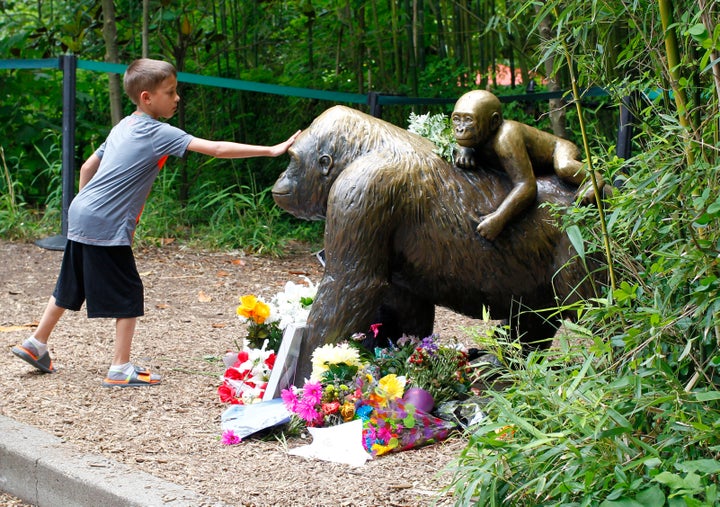 Cincinnati Zoo officials said they were "devastated" by Harambe's death and had not made the decision to shoot the animal lightly, but added that they stand by their actions because the gorilla was hurting the boy. 
Zoo Director Thane Maynard has also defended the enclosure's barriers, saying they are safe and "exceed protocols." 
The child fell into the gorilla enclosure during a May 28 visit to the zoo. Video footage of the incident shows Harambe dragging the boy through a moat in the pen. People on the scene who called 911 told dispatchers the gorilla "slammed the baby into the wall" and was "dragging him around." 
The boy was hospitalized with scrapes and a concussion. 
"The little boy himself had already been talking about wanting to go in, go in, get in the water and his mother is like, 'No you're not, no you're not,'" witness Kimberley Ann Perkins O'Connor told CNN. 
"Her attention was drawn away for seconds, maybe a minute, and then he was up and in before you knew it," O'Connor added.
Gregg had a total of four children with her during the zoo visit, Deters said. 
"All the witnessers who were in her view ... described a very attentive mother who simply turned her back to take care of another child," he said. "That's not heedless indifference."
A petition calling for Child Protective Services to investigate Gregg following the incident garnered more than 60,000 signatures.
But Deters said investigators had visited the family's home and were "impressed" by the care and attentiveness of the parents. 
The family has asked its supporters to send donations to the zoo.
"We are also very appreciative for the expressions of concern and support that have been sent to us," the family said in a statement to ABC News. "Some have offered money to the family, which we do not want and will not accept. If anyone wishes to make a gift, we recommend a donation to the Cincinnati Zoo in Harambe's name."
Calling all HuffPost superfans!
Sign up for membership to become a founding member and help shape HuffPost's next chapter
BEFORE YOU GO
PHOTO GALLERY
World's Most Extreme Animals