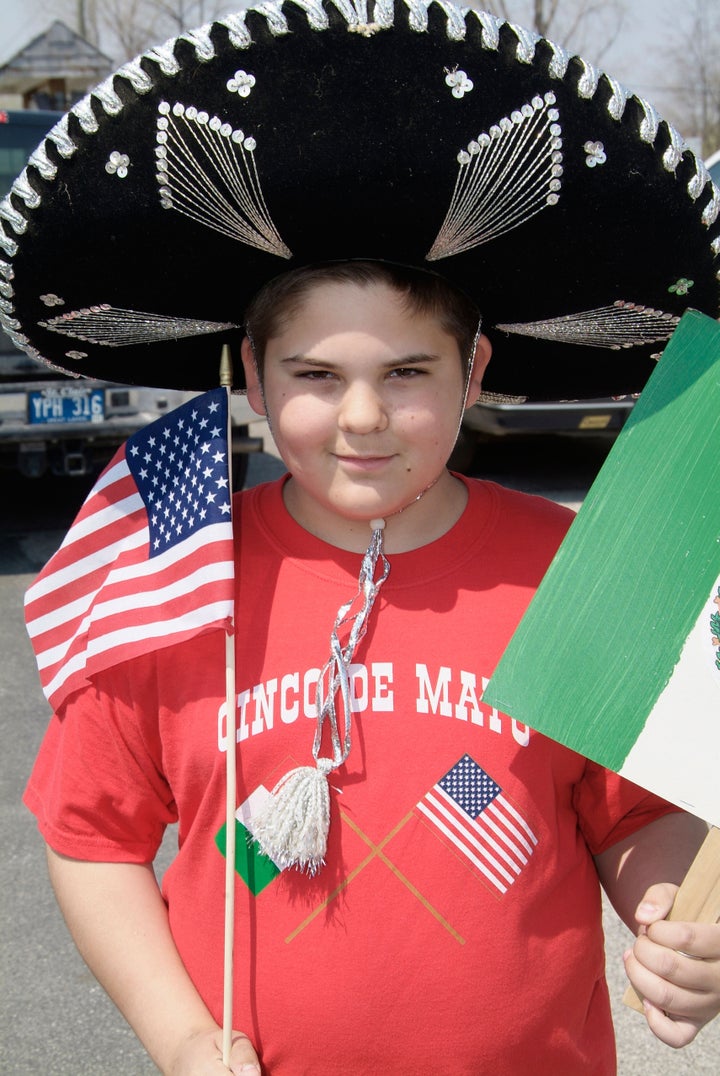 The dress code at Live Oak High School in northern California explicitly prohibits "any clothing or decoration which detracts from the learning environment."
Offending wear includes obscene images or gestures, statements of a sexual nature or swear words, depictions of substances illegal to juveniles or displays of weapons or violence, symbols of gang culture, and the ubiquitous below-the-waist, underwear-exposing jeans.
But why would a shirt with the American flag get you sent home?
A federal judge has ruled that officials at Live Oak in Morgan Hill had a legal right to send home students wearing shirts with the American flag on Cinco de Mayo because of a "reasonable fear" the images could spark violence, the Washington Post reported.
The case stems from what the San Francisco Chronicle described as an "ethnically charged atmosphere" at the 1,300-student Live Oak High School, where 20 percent of the students are English-language learners and 18 percent come from low-income families.
In the ruling, Chief U.S. District Judge James Ware of San Francisco noted that a group of Mexican-American students walked around with a Mexican flag on Cinco de Mayo 2009. A group of white students responded by hanging a makeshift American flag to a tree and chanting "USA." Tensions flared, with the two groups exchanging profanities and threats, the Chronicle reported.
A year later, on May 5, 2010, three Live Oak students wore shirts with the U.S. flag. An assistant principal, fearing a potential clash with Mexican-American students, asked them to remove the shirts or turn them inside out. When they refused, the principal sent two of the students home for the day.
The youths who were sent home and their parents sued the school district, alleging that their constitutional rights had been violated. Ware threw the case out.
Ware, citing the previous clash between Mexican-American and white students, ruled that school officials "reasonably forecast that (the shirts) could cause a substantial disruption" and were legally right to take measures to prevent trouble, the Chronicle reported:
While the Supreme Court has ruled that public school students have the right to engage in nondisruptive free speech, that ruling "does not require that school officials wait until disruption occurs before they act," Ware said in his ruling Tuesday dismissing the students' lawsuit.

Mark Posard, a lawyer for the Morgan Hill Unified School District, said Friday that Ware's decision "affirmed that school safety is paramount."

Bill Becker, a lawyer for the youths and their parents, said they would appeal "this bizarre ruling."

"The court found that the rights of students promoting their Mexican heritage trumped the rights of students expressing their patriotism," Becker said. If school officials feared disruption, he said, they should have canceled the Cinco de Mayo observance.
Cinco de Mayo is widely considered a celebration of Mexican heritage in this country although the holiday goes largely unnoticed in Mexico, where the date commemorates a Mexican army victory in Puebla over the French in 1862.
David Hayes-Bautista, a professor at UCLA who is writing a book on the history of Cinco de Mayo, said it's actually an American holiday dating to the Civil War.
"I confronted the question why is it celebrated so much in the United States when it's not celebrated in Mexico," he said. "Everyone thinks it's a Mexican holiday and in Mexico they do not think it's a holiday. The answer is that it's not only not a Mexican holiday, actually it's an American Civil War holiday going back to ... the stances that Latinos took on the issues of the day -- slavery versus freedom, democracy versus some form of oligarchy, racial equality versus white supremacy."
Hayes-Bautista said there were entire regiments of Spanish-speaking troops in the Civil War.
"The larger question is why has this history been forgotten," he said. "There's been this interesting amnesia about things Latino in this country."
Perhaps the students at Live Oak would be right to carry both American and Mexican flags on Cinco de Mayo.
Popular in the Community