The organizers of a Cinco de Mayo celebration in Philadelphia have canceled the annual event over fears of an immigration crackdown.
This would have been the 10th year for El Carnaval de Puebla, a parade that has drawn as many as 15,000 people in the past, organizer Edgar Ramirez told Philadelphia's NBC10.
Ramirez described the cancellation as "sad but responsible" in light of a wave of Immigrations and Customs Enforcement detainments and arrests.
"Everyone is offended by the actions of ICE," Ramirez told NBC10. "They did not feel comfortable holding the event."
"Under these sad circumstances, we do not think it's fair nor the right moment for a joyful celebration," they wrote. "This year we ask that you all stay well informed, that you don't get led astray by rumors or make hasty decisions. Just for this one year, we don't want you to take unnecessary risks until we know what we're dealing with."
The festival celebrates the Mexican army's victory over the French at the Battle of Puebla on May 5, 1862. In previous years, hundreds of carnavaleros, or marchers, have commemorated the historic battle while parading through south Philadelphia in traditional garb.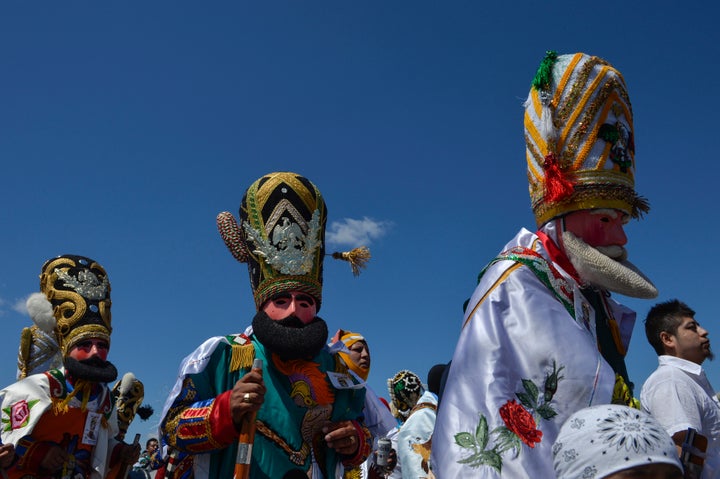 ICE spokesman Khaalid Walls refuted the idea that attending the celebration would put individuals at risk, saying in a statement that the agency's enforcement actions are "targeted and lead driven."
"ICE does not conduct sweeps or raids that target aliens indiscriminately," Walls told The Huffington Post in an email. "ICE fully respects the rights of all people to voice their opinion peacefully without interference."
This month, ICE agents arrested 248 foreign nationals in Pennsylvania, West Virginia and Delaware. The operation targeted "criminal aliens, immigration fugitives, re-entrants and other immigration violators," according to the agency. 
Philadelphia is a sanctuary city, meaning law enforcement limits cooperation with immigration officials. Agents arrested several undocumented immigrants in the city earlier this month. The city had released certain individuals who ICE had wanted to remain in custody, which the agency said in statement was "a situation that puts the public at unnecessary risk."
Philadelphia Mayor Jim Kenney said the city was committed to protecting its immigrants.
"I'm devastated to hear that ICE has had such a chilling effect that Philadelphians no longer feel comfortable engaging in this public celebration," Kenney said in a statement emailed to HuffPost. "While we can't stop ICE from conducting these raids, I want our immigrant community to know that we want them here, we remain committed to being a 4th Amendment City and protecting these values, and we will do whatever we can to help them feel comfortable bringing this celebration back in the future."
REAL LIFE. REAL NEWS. REAL VOICES.
Help us tell more of the stories that matter from voices that too often remain unheard.
BEFORE YOU GO
PHOTO GALLERY
Immigrants Proudly Share Their American Stories On Twitter With #ImAlreadyHome