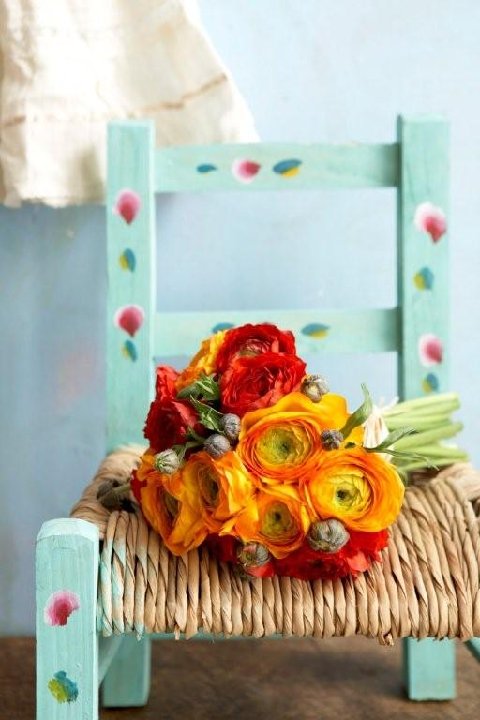 Cinco de May (or the fifth of May) commemorates the Mexican army's 1862 victory over France at the Battle of Puebla. In the United States, Cinco de Mayo has evolved into a celebration of Mexican culture and heritage, particularly in areas with large Mexican-American populations. Cinco de Mayo celebrations include parades, mariachi music performances, dancing and did I mention muchos margaritas? A Cinco de Mayo party is the perfect excuse to get friends together. When decorating for a Mexican theme party, avoid kitsch elements that appear cheap. Instead, look to fresh flowers to turn your flat into a fiesta. Colorful blooms add charm any space.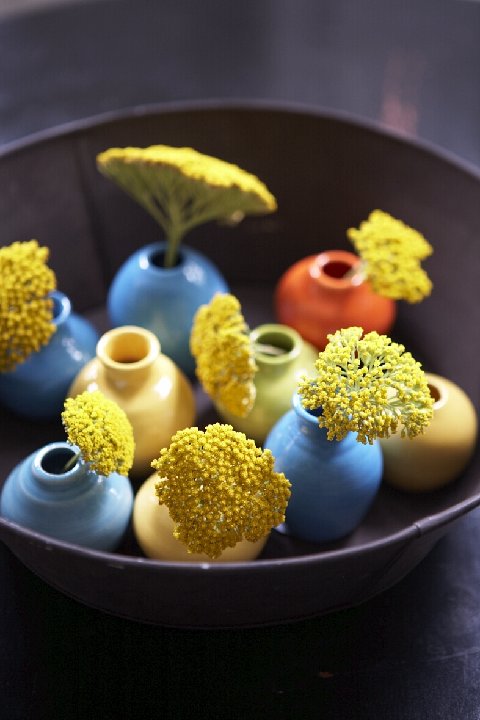 If hosting other, more formal holidays at your pad intimidates you-Cinco de Mayo is your holiday. Throwing a fiesta is fun. It should be relaxed and casual. Put away that white china, crystal, and fine linens, Cinco de Mayo calls for colorful mix-matched china and glasses. Bring out the Fiesta dinnerware. The colorful ceramic dinnerware perfectly compliments the bold flavors of a Mexican menu. Cups can be used to hold paper-like poppies.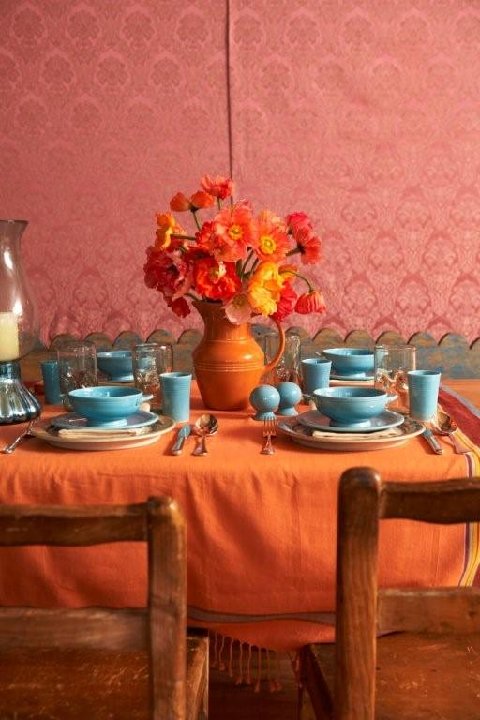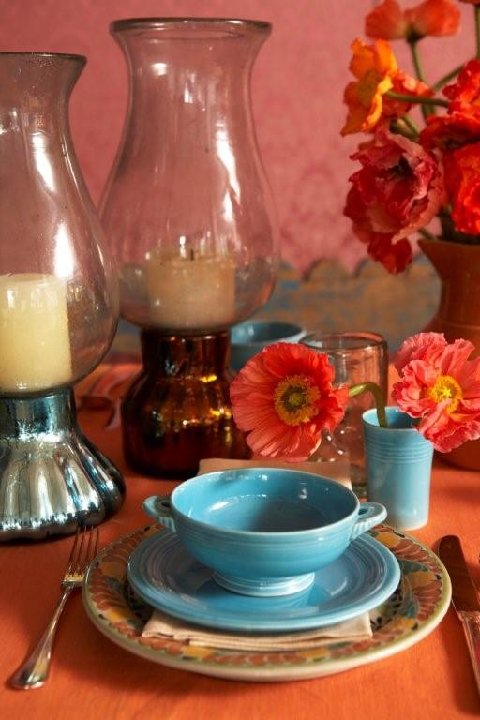 Another clever idea is to use hand-painted tin cans with the image of Our Lady of Guadalupe. She is the patron saint of Mexico. Her image can be found everywhere. I found these intricately painted tins at one of my favorite haunts in New York City, La Sirena. This quaint shop offers a vast selection of Mexican folk art. Simply fill these tins with colorful tea roses and line them down your table for a colorful centerpiece.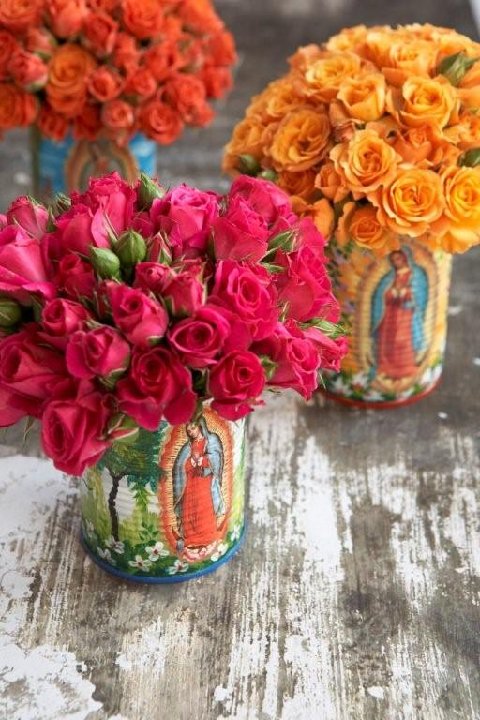 Instead of traditional votive and pillar candles, use botanica candles to compliment your tablescape. These colorful candles are available at your corner bodega for around $1.00 each. Once lit, they will cast a spell on your guests.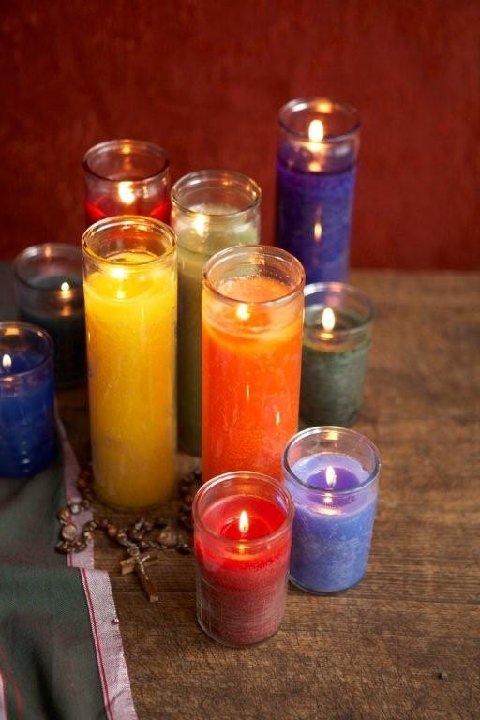 At home, my favorite color palette is chili pepper red and avocado green. Using an old farm table, I stack dishes and serving pieces for a festive buffet. My mission is to re-create a Frida Kahlo still life-my favorite artist. Strewn fruits and vegetables are reminiscent of her incredible paintings. Pitchers are filled with black magic and super green roses.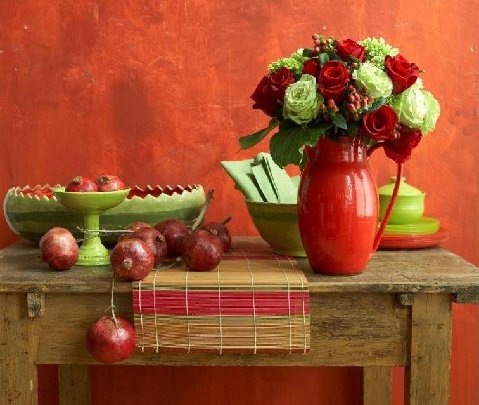 To get the party started, give maracas as favors. Invite guests to wear straw hats or sombreros. After enough tequila, rum, or sangria, your guests will take to the dance floor for their best interpretation of El Jarabe Tapatío -- the Mexican hat dance.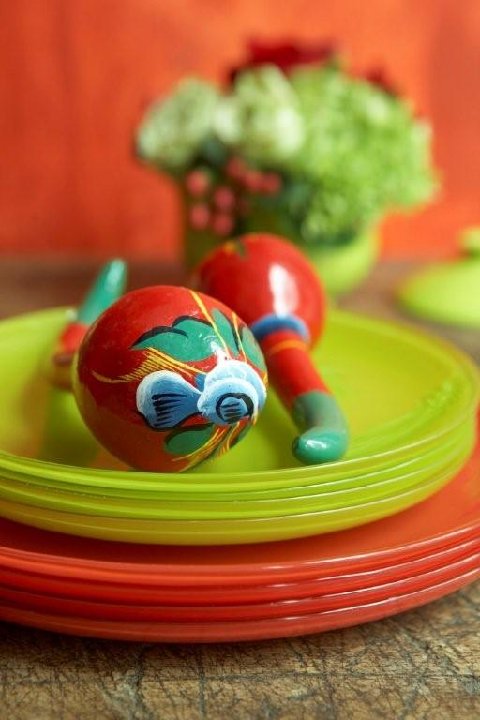 Whether you are Mexican celebrating your history and culture or a blanquito like myself, Cinco de Mayo is a festive holiday to be enjoyed by all. Just invite your best amigos over and let the fiesta begin!
All images from "Flowers for the Home-Inspirations From the World Over"
by: Grayson Handy & Tracey Zabar
Photos by: Ellen Silverman