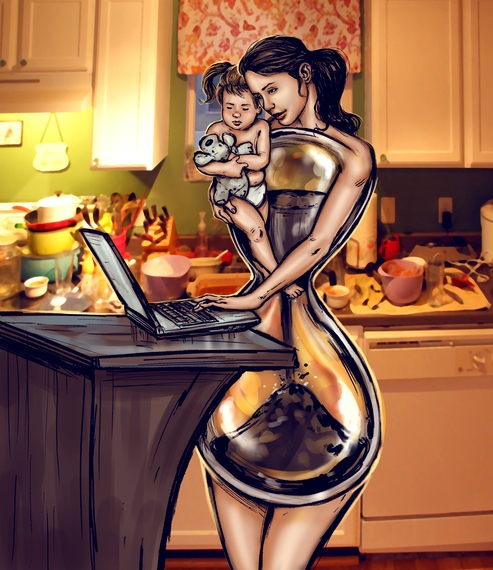 "Cinderella, wake up," I yelled. "It's past midnight, your dreams have turned into pumpkins, your ball gown is a few sizes too small, and where the hell are your shoes?"

As I was gasping for air, I realized, "Cinderella, we are in New Jersey! And you are pregnant!" And the prince, the prince is on a business trip, returning on Sunday.

The biggest transition in my life, which my wide-eyed youth was startled to comprehend, wasn't moving by myself at the age of 18 to the U.S., more than 6,000 miles away from my homeland of Israel. Nor was it the more dramatic move from Manhattan to New Jersey.

The biggest transition in my life was where the destination was planned, but obscured by the fog of new expectations and not knowing when we would reach our destination.
Before I knew it, it was time to pack, and whilst my carry-on was all ready to go, I was bewildered by how much baggage I still had. I couldn't take it all on this journey with me, but I didn't want to leave a thing behind! I was overwhelmed with emotions, as I was getting short on time.

I found myself just like many other soon-to-be mothers, packing our diplomas, jobs, careers, wildest fantasies, desires, and dreams into the biggest box we could find, sealing it tightly so nothing would mysteriously disappear, and marking the box "fragile content."

I was packed and ready to board, but not before saying goodbye; we'd been together for 29 years, after all. We'd done everything together. We were wild, brave, and, more than anything, we were free. I promised to remember who she was, even if she looks a bit different in time and becomes hard to recognize -- it's still me, the same dreamer inside.

While I was pushing ahead, I couldn't stop looking back, mourning the parts that would forever change. I knew there would be no retreat. Those wishful eyes started tearing up, washing away the old and drowning in the new. The blissful moment I was anticipating was overwhelming the girl I knew.
The overweight baggage fees were still unknown, but despite it all, I willingly checked in with all I had, took a deep breath (and an epidural), and we were up in the air. She arrived, and just like that the world as I knew it changed forever. That day, a mother was born.

The day my little princess came out into the world was also the day when everything I knew for sure was shoved back in.

It felt as though I surrendered my identity to motherhood, put the girl I used to be on a "time-out" while transforming into Mary Poppins on steroids answering all their needs. Your cry is my command.

I became the mother of natural disasters, continuously putting out fires. A little cry here, a mini meltdown there and the kids had them too. There were some quiet moments as well, during which I would turn to reality TV to put the crazy into perspective.

I guess at the end of the day, playing peekaboo and rowing the boat for the millionth times didn't cut it for me.

After three years of being a stay-at-home mom, which doesn't sound like a lot but in mommy years it's like 30, I was drained.

I was feeling anything but the romanticized idea of motherhood they sell you on a Hallmark card and sugar coating it all to the world left me with a bitter taste in my mouth.

Don't get me wrong: I was given the gift of becoming a mother, which I don't take for granted and will forever be grateful for. My girls are my greatest loves, pride and joy. Even when it gets hard and they drive me a little crazy, I wouldn't change it for the world.

However I don't want to become the suburban cliché I was afraid of most. Busy cleaning, cooking, helping, pleasing and carpooling while life is passing me by.

There is nothing wrong with being a full-time mom. There is NO harder job or more fulfilling than doing just that, but it only fulfilled the motherly part of me, not me as a whole.

I know myself and at the end of the day (I felt a bit guilty at first to admit), it's not enough for me to make them all happy. Dare I ask, what about me?

I didn't want my dreams to be held hostage by motherhood and I believe that one should never depend on others, including our children to plant the seeds to our happiness and self worth.

So, I decided it was time to take a brave step towards the box I left behind years ago. There were times when I considered throwing it all away, thinking it was too big and I needed the space. Besides I was out of practice anyway.

Benjamin Franklin once said: "some people die at 25 and aren't buried until 75".
I don't want to be one of them. There's nothing more bitter than living a life filled with regrets.

So, even if you've lost your box over the years, even if it seems like you never had one or it's been wrapped in your fears....

The girl you once knew never left you. She's still waiting inside, and it's up to you to decide to go on that ride. You've got to trust the road your heart has paved; believe and live the life you've always craved. Life will always have its turns, but your voice will always guide you to where you belong.