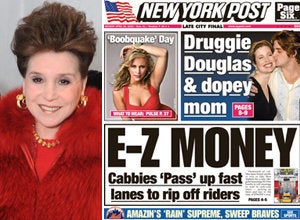 New York Post gossip columnist Cindy Adams used her column Tuesday to tell female victims of sexual harassment to "deal with it" and bemoans the litigious nature of today's women.
Adams said that she was touched inappropriately as a young girl and moved on, and advised her fellow females to do the same.
"Hey, we've all been there," Adams wrote of former New York 1 reporter Adele Sammarco, who lost her sexual harassment case against network executives. "Those things happened to every one us in our earlier days. But that was before the world became so litigious. We've each endured some too tight hug or some slob whose hand wandered where it shouldn't. Deal with it. That's what we did in our younger, prettier days. Dealt with it. In some cases, sticking a pen in the guy's lower belly and whispering politely, 'Try that again, pal, and you'll have to go to Emergency to pee,' worked just fine."
Adams wrote that a doctor touched her inappropriately when she was 10 and a theatrical agent came onto her during a voice test when she was 16, and she never mentioned either incident to anyone.
"In whichever way we chose, we dealt with it," she writes. "Calling a lawyer to say, 'I'm suing because this guy laid his hands on me'? Oh, please, if that's his only part he laid on you, get some nail extensions and inform Larry Lothario next time you'll rake him like the leaves.
Deal with it."
The New York Post, where Adams has written since 1981, was recently sued by former editor Sandra Guzman, who alleged that she was sexually harassed while at the newspaper. Guzman claims that Post editor Col Allan once showed a group of female employees pictures of a man's penis and once inappropriately rubbed up against a female employee. Guzman also claimed in the lawsuit that she herself was on the receiving end of misogynistic behavior, and that the newspaper fostered an environment that was offensive to women.
Jehmu Greene, the President of the Women's Media Center, said in a statement that Adams' column blurs the lines between sexual harassment and sexual assault and that Adams "disrespects and undermines the strides we have made in recent decades":
The author is blurring the lines between sexual harassment and sexual assault, when in fact one often leads to the other. There is no "right way" to handle sexual harassment or assault, but discouraging women from reporting those crimes is clearly archaic and deflects responsibility from the perpetrators. The under-reporting of sexual harassment and assault promotes an atmosphere of fear rather than of open dialogue about the issues. We should be focusing on the empowerment of women through programs like HollabackNYC which encourages women to identify their assailants, rather than regressing to a "just deal with it" attitude that disrespects and undermines the strides we have made in recent decades.

Representatives for the New York Post did not respond to requests for comment.