Michigan state Rep. Cindy Gamrat said Friday that she believes she will be vindicated by a misconduct investigation stemming from her affair with a fellow tea party Republican and that she does not plan to resign.
The Detroit News revealed Gamrat's relationship with state Rep. Todd Courser last week and detailed Courser's attempt to conceal the affair. Both lawmakers said their spouses were aware of the relationship and that they are working on their respective marriages.
"Although I am not proud of my personal conduct, in regards to my position as state representative of the 80th district, I believe that an open and honest investigation will vindicate me," Gamrat said Friday during a press conference at her lawyer's office in East Lansing, in her first public comments about the scandal.
"For now, I believe that the best path is for me to move forward, and I intend to continue to represent my district to the best of my ability."
The House Business Office is investigating the two legislators for misuse of state resources and other wrongdoing, and seized their computers over the weekend.
The Detroit News published recordings last week of a May 19 meeting in which Courser asked former aide Ben Graham to anonymously send a mass email to Michigan Republicans. The email called Gamrat a "tramp" and accused Courser himself of paying for sex with a man behind a nightclub. Graham refused to send the email, but Courser -- or an unnamed person carrying out his request -- sent it in the next two days. Graham was later fired.
In the recording Graham secretly made of his conversation with Courser and gave to the News last month, the representative said the false story was intended to be a "controlled burn" to "inoculate the herd," or distract his fellow Republicans from finding out about the affair. The email was meant to expose the anonymous blackmailers who had been threatening to leak the affair, Courser claimed this week.
Gamrat said she neither wrote nor sent the email, and didn't realize what it contained until a reporter asked her about it.
"It's in poor taste," she said.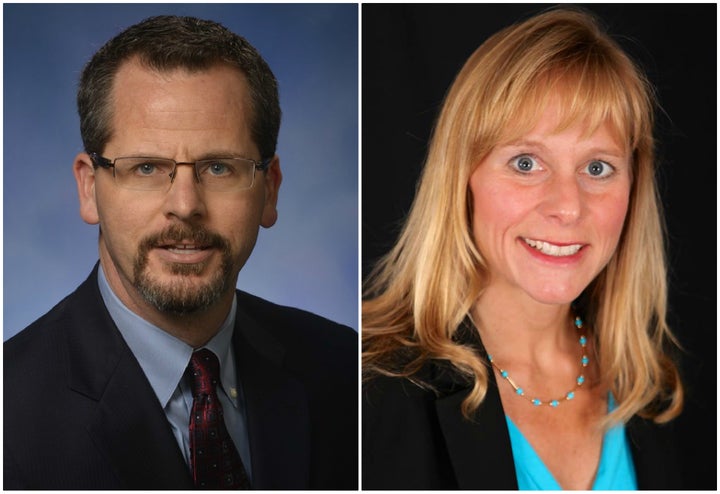 Courser has "damaged and discredited the cause of liberty and of conservative, constitutional and limited government," state Rep. Gary Glenn, a tea party member and former ally on the far right, said in a statement.
Some have questioned Gamrat's choice to share office staff with Courser, which Gamrat said Friday allowed them to "eliminate redundancy and save taxpayer dollars." She described her current relationship with Courser as "professional."
The two polarizing freshmen state lawmakers have been political allies, defending each other and collaborating on legislation, as well as releasing a "contract for liberty" their first month in office and a "liberty response" that criticized plans Republican Gov. Rick Snyder laid out in his annual state address.
Gamrat sponsored a bill from Courser to prevent non-clergy from performing marriages, largely seen as an attempt to counteract the legalization of same-sex marriage. She actively campaigned on her conservative view of marriage, attacking Mary Whiteford, her opponent in the Republican primary last year, for what Gamrat characterized as Whiteford's weaker stance on traditional marriage.
"I know I have made some poor decisions as they relate to my personal life that do not line up with who I am or what I believe," Gamrat said Friday.
Like other public figures who have apologized for an extramarital affair, Gamrat's comments were brief, restrained and humble. They stood in stark contrast to Courser's 27-minute audio statement about the affair, which he posted on his website.
In the statement, Courser said he had been targeted by blackmailers for standing up to the "establishment machine." He also said he would not resign, explaining it was "absolutely essential for the cause of liberty to have these clandestine operations to control public officials exposed."
Popular in the Community