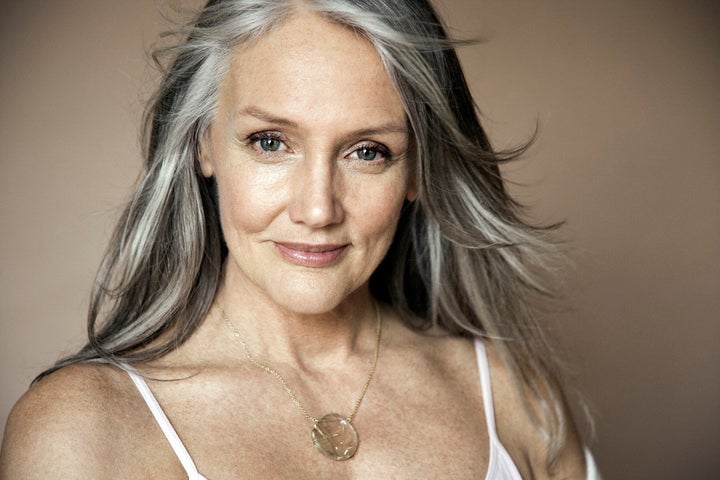 With laugh lines and a full head of long silver hair, Cindy Joseph is defying all age barriers. She started modeling at the age of 49 when a casting agent "discovered" her on a New York City street and asked her to model for a Dolce and Gabbana ad. That ignited her modeling career with the prestigious Ford Models, and she was soon gracing the covers and pages of O, The Oprah Magazine, More, Glamour, Mademoiselle, and Real Simple, to name a few. She's modeled for fashion clients such as Anthropologie, Banana Republic, and J. Crew, and has been the face of Garnier, Olay, Aveda and Nivea beauty campaigns.
Joseph was a makeup artist for 25 years before she started her second act as a supermodel. The mother of two is now promoting ageless, natural beauty with her own cosmetics brand, BOOM! By Cindy Joseph, and is about to launch a new addition to her line of skin and makeup products, called BOOMSILK.
On Huff/Post50, we talk a lot about how you can reinvent yourself at midlife. Did you have any major "ah-ha!" moments that caused you to start your second act?The way I look at it is that for as long as we've been alive, boomers have reinvented every decade we've lived through. What we're doing is unprecedented, and it has been at every decade. We have never followed the status quo, and now we're in our 50s and 60s and continuing to reinvent our lives.
So many men and women struggle with whether they want to go gray. How/when/why did you decide to go gray?I started getting silver hairs very distinctively in my early 30s, and by my mid-30s I had a white stripe in my bangs. I was still young enough that it didn't occur to me that this change could be related to age. I thought it made me look cool and unique. But as it started creeping in around the sides, I'd look in the mirror and think, 'Oh my God!' I thought it made me look unhealthy and washed out, so I started dyeing my hair. And at first I would only dye the sides, keeping the streak in my bangs, which had become kind of a trademark.
After six years of this, I overheard myself in a conversation about age and beauty telling someone about how life, for me, was getting better and better. I was talking about how I was waiting for something bad to happen, because age gets such a bad rap in our society and I thought, 'where does that notion come from?' I realized then that age is so wrapped up in our concept of health. And a lot of people start losing their health as they age, not necessarily because they're old but because they didn't treat themselves well in the years preceding old age until it finally caught up with them. To change society's stereotypes about age we first have to change our personal definition and prejudice against age. Change the mind and you can change society.
How do you define beauty?This is going to sound so repetitive and so old and so unsurprising. Life has proven to me what I heard before and didn't understand, and that is, beauty is in the eye of the beholder. Absolutely, entirely, and 100 percent.
Tell me about your new beauty product line, and why you created it.Well, first the inspiration came from a question from a friend, who said: "Why don't you combine your past career as a makeup artist with your current career as a model?" My first thought at the time was, the last thing we need is another tube of lipstick on this planet. But then I realized that a cosmetic company, a clothing line - any branding - is sort of like the name of a club. And people decide what club they want to belong to. And all the cosmetic clubs that have existed since the beginning of time have been 'anti-aging' clubs. So I decided to start a cosmetic line that was 'pro-aging,' that would say, 'you are the right age...no matter what age that may be.' This is pro-women, pro-beauty, pro-life. Whatever age you are, celebrate it!
What advice would you give to someone who was aspiring to be a model and yet was past the "sell-by" date?Be your own judge, and don't take what the world believes personally. The modeling, fashion and beauty industries have opened up tremendously or I would never be modeling. And it still has a way to go. When all body types and demographics are represented in the fashion industry then we'll know things have truly changed. So give it a go, follow your dream and if the doors close don't take it personally. Society is slow moving - it takes time.
What's the one thing you know now that you wish you knew when you were growing up?That I'm a pleasure-oriented creature, and if I honor that, which is innate to women, I would have saved myself a lot of trouble instead of trying to be success-oriented and goal-oriented in more male-oriented ways.
What are some of the biggest makeup mistakes you see on older women?When they wear their makeup the same way they wore it in their 20s or 30s. When they're clearly using make up to try and look younger, they make themselves look older. Wear less. Keep moisturizing. Allow the character in your face to be your beauty. Adding texture to texture just makes more texture. So if you want to get rid of wrinkles, putting make up on them is just going to make them more so. A young face is more like a blank canvas so you can paint, you can paint colors and textures and all that stuff. But when you get older and you have character and wrinkles and age spots and all that stuff going on, just let it be there. You know, you're not going to trick anybody. You're not going to fool anybody! This interview has been edited for brevity and clarity.
Popular in the Community