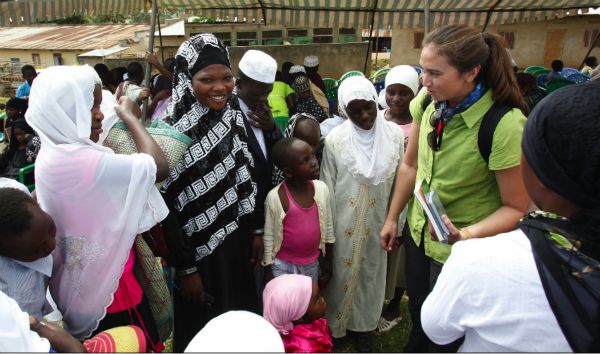 Charity Miles consists of a large community of athletes, philanthropists and general do-gooders, and we're honored to be sharing their stories with the Huffington Post community.
Today we're featuring Cindy Levin, an anti-poverty activist and mother of two. She has a personal mission to engage kids and stay at home parents to stand up for global child survival. She is currently on staff with RESULTS, coaching grassroots volunteers to create fundraising activities.
What is your greatest accomplishment as of late?
My return to long distance running in my 40's and having my young daughters run with me. We all ran races for the 2013 Disney Princess 1/2 marathon weekend. I ran the 1/2 marathon, my nine-year-old ran the 5K with me, and my seven-year-old ran the 400 meter dash. We ran with Charity Miles and raised money for Shot@Life. We raised enough to vaccinate over 100 kids against polio, measles, rota virus, and pneumococcal virus.
It was exciting to train with my daughters and see their pride in setting physical goals and achieving them as a family. We trained in a Chicago winter for a Florida race, so it really took discipline. I inspired them by being a role model. They see it as normal to be active and fit. They inspired me because of the sheer joy they experience in running happily and swiftly... not the plodding along their mother does.
What motivates you to make the world a better place?
I learned from my mother that we are called to serve and improve our community. As an adult, I've come consider the whole world to be our community. A brief scan of the news any day shows so much pain and suffering that it's hard for me to comprehend. That led me to become an activist to fight global hunger and poverty with RESULTS. Last October, I traveled to Uganda with the UN Foundation's Shot@Life Campaign to meet mothers in extreme poverty in person. Now, it is their faces and their stories that motivates me to take action every day. Who am I to sit idly by and not help when it takes so little? So, I act... whether that means sitting down with my senator to discuss U.S. funding for the Global Fund to Fight AIDS, TB and malaria or strapping my iPhone to my daughter's arm so she can raise money with Charity Miles.
What do you do to stay healthy and fit?
I mostly run and walk, but also do some swimming.
What's the best piece of advice you've ever received?
Narrowing your focus to what you are passionate about makes you more effective. It's completely true and I even follow that advice... sometimes.
Who do you exercise for, and why?
To be a better person. I know that's pretty broad, but exercise improves almost every aspect of my life. I am a more patient mother, a sexier wife, a healthier self, a more focused employee, a more cheerful volunteer... the list can go on and on.
To hear more stories from our inspiring community, read our Spotlight On series.
Aneya Fernando is the Social Media Editor for Charity Miles. She is also a writer and producer.
Support HuffPost
The Stakes Have Never Been Higher
Related
Popular in the Community