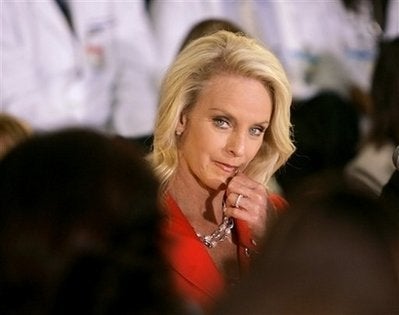 UPDATE: Howard Dean has released the following statement:
"What is John McCain trying to hide? Throughout this campaign, he has acted like his own calls for openness and accountability apply to everyone but himself. Now he thinks he can bring that same double standard to the White House. Whether he is skirting the FEC, withholding his tax returns, or stocking his campaign with the same Washington lobbyists he attacks on the campaign trail, John McCain is showing that he doesn't respect the voters enough to be honest with them. John McCain may not like it, but the American people have a right to know about the well documented links between his political career and the McCains' business ventures. John McCain's refusal to meet the standard of every other candidate seeking the office is one more reason he's the wrong choice for America's future."
Last Sunday, the New York Times editorial board knocked the McCain campaign for not releasing various records, among them Cindy McCain's tax returns:
The portrait of Mr. McCain's finances is particularly skimpy because his wife, Cindy McCain, has chosen not to make her separate tax returns available. Mrs. McCain, the daughter of a multimillionaire Anheuser-Busch distributor, is not the candidate, but the need to gain public trust and to air potential conflicts of interest is vital. Four years ago, we urged Teresa Heinz Kerry, the wealthy wife of the 2004 Democratic nominee, to release her tax returns.

There is no question that Mr. McCain benefits from his wife's money, including his low-cost use during the campaign of a corporate jet owned by a company headed by Mrs. McCain.
But this morning on NBC's Today show, Cindy McCain declared that she will never release her tax returns -- not during the presidential campaign, and not even if she becomes first lady. "I'm not the candidate," she said.
Watch it (around 2:20 mark):
Calling all HuffPost superfans!
Sign up for membership to become a founding member and help shape HuffPost's next chapter