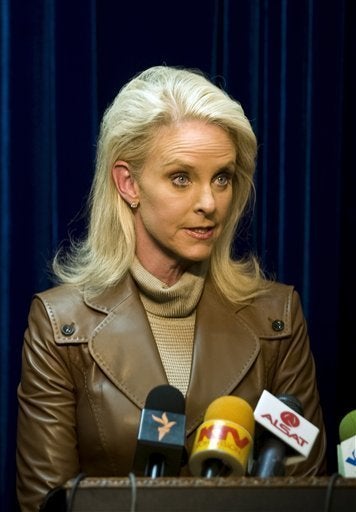 Cindy McCain, who has largely remained soft-spoken and optimistic during public appearances on her husband's behalf, has joined the attack dogs of the McCain campaign in recent days.
"The day that Sen. Obama cast a vote to not to fund my son when he was serving sent a cold chill through my body let me tell you," Cindy McCain said in introducing the GOP ticket. "I would suggest Sen. Obama change shoes with me for just one day. I suggest he take a day and go watch our men and women deploying."
In general, the McCains have avoided discussing their two sons' military service during the campaign. Younger son Jimmy McCain is a Marine who has already served a tour in Iraq. His brother, Jack, is at Annapolis.
Palin later invoked her own son's service overseas in suggesting that Obama did not understand the cost of war, comparing him unfavorably to McCain and his military heroism during Vietnam.
"God bless him, he spent five and a half years as a POW, and he knows the cost of war because he paid those costs himself," she said of McCain. "And as a mother of one of those troops, yup, that's exactly the kind of man I want as commander in chief."
Calling all HuffPost superfans!
Sign up for membership to become a founding member and help shape HuffPost's next chapter