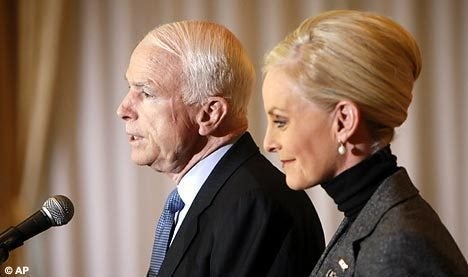 Cindy McCain's corporate jet use on the campaign trail straddles the line on campaign finance laws, according to a report in today's Wall Street Journal. The WSJ story focuses on several trips McCain made in her company's jet that included stops at fundraising events for her husband's campaign. From the article:
The campaign didn't reimburse Cindy McCain for the March 7-9, 2007, trip, which included the event near Times Square that brought in an estimated $100,000. Should it have done so?

According to federal campaign finance rules, the answer is yes -- and no, depending on which portion of the code is applied.

Mrs. McCain's trip offers a good example of the complex and sometimes contradictory ways that post-Watergate regulations have evolved to dictate what is considered proper use of campaign funds. Sen. McCain is one of the leading champions of such rules, but critics charge his campaign has applied them liberally in a number of instances.
Quickly reacting to the report, Democratic National Committee Chairman Howard Dean issued a statement:
John McCain's refusal to pay for his campaign's use of a corporate jet is the latest evidence that Senator McCain thinks his campaign is above the law. Senator McCain poses as a reformer, but time and time again he has chosen to ignore the rules when they are inconvenient to his campaign. America cannot afford another four years of A Bush Republican President who thinks the law applies to everyone but him. Illegal corporate contributions are not what the American people thought Senator McCain had in mind when he promised to bring a new standard of accountability to government.
Calling all HuffPost superfans!
Sign up for membership to become a founding member and help shape HuffPost's next chapter