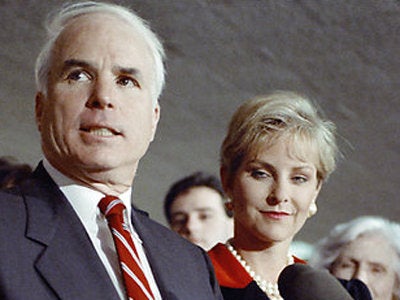 When Cindy McCain is asked what issues she would champion as first lady, she often cites one of the most difficult periods of her life: her battle with -- and ultimate victory over -- prescription painkillers. Her struggle, she has said repeatedly, taught her valuable lessons about drug abuse that she would pass on to the nation.
"I think it made me a better person as well as a better parent, so I think it would be very important to talk about it and be very upfront about it," McCain said in an interview with "Access Hollywood." In an appearance on the "Tonight Show With Jay Leno," she said she tries "to talk about it as much as possible because I don't want anyone to wind up in the shoes that I did at the time."
In describing her struggle with drugs, McCain has said that she became addicted to Vicodin and Percocet in early 1989 after rupturing two disks and having back surgery. She has said she hid her addiction from her husband, Sen. John McCain, and stopped taking the painkillers in 1992 after her parents confronted her. She has not discussed what kind of treatment she received for her addiction, but she has made clear that she believes she has put her problems behind her.
While McCain's accounts have captured the pain of her addiction, her journey through this personal crisis is a more complicated story than she has described, and it had more consequences for her and those around her than she has acknowledged.
Calling all HuffPost superfans!
Sign up for membership to become a founding member and help shape HuffPost's next chapter