In 1976, when she was 22 years old, conceptual photographer Cindy Sherman created a series of "Bus Rider" self-portraits. Each photo features Sherman disguised in a variety of costumes, wigs, accessories and prosthetic parts. In her typical fashion, the artist used self-portraiture to imitate the stereotypical identities women often feel compelled to perform.
Some of the images, however, feature Sherman in blackface. Yes, the theatrical makeup used by nonblack performers in the 19th century. The one that proliferated ignorant stereotypes about blackness until the practice was largely done away with during the 1960s civil rights movement.
Sherman is one of the most successful and respected living artists of our time. She is currently the subject of The Broad museum's first impermanent exhibition in Los Angeles, "The Imitation of Life," whose title lifts its name from Douglas Sirk's 1959 film. (The movie tells the story of a light-skinned black woman who rejects her identity and tries to pass as white.) Sherman's "Bus Rider" series appears in the show.
To see Sherman's blackface photos hung on museum walls is jarring and viscerally disturbing. While many of her works feature knowing winks at their own artificiality, Sherman's gift is her ability to blend chameleon-like into her various roles, from a 1960s femme fatale or a collagen-obsessed suburban MILF. The blackface images, however, don't possess the same nuance and detail. They don't transcend the hugely problematic history, stereotypes and myths they allude to. Rather, they affirm them.
Since encountering the blackface works, Philadelphia-based artist E. Jane has used the hashtag #Cindygate to spread awareness of the racist moment in Sherman's oeuvre. "Cindygate is an attempt to refuse white contemporary art's narrative of Cindy Sherman, which until last fall did not include the 'Bus Rider' series," she wrote in an email to The Huffington Post.
"Last fall we updated Cindy Sherman's Wikipedia and added Margo Jefferson's critique [of 'Bus Rider'], which has since been updated again and the critique moved to a section called 'Controversy,'" Jane added. "We refuse to be silenced and #cindygate as a hashtag holds the conversation together. It is a place to keep the perspective that says showing blackface as art isn't OK."
Sherman's "Bus Rider" portraits have been exhibited before, for example, in Sherman's 2006 retrospective at Paris' Jeu de Paume. Other institutions, like MoMA, have chosen to omit the works from their extensive Sherman shows. At The Broad, a disclaimer from the artist is displayed alongside the images, citing what Sherman deems youthful ignorance as the reasoning behind their existence.
To E. Jane, this explanation, rather than serving as an admission of offense or an apology, offers only a mitigating defense. "The fact that Cindy Sherman could claim youth as an excuse to perform in blackface, claiming, 'I was 22, naive and unaware of potential offense in these characters,' allows for racism that hides its hand," she said. "Art institutions often allow this, like in the case of Joe Scanlan's 'Donnell Woolford' performances, Eleanor Antin's 'Eleanora Antinova' performances and Martha Wilson's 'Martha Meets Michelle Halfway (2014).'"
The very existence of Sherman's blackface photos poses two damning alternatives: Show the work, and thus hang outdated, racist myths in storied museums. Or omit it, and bury uncomplimentary, racist histories that should not be forgotten. E. Jane expressed that, in her ideal world, the work would neither be exhibited nor covered up.
"I think Cindy Sherman, in showing those ill-conceived images, represents her own oppressive thoughts, which maybe Black publics don't need to see," she explained. "I think what would be the least harmful would be to not show the work and instead show a quote from her explaining that she once made racist art and acknowledges that it was wrong, since it must be accounted for in a retrospective. I don't think the project's existence should be hidden, but I also don't think the work itself should be shown."
It's been a bizarre and severely disappointing couple of weeks in the art world, demonstrating that powerful, white artists continue to exoticize and traumatize marginalized people without recourse.
This controversy arrived on the heels of successful Italian artist Vanessa Beecroft's disastrous New York Magazine interview, in which, among other wildly absurd and ignorant statements, she referred to part of her "divided" personality as that of an "African-American male." Beecroft's career has been riddled with racism and appropriation, including modeling a fashion show after a Rwandan refugee camp and attempting to adopt Sudanese children as part of an art project.
Sadly, #Cindygate is not an isolated incident. Those with power and privilege ― who most often are white ― continue to dictate what is seen, what is said, what is remembered in the history of art. Whether through fetishization of "the other" or misguided attempts to be inclusive, white artists continue to offend and isolate viewers of color, silently affirming that the art world is not for them. As Spencer Kornhaber writes in The Atlantic, not so much has changed since Paul Gauguin ventured to the "primitive and savage state" of Tahiti in the early 20th century, creating exaggerated depictions of its native women that would be immortalized as iconic, post-Impressionist artworks.
What steps can we take to improve? To create an art world that looks out for artists and viewers of all ethnicities and classes? To acknowledge the fact that, as Artsy pointed out, few African-Americans occupy curatorial positions at mainstream museums, few African-American artists get major solo museum shows, and many works by 19th- and 20th-century African-American artists are undervalued by the art market relative to those by white artists of equal standing?
"Care," E.Jane said. "I think care is so important. Caring for one another means considering the feelings of others, especially those who you historically have been able to oppress and terrorize, and asking yourself when you make art, 'Am I caring for all my publics when I make/say/do this?' I think the violence of art world ignorance is that it creates this messy bind where people think they are being inclusive, do something wrong and then think they should never try to be inclusive again for fear of messing up instead of thinking about what went wrong and planning to do better in the future."
Correction: MoMA curator Eva Respini has reached out to The Huffington Post, specifying she did not defend the "Bus Riders" series on Wikipedia. We have removed the incorrect information.
Related
Before You Go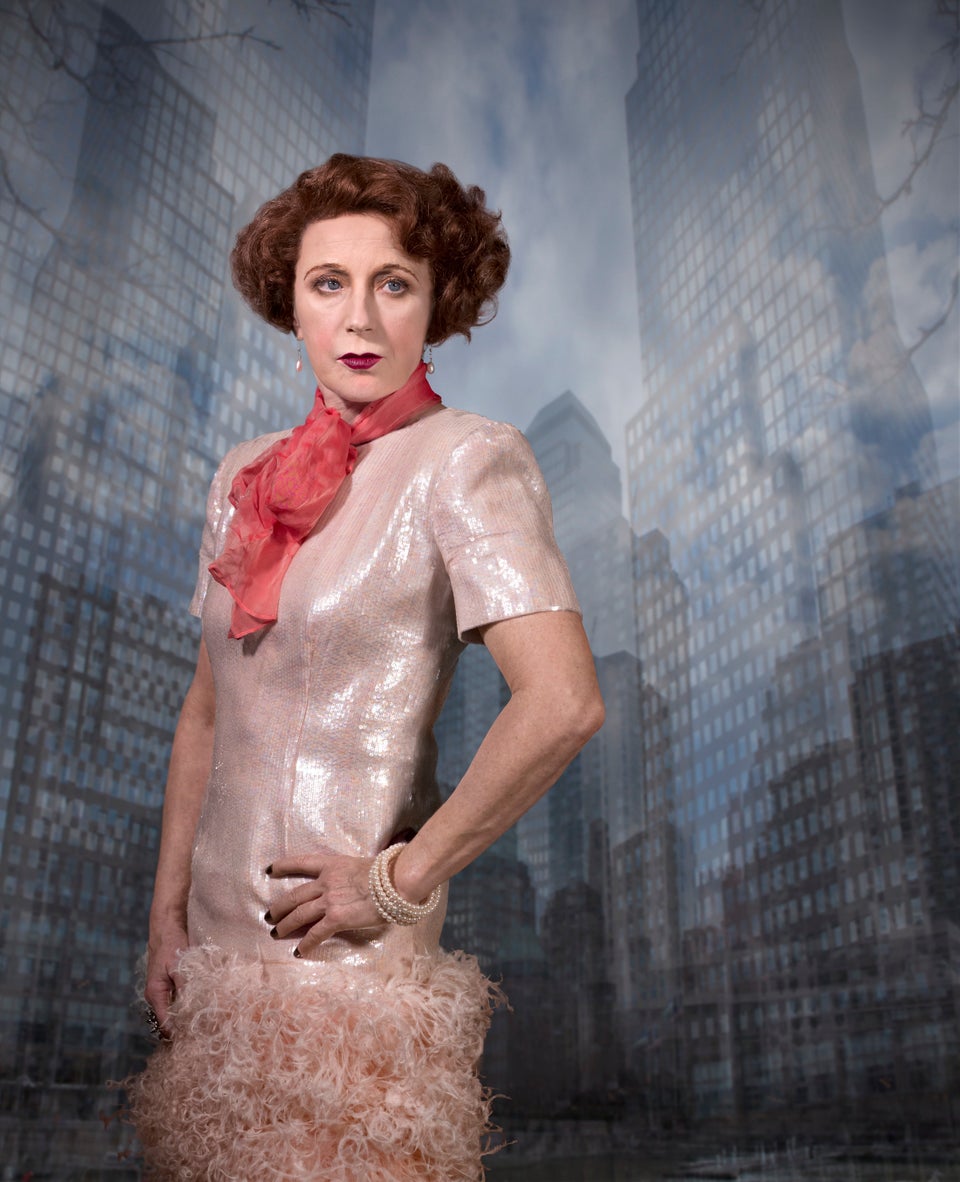 Cindy Sherman Metro Pictures Exhibition 2016
Popular in the Community