"Hopefully poeple [sic] realize that it was meant to be something special," wrote Whitehead in an email to The Huffington Post about the skateboarding stunt. "From everything I have heard it brought a smile to peoples [sic] faces."
A 10-mile stretch of the I-405 was closed to the public from Friday through Sunday in order to demolish half of the Mulholland Bridge, part of a freeway-widening construction project. Dubbed Carmageddon II, the bridge demolition is the second half of a project started during a "Carmageddon" weekend in July 2011.
During last year's Carmageddon, two illicit images taken on the I-405 emerged: "Planking" by Stephen Estes and "The Dinner Party" by Matt and Amanda Corrigan, Barry Neely and photographer Jesse Glucksman.
Whitehead, now a wardrobe stylist, and photographer Ian Logan, her husband of 19 years, came up with the idea to pair the I-405 freeway with California's most iconic sport. Although they hatched the plan a few weeks ago, Whitehead and Logan decided not to go through with the stunt last Friday.
The pair changed their minds the next night, preparing themselves for probable disappointment. They arrived at the side of the I-405 at around 6:20 a.m. Sunday, and by 8 a.m. Logan was shooting what will probably be Carmageddon II's most memorable images.
It's an experience Whitehead said she will never forget: "Freedom, the wind in my hair and no traffic!"
Whitehead wasn't the only one to sneak onto the 405 freeway during Carmageddon II. A pair of newlyweds were caught taking an early-morning stroll on the Sunset Boulevard on-ramp at around 3:40 a.m. Sunday, reports CBS2/KCAL9. CHP officers cited them, as well as four rollerbladers and a pedestrian Sunday.
Whitehead escaped detection.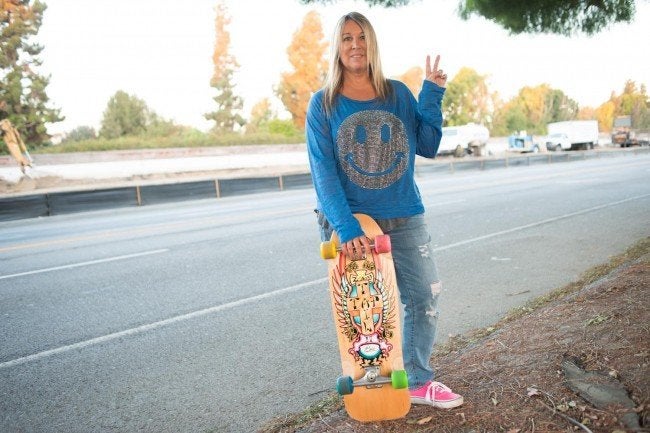 Skateboarding Down The 405
Popular in the Community