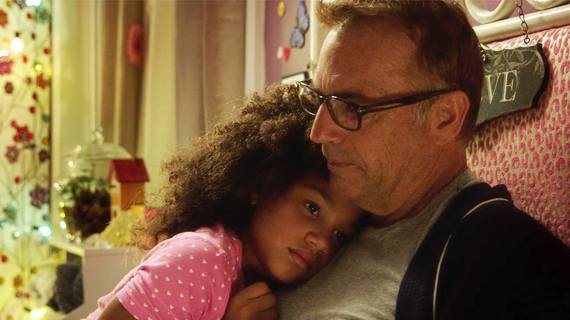 Image Credit: Relativity Media

I've been waiting a lifetime for a film like Black or White. Growing up biracial in the mid-70s and late 80's, I wondered when I would get to see myself up there on the big screen too. Where were the blended interracial families like mine? When I left the front door of my home in Los Angeles, there were other kids like me at school and at our local church so I knew I wasn't alone. Later told I would experience the best of both worlds, under the same breath I was told that I'd be torn between them. As a young child, it didn't make sense. Why would I have to choose between black and white?
For me it was simple -- I was both.
Now in 2015, Kevin Costner's new film Black or White illustrates that America's portrait of race and identity has evolved. Set in Los Angeles, the movie offers a look into the life of an interracial family and the custody battle over a biracial child (a demographic rarely center-stage in mainstream cinema), which will undoubtedly prompt expanded conversations about how race is defined in the United States and who gets to define it. It grapples with issues that mixed-race communities face all the time from outsiders: What about the children? Where do they belong? With their black family or their white family? And what happens when both families are just as fit?
As I grew up I would soon come to understand that my "biracial" identity was perilous, with both social and political ramifications for those around me. I'd be called a race traitor by some blacks for refusing to self-identify as anything mixed-race or biracial. Didn't matter that both parents raised me, or that my white mother and I had the closest of mother-daughter relationships. My checking any box on the Census other than "Black" would endanger the plight of many civil rights activists and organizations with regard to civil rights appropriations. Never mind that these same boxes are used by our nation's Department of Education to adequately provide multicultural resources into schools accommodating the social development and inclusion of biracial children and their families.
According to the 2010 Census Brief, from 2000 to 2010, the number of Americans who consider themselves multiracial grew faster than those who self-identify as a single race. The number of Americans identifying as both white and black soared by 134 percent, more than any other combination. Next was the white-and-Asian population, which increased by 87 percent. So when we discuss race in America, it isn't just a black or white conversation. Mixed-race and multiracial families border cross all of the racial categories, and our numbers continue to grow.
So what's this have to do with film? Well, not everyone will gain access to higher education, or explore the history and social relevance of racial trends in America, but what many of us have in common is access to a local movie theater. Film when done well, represents our cultural generation. It also has the power to influence it, both positively and negatively. Film provides a platform for challenging us on what we think we know about race relations. Namely, it provides the opportunity to learn how we as a nation have advanced in our various interpretations of race (or even "blackness") in America. For instance, by examining race relations in films like Ava Duvernay's Selma, we learn how the Ferguson protests in society today are strongly tied the civil rights protests from the generations of Dr. Martin Luther King and Rep. John Lewis that came before.
In 2015, times are changing. Disney Animation's Big Hero 6 is currently nominated for an Oscar for Best Animated Feature - and showcases the first-ever biracial lead animated character Hiro Himada, leading a multicultural team of superhero friends in the futuristic bicultural society of San-Fransokyo. The film's target demographic is clearly younger than those audiences for Costner's Black or White, however the message remains the same: positive representations of mixed-race people are on the rise, and doing so without having to compromise a mixed-race heritage.
Black or White hits theaters this weekend and unfortunately many film critics have already missed its cultural and historical relevance. Based on actual events, a film like this is the first of its kind and supports a new era in race relations and the assertion of a biracial and multiracial identity for modern-day mainstream audiences to absorb. Black or White is trailblazing both for its balanced and inclusive portrayal of black and white interrelationships while at the same time hitting hard at both sides. Long overdue, Black or White and its contribution to the discussion on race in America shouldn't be overlooked.
Kimberly Cooper, MA is a former advisory council member for the Association of Multiethnic Americans (AMEA). Her writing has also appeared in The Huffington Post, Los Angeles Times and San Francisco Chronicle and Literatigurl.com