When Mac Conway left the Marines for civilian life in 1972, he was able to immediately employ the primary vocational skill he had acquired during two tours in Vietnam, which was killing people.
But in Quarry, a new Cinemax series that premieres Friday at 10 p.m. ET, Mac's story isn't quite as simple as just becoming a hitman for his local criminal syndicate.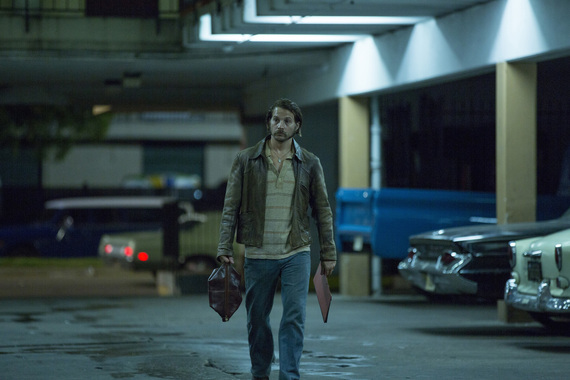 Mac (Logan Marshall-Green) (above) is a vet coming back at a time when the war he had been fighting had fallen out of favor back home. He had also been involved in a well-publicized incident - think My Lai - in which American troops had killed multiple civilians in a Vietnamese village.
He soon learns his wife hasn't been alone while she waited for him, and right around the same time his best friend from Nam convinces him to help out in a one-shot criminal deal that goes terribly wrong.
The combination of all this, particularly the criminal deal, vaults Mac into life on the bad side of the law. And yes, Quarry walks in the footsteps of previous Cinemax series like Strike Back, which were not always delicate in their portrayals of extreme lethal behavior.
"It's a challenge for TV and a challenge for us," says Graham Gordy, who co-created the series with Michael D. Fuller and joined him in cowriting most of the first season's eight episode. "How much can we get away with in terms of portraying good and bad?
"You look at the world of TV antiheroes and you find characters like Tony Soprano, who loved his family, but was also a psychopathic killer.
"We have a character who is killing people, but is questioning whether they deserve it."
Gordy allows that in any case, Mac's is not traditional boy-next-door behavior.
"It's really a show about PTSD," Gordy says, "before there was an acronym for it. We wanted to show what it was like to go to war and come back in that situation."
It's also a story about those times, Fuller suggests.
"The '60s didn't end on December 31, 1969," he says. "The '70s really didn't start until 1972, 1973, when you had Roe v. Wade, Watergate and all the rest."
The '70s often get overlooked, Gordy says, "between the rebellious '60s and the narcissistic '80s. It has been this decade that's undefinable."
Those who did try to define it, at the time, did not deliver kindly verdicts. A famous Doonesbury cartoon strip referred to the '70s as "a kidney stone of a decade. . . . this too shall pass."
Enough time has now passed, suggests Fuller, "that we can assess it with the eyes of history."
Those eyes suggest here that men like Mac Conway were collateral damage.
"We wanted to show the vacuum of a support system," says Fuller. "We wanted to show how people blamed the failure of the war on the soldiers. Mac would have struggled, but he could have been all right if he had any kind of support."
Conway doesn't come back from the war thinking he's going to become a hired killer. He comes back hoping he can land a job as a swimming coach with his old mentor.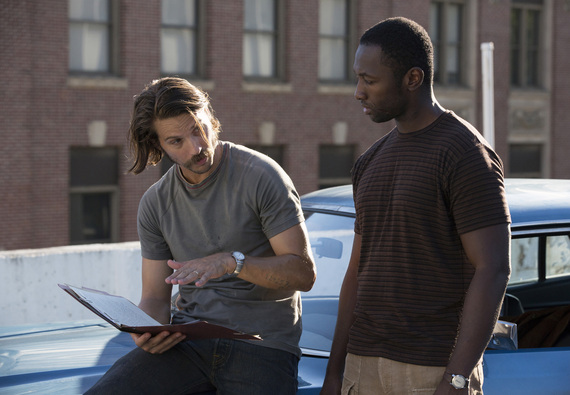 But the lingering fallout from the village massacre story makes him poison, so he's available for what he expects will be one quick, anonymous little extra-legal paid gig with his friend Arthur (Jamie Hector, above)..
Things escalate from there, and not always exactly parallel to the Max Allan Collins Quarry books on which the show is based.
"The books are more like procedurals, with self-contained stories in each one," says Gordy. "They're pulp crime. Our show has more serialized elements."
Collins has been fine with that, Gordy adds, and even wrote one of the first-season episodes.
Neither Gordy nor Fuller was personally around in the '70s, but they got the idea to explore the decade while they were writers on the Sundance series Rectify.
"We had an idea and then Michael found the Quarry books and we kind of merged the two," says Gordy. This hybrid, says Fuller, enabled them to incorporate social commentary into an action drama.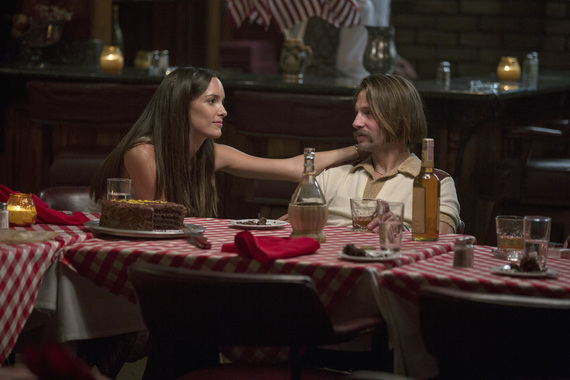 Mac Conway (above with Joni, played by Jodi Balfour) isn't a blueblood driven mad by battle. He's a Southern kid, like Gordy and Fuller, and they say they wanted a story set in the South.
In fact, Gordy half-jokes that Quarry is "a gritty Dukes of Hazzard."
Only with a higher body count and no visible basset hound.
The relevance of Quarry to the present, suggests Fuller, "is that the '70s was a time when many people felt like things sucked. So there's that parallel to how people have felt since the Great Recession."
But hard times, Fuller notes, can often produce great art.
"Despite how bad things might have felt in the early '70s," he says, "that era also produced the greatest time in the history of American cinema. We're trying with this show to draw on that part of the legacy, too."
Calling all HuffPost superfans!
Sign up for membership to become a founding member and help shape HuffPost's next chapter