Cinnabon muffins with pumpkin get their delectable texture from a secret ingredient -- coffee creamer! The whole family will love them.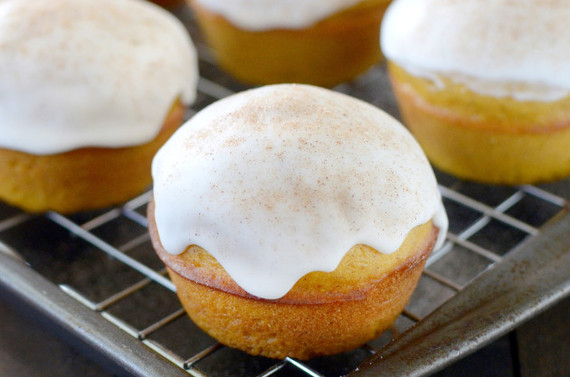 It's that time of year when I go a little bit crazy over a certain orange squash. Yes, it's true. I'm totally nuts about pumpkin. Every fall I bake like pumpkin is the only thing in the world.
It's so bad that I think my family is starting to plan an intervention to break me up from my favorite fall flavor. There have been a few too many "looks" whenever I bake something and mention the "P" word. Let's not tell them that I have a few more pumpkin recipes up my sleeves, mmmmkkkay?
When I heard it was pumpkin week here on Food Fanatic, I couldn't wait to share these delicious Cinnabon pumpkin muffins that I made a few weeks ago for breakfast.
A few years ago I made these pumpkin cappuccino chip muffins, and they have been one of my favorites to make every fall. This year I decided to tweak the recipe a little bit.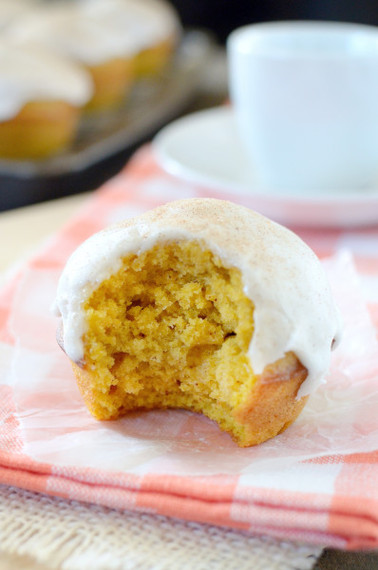 After a few rounds of changing things up, these muffins came into play. Now I do still love the older version, but I think I am totally head over heels in love with these new ones even more. I seriously ate three in a row!
Then I ate a few more the next day. Shhhh! Don't judge me. I was trying to get rid of the pumpkin evidence before my family could disown me.
Let's talk about the muffins instead of how pumpkin crazy I am. One thing that I changed was to use Cinnabon flavored coffee creamer in place of the liquid. If you cannot find this, use any cinnamon creamer.
You can also use milk, but the coffee creamer gives it a little something extra. The second change was to fill the muffin tins a little bit fuller. I like big muffins, and I cannot lie. These beauties puff up and bake high just like a bakery muffin.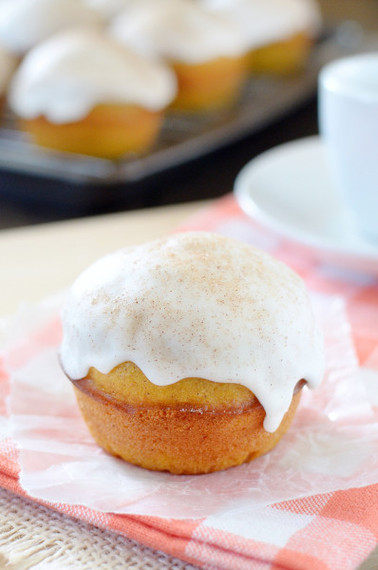 Then to finish off the muffin, you are going to coat it with a thick glaze. We are going for the full bakery look now. This glaze is too thick to dunk the muffins in, so go ahead and spread it with a knife. The glaze will dry fast, so give it a sprinkle of Cinnabon cinnamon sugar right away. Then grab one in each hand and enjoy the fluffy pumpkin muffins of goodness.
About Jocelyn
Jocelyn bakes up many delicious things to share on Inside BruCrew Life. Around these parts, she's our latest Breakfast Fanatic, and we're so glad!