Happy New Year and L'Shana Tova to those celebrating Rosh Hashanah. This recipe is from Maida Heatter's cookbook, Maida Heatter's Cakes, a winner of the James Beard Foundation Cookbook Hall of Fame award. If you are not yet familiar with Ms. Maida, you will be after trying this great recipe. Maida's recipes are always spot on, if she says whisk three times, you better believe three turns of thewhisk is the magical number. Her recipes are tested and if you follow them to a T, you are guaranteed a most fabulous result. If you are still a novice when it comes to baking, I highly recommend adding this book to your repertoire as it's an informative and versatile book sure to help you feel more confident in the kitchen.
Filled with tart cinnamon apples, plump raisins and a delicate crumb similar to a coffee cake, this lovely dessert is perfect for the New Year or any celebration. Best served warm with a sprinkle of powdered sugar, it's a delightful ending to any meal. Alternatively, you can allow this cake to cool completely and top with whipped cream or vanilla bean ice cream.
Enjoy!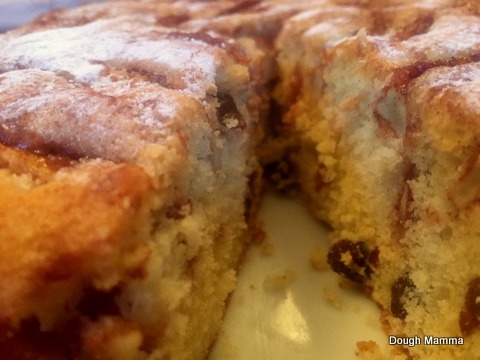 Title: Cinnamon Apple Raisin Cake
Author: Maida Heatter
Prep time: 25 mins
Cook time: 1 hour
Total time: 1 hour 25 mins
Serves: 10
Notes: High Altitude Adjustments: Increase to 4 eggs total, decrease sugar to 1 cup, increase butter to 1½ sticks, increase oven to 375 F, decrease baking time to 40-45 minutes. The second time I made this I added parchment paper to my pan, a piece on the bottom as well as a ring on the sides. This helped prevent a crust on the outside.
Ingredients
Cake
1¾ cups of AP flour sifted (measure first 8½oz, then sift)
1 tsp of baking powder
½ tsp of salt
1¼ stick of butter, unsalted
1 tsp of vanilla extract
1¼ cups of white sugar
3 large eggs
Finely grated zest of 1 lemon
½ cup of light raisins (I used dark)
Apple Filling
2 large, firm and tart Granny Smith apples
2 tsp of cinnamon
3 Tbsp of white sugar
Powdered sugar
Instructions
Cake
Adjust a rack to the center of the oven and preheat to 350 F. Butter a 9-inch springform pan and set it aside. Sift together the flour, baking powder and salt, set aside.
In a large bowl of an electric mixer, beat the butter until it is soft and smooth. Add the vanilla and then the sugar and beat to mix well. Add the eggs one at a time and beat until thoroughly incorporated after each addition. Beat for 1 minute after the last addition. On low speed gradually add the sifted dry ingredients, scraping the bowl with a rubber spatula as necessary and beating only until incorporated. Remove from the mixer.
Stir in the lemon zest and the raisins.
Turn into the prepared pan and smooth the top. Let stand while you prepare the topping.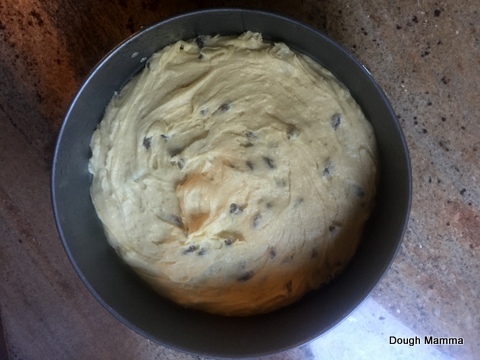 Apple Filling
Peel, quarter and core the apples. Cut each section into lengthwise slices about ⅓ inch at the outside edge.
In a small bowl, stir the cinnamon and sugar.
One at a time, turn apple slices in the cinnamon and sugar mixture and then place into the cake, place it at an angle, pointed edge down.
The slices should be placed at a right angle to the rim to form a ring around the edge of the pan. They should be as close together as possible. The remaining slices should fill the center.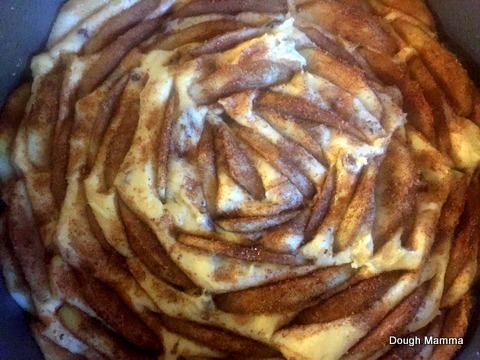 Bake for about one hour or until a toothpick inserted in the middle comes out clean.
Let the cake cool in the pan for 15 minutes before removing. Once you open the sides, cover with a wire rack and flip over. Remove the bottom if stuck. Cover with another wire rack and flip back over so that the original top is at the top cooling.
Related