Oreos has announced news about three flavors -- the all-new Cinnamon Bun, a top-secret flavor that'll be revealed soon, plus the return of a crowd favorite: Red Velvet.
Both the Cinnamon Bun and Red Velvet Oreo started hitting store shelves on Jan. 18, and the soon-to-be-announced third flavor will be revealed in the coming weeks.
All this coincides with the launch of the Oreo Wonder Vault, a probably-fictional but still-hopefully-real "soft winter playground with cream-covered tops," where Oreo's magic is presumably created.
If you've ever had a Red Velvet Oreo, you know this is the kind of good news the world needs: a crispy, red-tinged cookie filled with cream cheese frosting that Oreo told us was one of their best selling concepts so far.
The Cinnamon Bun Oreo takes it up a level -- the cookie tastes lightly of cinnamon, with enough ice-flavored filling that it could be considered for Double-Stuf status. It drew many comparisons to Dunk-a-roos.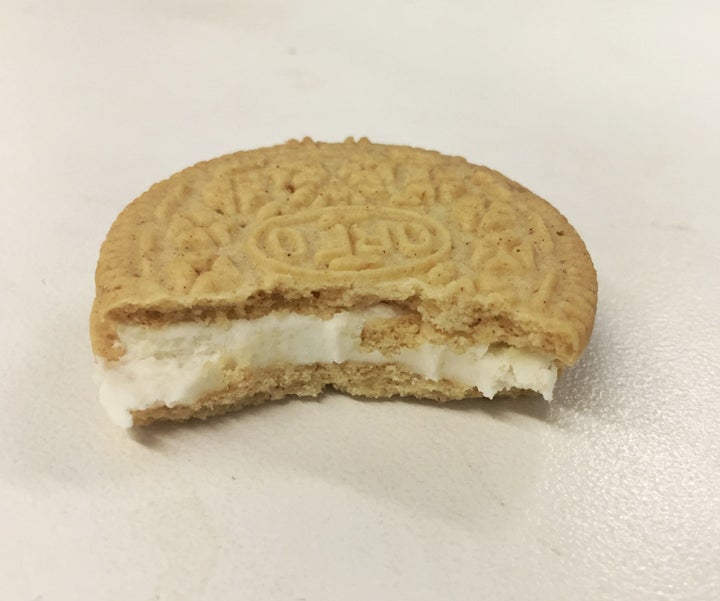 Our tasters in the office were divided:
Those who liked it said it tasted as if you "took a cinnamon-flavored graham cracker and scraped up the hardened-on cinnamon bun frosting that congeals to a Cinnabon box. That might sound gross, but to me that translates to an A+."
The haters said the new flavor was "way too sweet and is trying too hard. It feels like a fancy Oreo, like an Oreo in a tuxedo. Keep it simple, guys." Others thought it "tastes too artificially sweet, like if a Teddy Graham and Dunk-a-roos had a baby. But I ate the whole thing anyway because it's an Oreo and you can't not eat an Oreo."
About that last remark, we think everyone can agree.
Popular in the Community