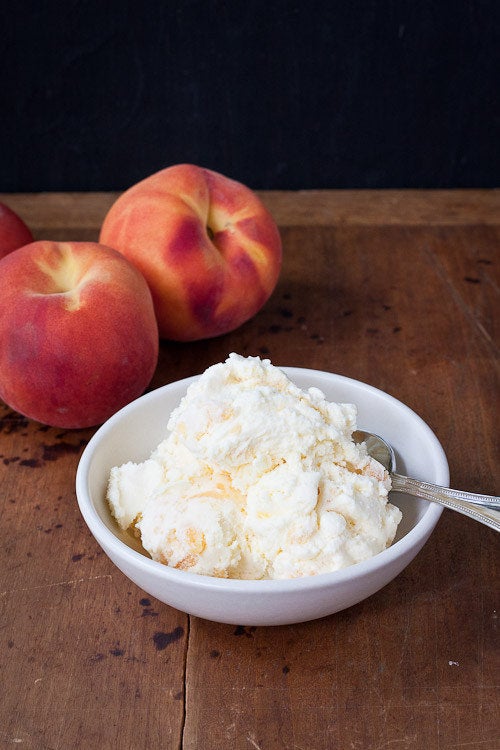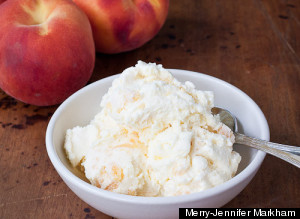 My husband and I disagree on many food-related things. I love tomatoes and mushrooms, and he abhors them. I view salmon as a decadent treat; he views the pretty pink fish as an insult to his senses. He peels apples before eating them; I eat the peel. We argue over the proper pronunciation of pecan -- he says "pee-can" and I say "puh-khan." He prefers strawberries; I prefer blueberries. He eats barbecue with his fingers; I prefer utensils.
The humble peach is a different story, one we both agree on. We share a mutual love of peaches, and our children, thankfully, have followed suit.
When summer approaches, heralded by the appearance of fresh sweet corn and watermelons in our local markets, I know that peaches are soon to follow. Eventually, but never soon enough, the roadside market stands begin displaying delicate pyramids of the rosy, pale orange fruits, and their hand-painted signs announce that "Fresh Georgia Peaches!" have arrived.
But this past weekend, ice cream was on my mind. I stood at my kitchen counter, peeled, pitted, and chopped two ripe peaches, their flesh giving slightly with the lightest touch. My fingers very soon became sticky and dripping with fragrant peach juices. Our cat, Maggie, perched on the counter above me, her silver paw stretched out towards my pile of peach bits, hoping to steal a piece - whether to play with or to eat, I'll never know. After shooing her off, I resumed my work, combining the chopped peaches with a small amount of honey and sugar before heating them on the stove. Those peaches would later, after some straining and chilling, be added to homemade, lightly cinnamon-flavored ice cream.
Later, my husband sampled the peach-flecked ice cream I gave to him on a spoon. Then he licked the ice cream scoop. Finally, he took the small bowl I'd rested the ice cream scoop in, lifted it up to his mouth, and drank the melted ice cream. I took this as a thumbs up.
Cinnamon Peach Ice Cream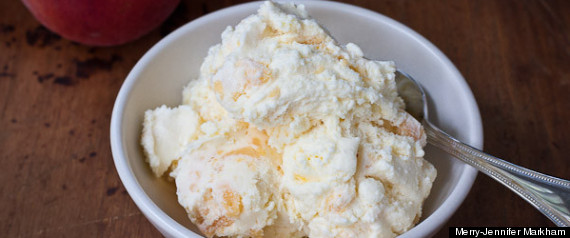 Fresh fruit has a tendency to freeze solid in ice cream, so I used a technique from America's Test Kitchen -- macerating the peaches in a small amount of vodka -- to prevent that and keep the peaches soft.
Ingredients:
1-1/2 cups 2% milk
3/4 cup granulated sugar, divided
Pinch of coarse salt
1 cup heavy cream
1 cinnamon stick
5 large egg yolks
2 large peaches, peeled, pitted, and chopped into 1/2 pieces
2 tablespoons honey
1-1/2 teaspoons vodka
Make the Custard
1. In a medium saucepan, over medium heat, heat the milk, 1/4 cup sugar, salt, cream, and cinnamon stick, stirring occasionally to dissolve sugar. Heat for approximately 5 minutes, or until the temperature is 175 degrees.
2. In a separate bowl, whisk together 1/4 sugar with egg yolks. When the milk mixture is hot, slowly add about 1 cup of the hot milk mixture into the yolks (to temper). Slowly whisk the warmed egg yolks back into the remaining milk mixture in the saucepan. Continue to stir the mixture until the mixture thickens and coats the back of the spoon (180 to 185 degrees).
3. Strain the custard through a strainer (to catch any cooked egg bits & the cinnamon stick) over a bowl set in an ice bath. Stir the strained custard about 10 minutes, until the mixture has cooled. Cover tightly and refrigerate 8 hours, or overnight.
Prepare the Peaches
Combine the chopped peaches with the honey and the remaining 1/4 cup sugar in a small saucepan set over medium heat. Cook, stirring occasionally, about 5 minutes, until the peaches have released their juices. Pour into a bowl, cover, and refrigerate until ready to use.
Make the Ice Cream
1. Using an ice cream maker, freeze the custard according to the manufacturer's instructions. In the meantime, pour the peaches through a strainer set over a bowl to catch the juices. Reserve the juice for another time. In a small bowl, toss the peach solids with the vodka. About 5 minutes before the ice cream churning is complete, add the peaches to the ice cream maker.
2. Transfer the ice cream to a container and freeze until the ice cream is firm, about 3 hours.
Related