On our Rick Steves Best of Europe in 21 Days tour, the meat of the itinerary is the middle week when we visit Venice, Florence, and Rome in rapid succession. After that, we are ready for our treasured "vacation from our vacation" on the Italian Riviera. We are careful to thoroughly orient our groups upon arrival--because the next day is entirely free.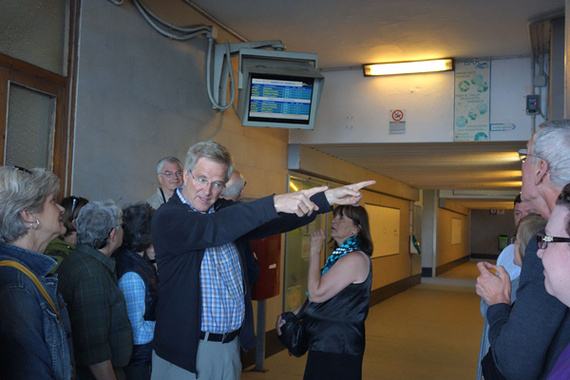 Walking our group to their "Welcome to the Riviera" dinner, we take time to be sure each tour member is comfortable with the local trains. To connect the five villages of the Cinque Terre you can hike, catch the boat, or hop on the train--which runs about hourly. Here I'm reminding people that, while the printed schedules are posted and helpful, only the monitors are up-to-the-minute on what's running late. These can be your best friend in using your time smartly. The next day, each person in our group was well prepared to hang out on the beach, browse through the towns, or hike the dramatic trails--or all three.
To take a Rick Steves tour you need to be mobile and pack light. That's because many of our hotels are so remotely and beautifully situated that our buses can't get to them. The classic example is our visit to the five dramatic villages of Italy's Cinque Terre. We need to park our bus in the nearest big town and ride the train in. One of my favorite guiding moments is to be with our groups as we tunnel into the Riviera darkness--eyes periodically blasted by splashes of Cinque Terre brightness like this view of my favorite town in the region, Vernazza.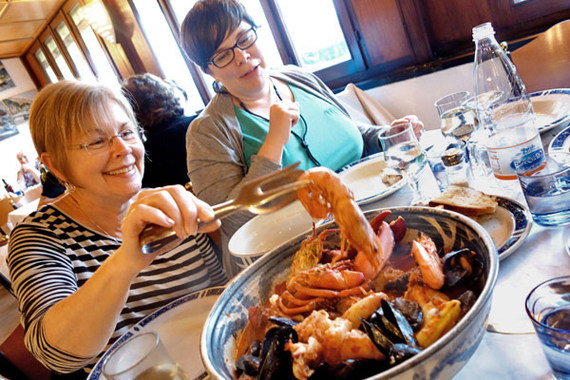 Many people who sign up on our tours have never been to Europe. Some have never eaten an octopus. And a few have never been in a building more than a hundred years old. That changes in a hurry on a good European tour. Travel can be palate-broadening as well as perspective-broadening. Here, a couple of tour members get ready to dive into a steamy bowl of mussels, octopus, and miscellaneous fruits of the sea.
After a day of hiking the Cinque Terre, enjoying endless Mediterranean vistas, we work up an appetite for the fruits of the sea. At Monterosso's Ristorante Belevedere they cook up five or six ancient-style jugs (amphora) filled with today's catch. It really is a grab bag of whatever the fisherman brought into port. But it's always delicious.