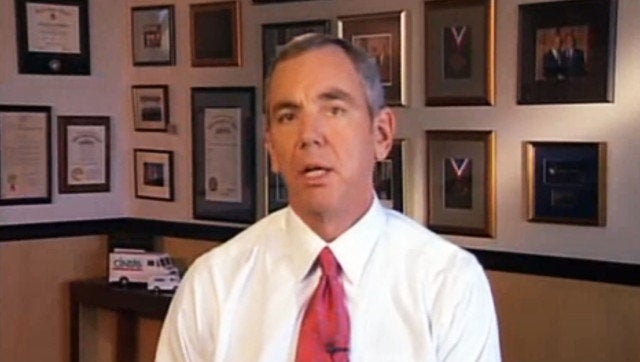 WASHINGTON -- Scott Farmer, CEO of the massive uniform company Cintas Corp., sent a get-out-the-vote email to employees last week suggesting the Affordable Care Act and other policies of President Barack Obama may cost them their health insurance and ultimately their jobs.
"This uncertainty felt by many of our customers about their ability to run and grow their businesses prevents them from adding jobs which hurts our ability to grow and add jobs," wrote Farmer, whose Cincinnati-based company employs 30,000 people. "Therefore, I ask all of you to make your voice heard in the upcoming Election on November 6th."
The email was posted on the personal blog of Alicia Newton on Thursday, and a spokeswoman for Cintas confirmed for the Huffington Post that Farmer sent the email to all its "partners," or workers, from a company account on Friday. Even though much of the email criticized Obama's administration, the spokeswoman said the note wasn't meant to pressure employees to vote for Republican presidential nominee Mitt Romney.
"This communication was prompted largely by the fact that Mr. Farmer is frequently asked by our partners all over the country what is important to Cintas and how do federal regulations and policies impact our company," the spokeswoman, Heather Maley, said in an email. "The communication was not an attempt to suggest to employees how to vote, but rather it was sent to help partners make an informed decision."

Farmer joins a growing cadre of American business leaders who've taken it upon themselves to educate their employees about the importance of this year's election.
ASG Software Solutions CEO Arthur Allen sent an email to workers insinuating their jobs may be at stake with another Obama term, as revealed by MSNBC's Up With Chris Hayes. Westgate Resorts CEO David Siegel sent an email to his workers detailing how Obama's policies would "threaten" their jobs. Similarly, Koch Industries sent pro-Romney literature to 45,000 employees, as In These Times reported. And coal baron Robert Murray, head of Murray Energy, has gone so far as to pressure to employees to contribute to Romney's campaign, according to a report in The New Republic.
Romney himself, in a June conference call hosted by the conservative National Federation of Independent Business, urged small business owners to tell workers which candidate they support, and how the election would affect employers.
"I hope you make it very clear to your employees what you believe is in the best interest of your enterprise and therefore their job and their future in the upcoming elections," Romney said. "And whether you agree with me or you agree with President Obama, or whatever your political view, I hope, I hope you pass those along to your employees."
Under the Supreme Court's Citizens United ruling, which significantly expands the political speech rights of corporations and labor unions, employers can compel workers to participate in campaigns -- a fact Romney noted on the call.
Have you been pressured at work to vote a certain way? Email us about it. You can remain anonymous.
Much of Farmer's note reads like an anti-Obama screed. Calling the Affordable Care Act, known colloquially as Obamacare, the "single largest tax on Americans and business in history," Farmer claims the law will raise the company's health care costs by an estimated $50 million, as well as increase costs for Cintas suppliers and customers.
Farmer also reminds employees that under the Affordable Care Act, a large company like Cintas may opt to pay a penalty rather than provide employee health coverage.
"While one of the original intents of the new health care law was to provide broader access to health care for all people, the law is actually set up to allow companies to eliminate their health care coverage and instead pay a penalty of $2,000 per employee," Farmer writes.
Lest anyone consider that a threat, Farmer adds, with emphasis, that Cintas has "no intention of dropping coverage at this time."
Without naming Obama, Farmer goes on to bemoan the possibility of higher tax rates, which would ultimately fall on Cintas customers.
"Taxes are like any other cost to businesses," Farmer writes. " Ultimately, they are passed on to customers as higher prices for products and services. .... For Cintas specifically, this would mean that our customers ultimately have less money to spend on uniforms, first aid cabinets, floor mats, fire extinguishers or document management services."
Cintas has tried to fend off unionization efforts in the past, and in his email Farmer criticized the National Labor Relations Board, the federal agency that enforces labor law. The NLRB has issued several rules and decisions during Obama's presidency that the business community has claimed cater to unions. In its latest annual report dated May 31, the company says it "will continue to vigorously oppose any unionization campaign."
Cintas reported sales of $4.1 billion and profit of $298 million last year. Farmer's compensation was $5 million, according to Reuters. The company provides services to some 900,000 businesses, and its 30,000 workers are employed across the country.
"In today's political climate, the issues can certainly be confusing and even overwhelming," Maley, the Cintas spokeswoman, said. "We believe our partners want to be informed about issues that affect our company and are interested to know where the company stands on these issues. Our partners, like all Americans who will vote, will consider all of the information that they have about each candidate and will vote for the candidate that they think offers them the brightest future for them and America."
From: Farmer, Scott
Sent: Friday, October 19, 2012 7:45 AM
To: All Partners
Subject: GOTV – Election Message #3

Partners,

The upcoming Election on November 6th is one of the most important Elections of our time. As a company, we do not endorse one candidate over another but we do encourage all of our partners to vote. It's important for each of our voices to be heard this Election because the decisions that are made and the policies that are set by our government impact each of us personally as individuals.

These decisions and policies could also have a significant impact on Cintas -– on our ability to run our business effectively and efficiently, on our ability to attract and retain customers and on our ability to provide the level of benefits, opportunities, and development we believe our partners want, need and deserve. Let me give you some more specific information on how three of the most central issues to this Election could impact Cintas as a company, which would in turn impact each of us as partners.

1) According to the Supreme Court, the new health care law amounts to the single largest tax on Americans and business in history. We have spent a lot of time over the past months trying to understand the impact that the new law will have on our company. Currently, Cintas spends $130 million providing competitive healthcare benefits for our partners. Under the new law, we estimate that our health care costs will increase by over $50 million, taking the total we would need to spend to provide the same level of coverage we are currently providing to $188 million.

- While one of the original intents of the new health care law was to provide broader access to health care for all people, the law is actually set up to allow companies to eliminate their health care coverage and instead pay a penalty of $2,000 per employee.

- Cintas understands the importance of competitive, comprehensive health care coverage to the health, well-being, and engagement of our partners and has no intention of dropping coverage at this time. For perspective, consider that this penalty would cost Cintas about $50 million – that's about 30% of what Cintas' health care costs ($188 million) would be if we continue to offer health care coverage to our partners. Now consider the potential impact that the law could have on the many smaller and/or less fiscally solvent companies that make up our communities. These businesses are our customers and they employ our friends and family.

2) The second key issue is the potential of government to increase current tax rates. Taxes are like any other cost to businesses. Ultimately, they are passed on to customers as higher prices for products and services. This would mean that we could all be paying more for the things we purchase every day such as milk, bread, gas, clothing, etc. For Cintas specifically, this would mean that our customers ultimately have less money to spend on uniforms, first aid cabinets, floor mats, fire extinguishers or document management services. This obviously leads to less money for Cintas to reinvest in our business and our partners.

3) Finally, while some government regulation is needed for all businesses, the current economic uncertainty faced by many of our customers prevents them (and Cintas) from growing in the way we would like. The over-regulation that business is facing today from the various administrative agencies such as the Environmental Protection Agency (EPA), National Labor Relations Board (NLRB), Security Exchange Commission (SEC), Equal Employment Opportunity Commission (EEOC) and others is suffocating many companies. This uncertainty felt by many of our customers about their ability to run and grow their businesses prevents them from adding jobs which hurts our ability to grow and add jobs.

These are just three of the many issues in the upcoming Election that have the potential to impact our nation, our company, our communities, and of course, each of us individually.

Therefore, I ask all of you to make your voice heard in the upcoming Election on November 6th. Our www.CintasVotes.com website allows you to register to vote, learn more about the candidates and issues as well as show you where to vote on Election Day. Additionally, the attached Issues Guide shares the differences that exist with the two candidates for President.

I encourage you to research more and understand for yourself the issues and potential impact of this Election but most of all I encourage you to vote!

Thanks for all of your hard work to keep Cintas successful,

Scott Farmer
CEO
Support HuffPost
The Stakes Have Never Been Higher
Before You Go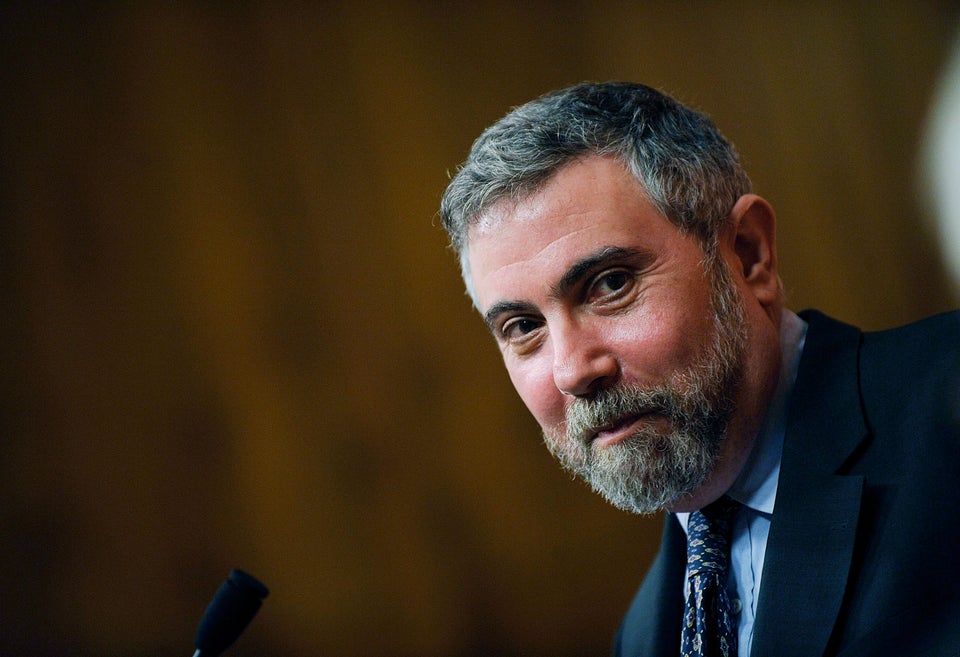 People Who Say Romney's Tax Plan Doesn't Work
Popular in the Community