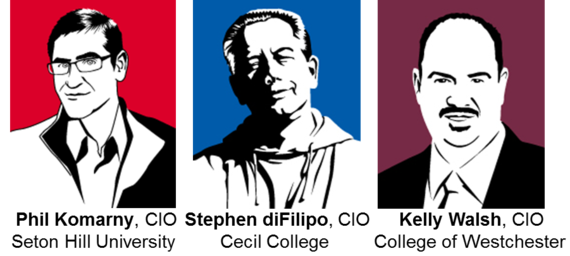 As CIOs in the field of higher education it was not all that surprising that when asked why they personally invest their limited time in social media, the answer was unanimous - for learning. Komarny calls Twitter a "personalized learning network", a "knowledge amplifier" and "a curated newsfeed" for getting the different perspectives of like-minded colleagues to enable him to make better decisions. diFilipo says social media allows him to expedite communications, and Walsh sees social media as a way to learn instructional technologies. And at the end of the day, they also agree that all of this learning is for the betterment of the students, faculty and administration that they serve.
Each of these social CIOs has adopted a mobile-only or mobile-first approach at their higher learning institution and is leveraging digital technologies to transform the way they recruit, retain and relate to students.
6 Ways to Use Social to Improve the Student Experience

1. Proactive student retention - Retention is a serious concern in higher education with nearly half of students failing to graduate. Numerous studies indicate that social engagement enhances retention and Komarny, who defines social as interacting with data in an environment with people, gave us a first-hand example. A professor in any Seton Hill classroom is able to log into a portal from the podium and see the classroom layout and class roster, complete with pictures of the student's faces and information about what devices they have. The IT department took this one step further by adding the ability to touch the face of any student on the screen and allow the professor to add an alert if the student is not attending class or struggling in some way. This information is then socially put out to the faculty, so before that student even leaves the classroom, the dean of students knows about it and is able to proactively engage with that student before the situation escalates and they leave the school. "This example of how we are using mobile through our cloud layer and then throwing social in the mix has allowed us to increase retention rates to double digits," said Komarny.
2. Admissions and student recruiting - Cecil College has found much success using social extensively for admissions and recruitment. They leverage Facebook, Twitter, Pinterest and Instagram to engage potential students as much as they can on their turf. They have even embedded their college application into Facebook. "By positioning ourselves where the students hangout, we are allowing them to access us however they want. We are mobile first and social always." They are also just about to bring two-way texting onboard to further facilitate communications with students. The College of Westchester just put texting in place this year and to increase the institution's trust level in doing so, they tied it into their student information system, so that all communications are stored in a permanent archive. "Everyone at the college wants to do use texting because they know it works and they want to communicate with the students in the way they are comfortable doing it," says Walsh.
3. Improving perception of IT - Komarny literally turned the tables when it came to how the IT department was rated by students compared to other departments, as he took his department from being ranked last to stealing first place in just a year and a half! Komarny had to fight the good fight with his staff to change the old way of doing things though. Getting his internal IT team to change their mind-set and embrace digital transformation was the biggest challenge. Instead of IT operating just by coming in, fixing something and leaving, Komarny sought to create a solid relationship between the students and the computer, the network, the platform and the wireless. To help make it happen they went with Zendesk, a cloud-based, social solution. Once they "opened the doors" the perception changed almost overnight. Today they are about 90% cloud-based and 100% mobile.
When Walsh joined the College of Westchester he also saw that there was a lot of room for improvement in terms of the perception of IT. Social media has played a big role in helping to change this. He says, "The more effectively we can communicate, the better we will do and these social media tools are a great way to communicate, raise awareness and be more transparent."
Seven CIOs (including Komarny) gathered at Educause for "The Transformational CIO," a panel discussion focused on ways CIOs can play a transformational role at their institutions. "6 ways CIOs can revolutionize universities," is a summary of the panel discussion. To "be relevant" took number one, and social media provides the gateway to be just that.
4. Developing digital 21st century skills - diFilipo says, "It is incumbent upon us to have an appreciation for digital 21st century skills and then give students the opportunity to acquire these skills so they will be comfortable with what they will face." At Cecil College there is high level of engagement around trying new things to be innovative, which is in many cases tech-driven or tech-based. This becomes a form of digital transformation across campus; it just transcends the entire campus. diFilipo believes that culture eats strategy every day and that all businesses need to pay close attention to culture.
According to a 2013 CIO survey, mobility is on the rise with a 74% increase in importance in the past year. Yet diFilipo warns that before a university takes the leap to go mobile the CIO needs to first ask if they truly have a culture of mobility on their campus. If not, they will run into a wall. If the culture is a-go, then they will need to have a highly robust, agile and available Wi-Fi environment to support it. He advises that the density ratio be somewhere in the range of 5:1.
5. Expanding your network - Komarny says, "Taking a process that is digital and making it one step better is where we live, that is where IT can become a big value driver for any organization". It's about knowing those business lines and bringing them all together and making it into a cohesive app that can service everyone at once. Every time someone brings them something, they want to know how it is going to touch the organization, and at end of the day how it is going to affect the students. "In every business process that we are changing, we are not looking just at the business process but how this will affect students. By having that vision into the organization, we can help it move forward," said Komarny.
6. Improved responsiveness - Providing the infrastructure to support mobile, cloud and social technologies for a mission-critical learning institution requires the IT team to always be paying attention so they can react quickly. According to Walsh, social media provides an additional channel to get that information. Komarny says they may hear of a complaint about the network on Twitter before the help desk is even notified. It is, in essence, a pre-help desk, help desk! When everyone is communicating together, there is more visibility and transparency and IT can respond better.
diFilipo, was just at the Hawkins Leadership Roundtable at Educause with Paul LeBlanc, President of Southern New Hampshire University, who made a memorable comment about the role of the CIO. LeBlanc said that among all of the leadership positions in a college, the CIO touches more operational aspects of the institution than any other person, including the president. The CIO has the greatest breadth of knowledge and insight into how the college is operated from a business process model, giving them the greatest chance to positively influence the business with technology. As diFilipo put it, "We can connect the dots better than anyone else."
I believe that to be successful, regardless of title or function, you have to first be interested. I get a sense from these three social CIOs that the reason they are social and collaborative is because they are truly interested in the students and faculty and administration that they serve. My co-host, Michael Krigsman agreed that it is the passion in what they do that makes some CIOs, such as these three, really stand out. It turns out that we hit the nail on the head. I leave you with these inspiring quotes from these stand-out CIOs:
"You've got to give a damn about what you are doing. You have to really care, not just about IT and what we do here, but about the entire student perspective." - Phil Komarny, CIO, Seton Hill University
"You've got to love it and you can never stop learning. Thanks to social media it's never been easier to learn new things." - Kelly Walsh, CIO, the College of Westchester
"Author, Hunter S. Thompson, said it best: 'Faster, faster until the thrill of speed overcomes the fear of death". That is what we do every day in technology." - Stephen diFilipo, CIO, Cecil Collage
You can watch the full interview with Phil Komarny, Stephen diFilipo and Kelly Walsh here. Please join me and Michael Krigsman every Friday at 3PM as we host CXOTalk - connecting with thought leaders and innovative executives who are pushing the boundaries within their companies and their fields.
Related
Popular in the Community